Issue #2019.01
The AIF launches its new online platform: a new tool for discovery, research and experimentation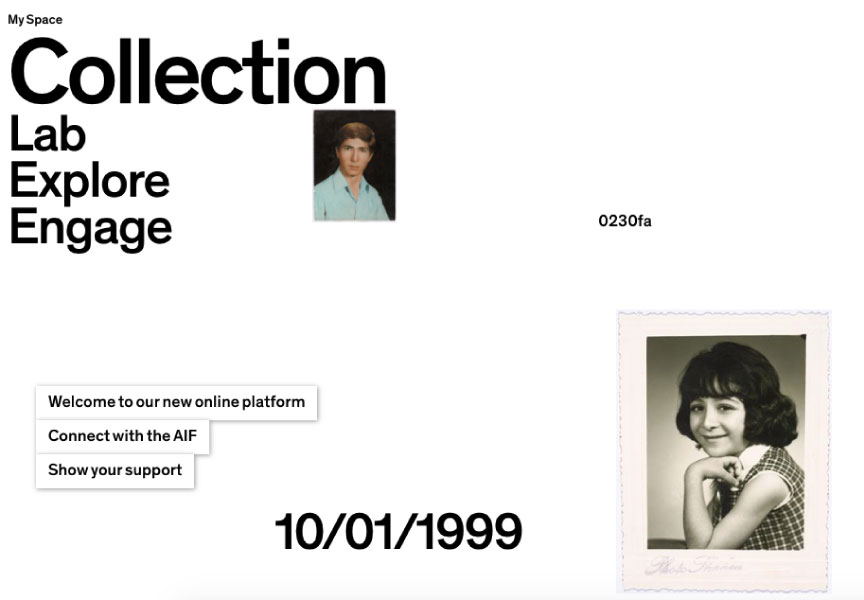 The Arab Image Foundation announces the launch of its new online platform and new domain name www.arabimagefoundation.org. The new platform provides an enhanced user experience and increased accessibility to its online collections, in line with the foundation's new mission statement. After 2.5 years of preparations, digitization missions, and development of a new content management system, the new platform launches with surrogates of 25000+ photographic objects from 81 collections. ​
​​
​"We built this platform in a way that reflects our stance today: more open, more inclusive and more collaborative," said Marc Mouarkech, Managing Director of the Arab Image Foundation. "The new platform will allow us to put into practice our new mission statement and preservation practice vis-à-vis our community, re-connect with the public after more than two years hiatus and open channels for research, initiate critical debate, foster new ideas, and encourage creative and collaborative work-processes".
The platform features a new design with four main sections:
Collection, a powerful resource featuring digital versions of 25000+ objects spanning 14 countries and a set of interactive hyper-image tools that allow visitors to comment, tag, use and share the objects. Additional material will be added on a continuous basis.
Lab, our experimentation hub that merges imaginative thinking and transdisciplinary research created by artists, writers, thinkers, researchers, coders, performers, engineers, technologists, filmmakers and you!
Explore, a window onto the evolution of contemporary image and collecting practices through the foundation's past, present, and future activities.
Engage, a call to connect and participate with the foundation through its newly designed programs and activities.
The collection remains at the center of AIF's practice and its new mission. "For our online collection, we have generated digital surrogates for preservation, access, reference, and reproduction while ensuring their long term digital future," said Clémence Cottard Hachem, Head of Collections and Co-Director at the Arab Image Foundation. "Our approach to digitization respects our desire to understand the photographic object for its physical and material uniqueness and not to render an aesthetic interpretation".
Platform design by Wkshps and development by  Takwïn Digital. ​
​Social Media campaign designed by Studio Kawakeb.
---
We extend our thanks to the trusts, foundations, statutory and corporate funders and individuals that make our current activities possible. They include: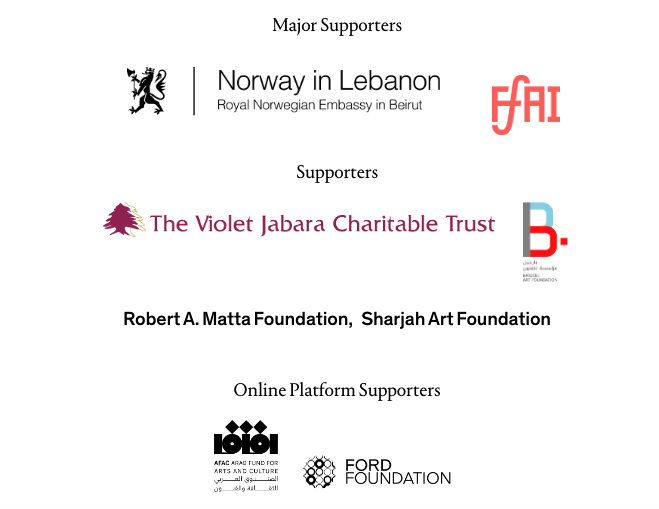 ---
The Arab Image Foundation would like to thank Pikasso for supporting our advertising campaign in Beirut; and all the institutions, museums, and galleries that participated in our social media campaign to mark our platform launch. Our gratitude goes to:
Akkasah Center for Photography NYU Abu Dhabi, ALBA Arts Visuels, Alserkal, Art Dubai, Arab Center for Architecture, Arab Fund for Arts and Culture, Ashkal Alwan, Beirut Art Center, Beirut Art Residency, Beirut Center of Photography, Casa Arabe, Citerne Beirut, Dar El Nimer, Darat Al Funun, Dongola Limited Editions, Institut Français Beirut, Galerie Janine Rubeiz, Galerie Tanit, Kaph Books, Knowledge Workshop, Lebanon Traveller, Les Rencontres d'Arles, Mina Image Center, Mirros ME, Ryerson Image Center, Saleh Barakat Gallery, Saradar Collection, Sfeir Semler Gallery, Souk El Tayeb, The Carton,   The Nicolas Ibrahim Sursock Museum, The Orient Institute, The Palestinian Museum.
---
Find our full media coverage here.