Issue #2022.10
Calling an image by many names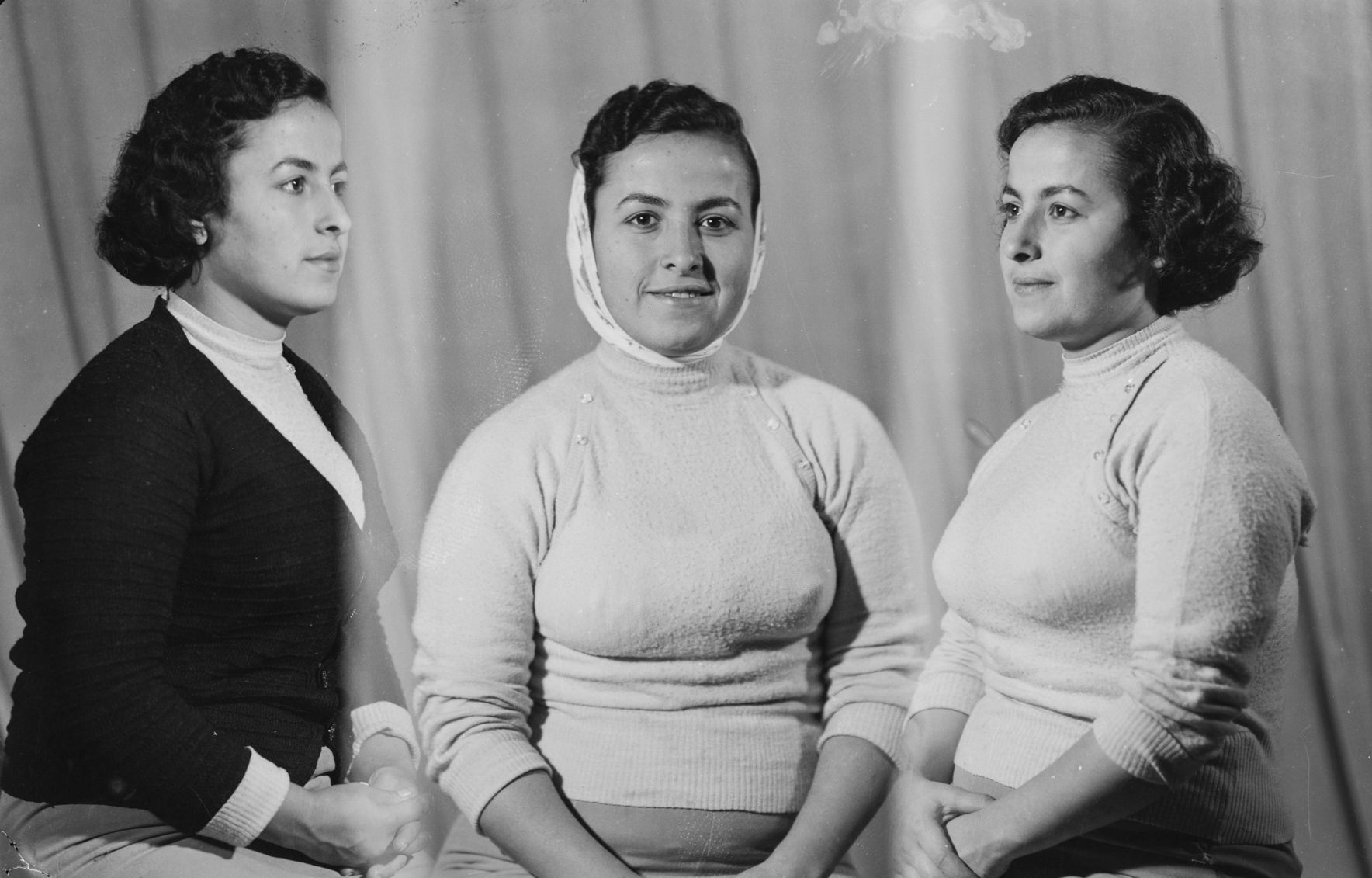 لقراءة هذه النشرة باللغة العربيّة، اضغطوا هنا
​
We can admire a photographic object simply for its materiality and what it stimulates in us. We can appreciate a lot more the complexity of the object if we try to understand the universe in which it was created and the motivation behind its existence.
What a photographer may have intended is not necessarily what an archivist records as part of organising objects into archives, or what a writer or researcher may interpret in defining style and context. It is the links generated along the way and the build-up of contributions that can potentially expand our understanding and invite us to generate new meanings.
It takes a community to preserve and read the nuances in a photographic object and yet it may be the imagination of one person to piece all the details together and offer an enticing perspective. The more imagination we can stimulate, the more photographs we can bring to life; each time with an additional layer of meaning.
Wednesday 30 November 2022
---
Header image: 0072sr00024, 0072sr – Studio Roy collection, courtesy of the Arab Image Foundation, Beirut.
---
EXHIBITION
​Treat me like your mother
​25 October to 3 December 2022 – Mina Image Centre, Beirut
Images courtesy of the AIF.
Treat me like your mother, curated by Mohamad Abdouni and on view at Mina Image Centre, brings to the fore the untold histories of the trans* community in Lebanon. Bringing together images from the Cold Cuts collection in addition to works by Abdouni, the exhibition celebrates the lives of trans* women in Lebanon in the 1980s and 1990s, shedding light on the role they played in paving the way for the queer community of today.
The exhibition largely draws on Cold Cuts journal's latest edition, Treat Me Like Your Mother: Trans* Histories from Beirut's Forgotten Past, for which Abdouni and his team spoke to and photographed ten Lebanese trans* women aged between late thirties and late fifties. The first-person accounts of these women were published in the journal's latest issue, alongside images from the Cold Cuts collection, which Abdouni entrusted to the Arab Image Foundation in 2021.
The Cold Cuts collection brings together 206 prints and polaroids, primarily made up of images of Em Abed, one of the women that Abdouni interviewed and worked with while developing. The photographs were taken between the 1980s and early 2000s across Lebanon – including Keserouan, the Metn area, the Beqaa, Baalbek, and Beirut – with some images being shot in Syria. These images provide a rare insight into the lives of trans* women in Lebanon, as we see Em Abed and her friends at various clubs or parties, dressed up and wearing makeup, fully in their element.
It is these very images, along with the first-person narratives that Abdouni collected over the course of his research, that together make up the heart of the Cold Cuts collection.
This exhibition is produced in collaboration with Helem and with the support of the Kingdom of the Netherlands. It will be on view until 3 December 2022. Read more about it here.
---
PODCAST
​Lamha Podcast Episode 20: Studio Roy collection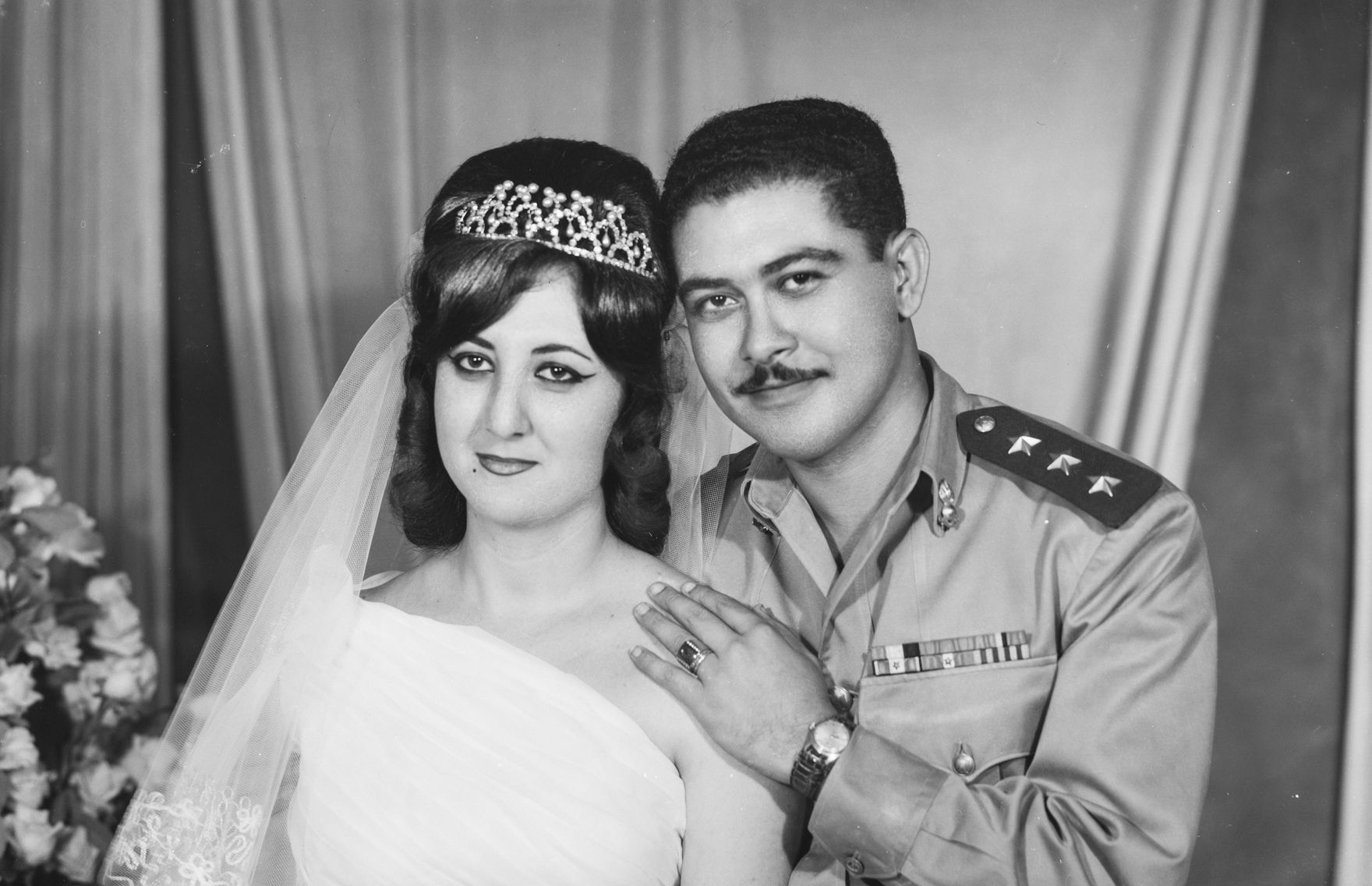 Lamha is a podcast in Arabic put together by the Arab Image Foundation with the aim of presenting the collections in its custody through a series of short snippets.
The 20th episode of Lamha presents the Studio Roy collection, made up of 18 paper prints, 20 glass plates, and 418 film negatives. Operating in Alexandria in the 1950s and 1960s, the studio was initially owned by Garbis Nazaretian before it was acquired by Shaaban Abel Hamid in 1959. The photographic objects in this collection depict a wide range of subjects, from studio portraits and outdoor shots to images of household appliances and industrial sites, devoid of human presence. 
Click here to listen to the podcast and learn more about this collection.
Lamha is produced in collaboration with Tunefork Studios, Beirut, Lebanon.
---

---
We are celebrating our 25th anniversary in 2022 and would like to count you among our core mission supporters. To raise $250,000, we are looking for 25 generous individuals, foundations and private companies to donate $10,000 each to the Arab Image Foundation. If you wish to know more, please contact 

[email protected]

 or simply click on the link below to make your donation. If you happen to know generous donors out there, put us in touch!

---
COMMUNITY HIGHLIGHT
​Discover what is happening in our community. We are proud to showcase individuals and organisations that have been supporting us along the way, in addition to those we in turn support through training and consulting services. We are also eager to tell you about initiatives, collectives, and spaces we admire, and whose work and mission intersect with ours. Members of this fast-growing community will be showcased in every issue of our Stories.
In this issue, we bring your attention to:
​Aghssan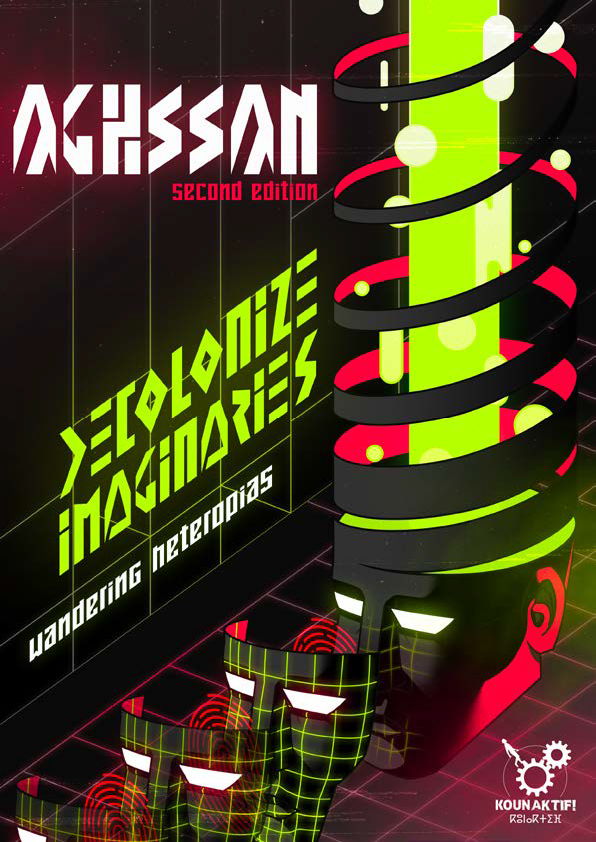 Aghssan is a publication that aims to bring together actions, stories, ideas, and alternatives around questions related to arts, ecology, and new media, and their entanglement with sociopolitical questions. The publication is a project led by KounAktif – a collective based in Rabat, Morocco working at the intersection of ecology, technology, and the arts – and it's superimposed on the various actions led by the collective to provide free access to cultural, academic, and artistic productions.
---
PUBLICATION
​Becoming Van Leo shortlisted for the 2022 Paris Photo – Aperture PhotoBook Awards
Reproductions by Christopher Baaklini / AIF.
We're thrilled that the AIF's latest publication, Becoming Van Leo, has been shortlisted for 2022 Paris Photo – Aperture PhotoBook Awards, in the PhotoBook of the Year category.
The labour of more than ten years, this three-volume publication is a study of the life and times of the late Armenian‑Egyptian photographer Leon Boyadjian, better known as Van Leo, who opened his first studio with his brother Angelo in 1941 in Cairo.
Drawing on the Van Leo collection housed at the AIF, the Van Leo collection at the American University in Cairo, and Katia Boyadjian's archives – among other sources – this 600-page publication features more than 1,500 images, in addition to essays and personal accounts from people who knew him.
Co-published by the AIF and Archive Books, Becoming Van Leo is authored by AIF member Karl Bassil, in collaboration with Negar Azimi, also an AIF member, and Angelo's daughter and Van Leo's niece, Katia Boyadjian. It is published in partnership with the Prince Claus Fund and Sharjah Art Foundation, and with the cooperation of the American University in Cairo.
The book may be purchased via Archive Books' website. Click here to get your copy.
If you are in Lebanon, do pass by our offices in Gemmayzeh to get a copy; you can also get one from the Beirut Art Center bookshop.
---
WORK IN PROGRESS
​What we see or not see?
Photographs by Hala Droubi / Counter Academy for Arab Journalism.
At a gathering with 30 participants taking part in this year's Counter Academy for Arab Journalism, AIF collections researcher Omar Thawabeh facilitated an interactive workshop on what we see or do not see in an image. Drawing from the foundation's documentation and research tools, he invited the group to explore different ways of looking at photographs.
Going beyond what is present in the frame, the participants hailing from Egypt, Palestine, Jordan, Syria, Yemen and Somalia, discussed the various elements that a photograph may eliminate, conceal, or overlook. Looking at 30 photographs from the AIF collections, they explored themes of mental health, colonialism, photo manipulation, beauty standards, exile, dance, religion, war, and queerness. The conversations elucidated how photographs can have many lives or be in dialogue with each other when they become part of a project by a researcher or an entity, be it for a publication or an exhibition. Many participants were curious to explore the use of photographs with experimental methods. A few of them will actually get to do that during their upcoming internship at the Arab Image Foundation.
---
ANNOUNCEMENT
​Temporary suspension of research visits and image requests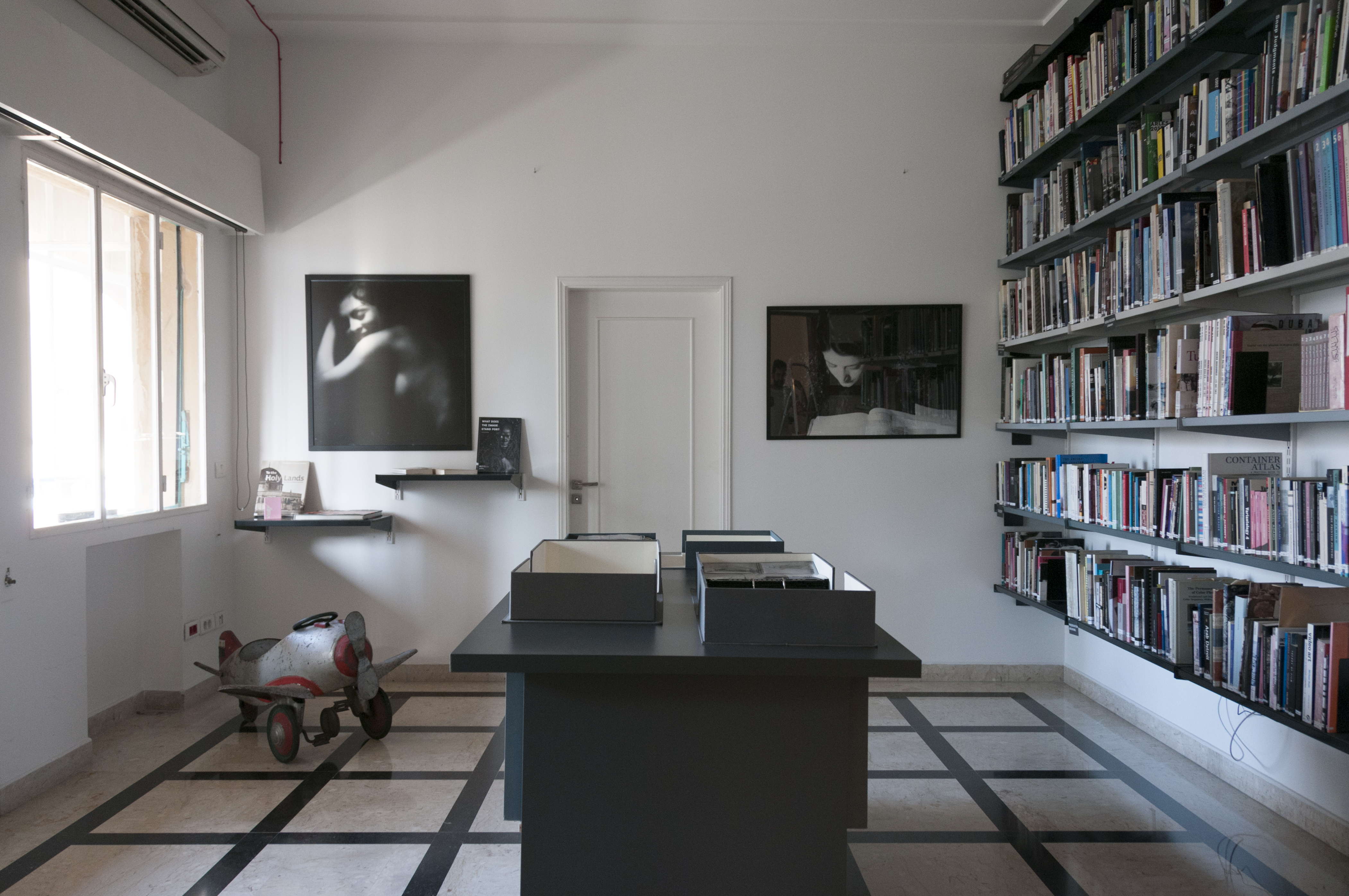 Those of you who have visited our premises in Gemmayzeh over the past year may be aware of the fact that we have been looking into moving to a larger and more public-facing space, in order to facilitate our work on the photographic collections in our custody and to foster more chance encounters with passersby. As we brace ourselves for relocating in the early months of the new year, our priorities will be shifting, and we will be temporarily putting all research visits, library visits, and image requests on hold, with a view to resume them in full force in the spring of 2023.
We will be sharing more details about our new space in the weeks to come. In the meantime, if there is a research project you're working on or a potential collaboration that you'd like us to be involved in, please send an email to [email protected] and we can explore the possibilities of working together once we have fully relocated.
---
BOOK DONATION
​Ashkal Alwan donates over thirty titles to the AIF library
Reproductions by Asadour Garvanian / AIF.
Rayya Badran's Radiophonic Voices (2010); Jana Traboulsi's Still Lives (2015); Jalal Toufic's 'Âshûrâ': This Blood Spilled in My Veins (2005). These are just some of the new titles that were recently added to the AIF library, out of over thirty books that Ashkal Alwan has donated to our library. We're incredibly thankful to house a small piece of Ashkal Alwan's history through the books they've published over the past 28 years.
Primarily published in the framework of Ashkal Alwan's Home Works Forum, these commissioned publications are authored by Rayya Badran, Walid Sadek, Waddah Sharara, Fadi Tofeili, Jalal Toufic, and Jana Traboulsi among several others.
---
PANEL
​Culture Summit Abu Dhabi
​23 to 25 October October 2022 – Manarat Al Saadiyat, Abu Dhabi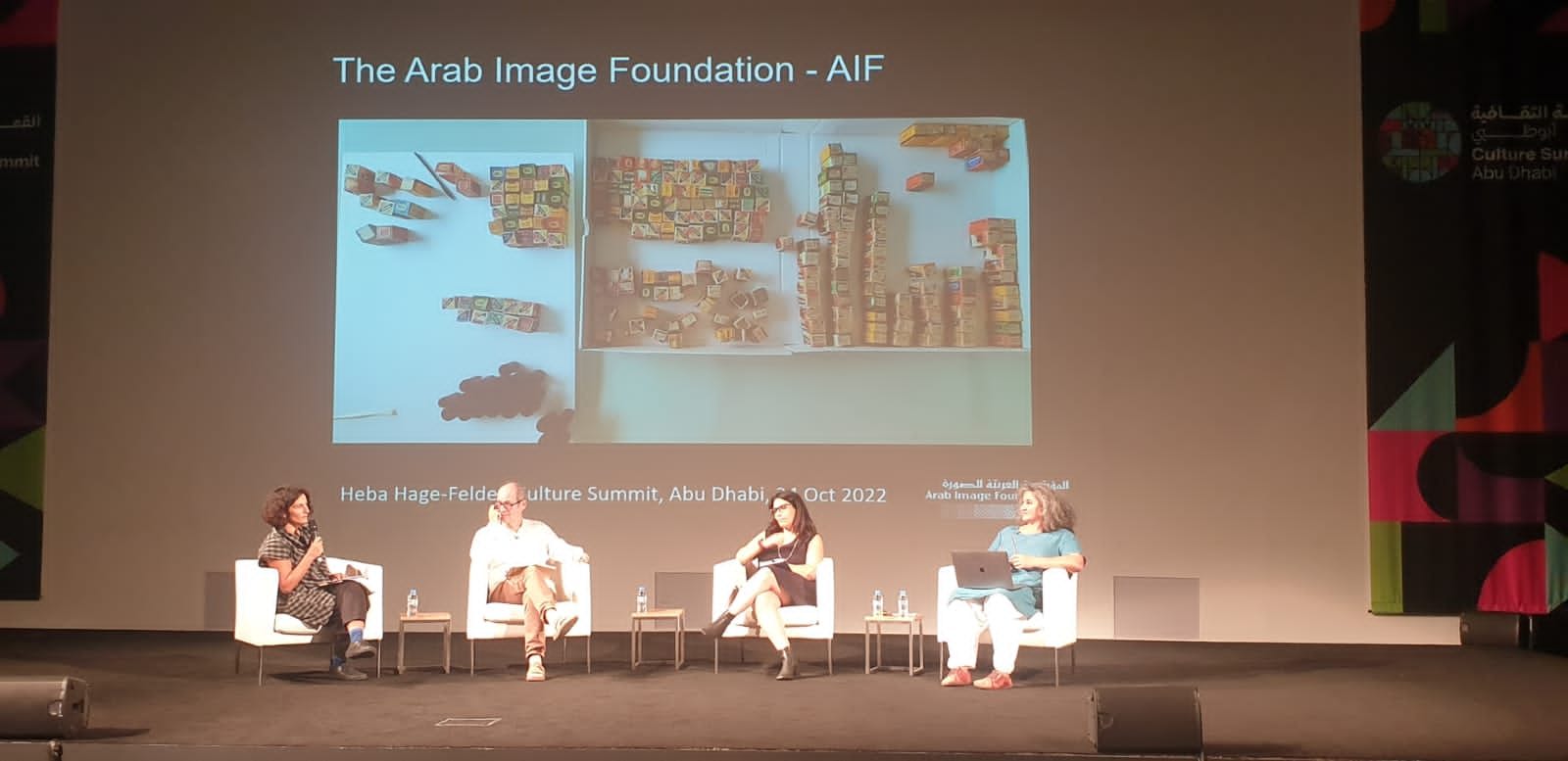 AIF director Heba Hage-Felder was invited to speak on two panels at the Culture Summit Abu Dhabi – the first one was with the Arab Fund for Arts and Culture (AFAC), and the second was with Culture Resource (Al-Mawred Al-Thaqafy).
Culture Summit Abu Dhabi is a global forum bringing together leaders in culture, public policy, and technology to explore and identify the ways through which culture can transform communities across the world. This year's edition, titled "A Living Culture," reconsidered the potential of collectivity, cultivating culture ecosystems, and embracing culture as lived experience.
The first panel discussion that Heba participated in, titled "Culture Today," featured panelists May Mostafa (development manager, Simsara Music) and Driss Ksikes (director of Research Centre, HEM). The panel was moderated by Maral Mikirditsian, deputy director of AFAC. In the last two years, the cultural sector has had to rethink and to reinvent itself in order to stay present and relevant. A myriad of transformations in production, creation processes, and audience engagement opportunities have been put forward as a response to new realities and hardships. This panel addressed these new mechanisms, with a focus on the music, performing arts, and visual arts sectors, in order to capture shifting points of view and practices that are shaping the future of the cultural landscape in the Arab region and its audiences.
The second panel, "Ecologies of Culture: Intersections of Environment and Technology in Art and Culture," was moderated by Helena Nassif, director of Culture Resource. Together with Danielle Makhoul (associate curator, Temporary Art Platform), Heba shared reflections on how AIF's practices contribute to a critical evaluation of cross-sectoral approaches to thriving cultural ecosystems, and how we are engaging with this ecosystem and with technology to shape new ways of working as part of a broader cultural vision.
---
TRIBUTE TO OUR DONORS
​The Arab Image Foundation extends its appreciation to our current generous supporters that make our activities possible. We are equally grateful to those who wish to remain anonymous.
Major Supporters
Royal Norwegian Embassy in Beirut ▪ Arab Fund for Arts and Culture ▪ Al Mawred Al Thaqafi ▪ Foundation for Arts Initiatives ▪ The Violet Jabara Charitable Trust ▪ Getty Foundation
Project Supporters
Modern Endangered Archives Program (MEAP) at the UCLA Library, with funding from Arcadia ▪ Prince Claus Fund for Culture and Development ▪ Institut Français ▪ William Talbott Hillman Foundation ▪ Akram Zaatari ▪ Alexandre Medawar ▪ MAGRABi ▪ Fund for the International Development of Archives – FIDA ICA ▪ Victoria and Albert Museum – V&A ▪ Art Jameel ▪ New York University's Hagop Kevorkian Center for Near Eastern Studies
Post-Explosion Supporters
Financial donations – institutions: Prince Claus Fund for Culture and Development ▪ Cultural Emergency Response ▪ Cultural Protection Fund of the British Council ▪ Gerda Henkel Stiftung ▪ US Ambassadors' Fund for Cultural Preservation ▪ Mariët Westermann and the Pardoe-Westermann Family Fund ▪ Middle East and Islamic Caucus of Franklin & Marshall College ▪ Luminous-Lint ▪ Oteri General Construction ▪ Moore Archives & Preservation LLC ▪ GAPS LLC ▪ Blue Shield ▪ Book Works ▪ American Institute for Conservation of Historic & Artistic Works ▪ Savvy Wood Photography ▪ Benevity ▪ PhotoArts Studio ▪ Robert Rauschenberg Foundation ▪ Stanley Thomas Johnson Stiftung ▪ Europeana Foundation ▪ Rotary Club Essen-Gruga
In-kind donations – institutions: Institut National d'Histoire de l'Art ▪ Middle East Photograph Preservation Initiative ▪ Musée Français de la Photographie ▪ Klug-Conservation ▪ Centre de la Photographie
AIF could not have made this journey without all the individual contributors.
Click here for the full list of individual donors.
Thank you for those who have supported us in previous years: Sharjah Art Foundation, Pikasso, Ford Foundation, Graham Foundation.