Issue #2022.02
Time after time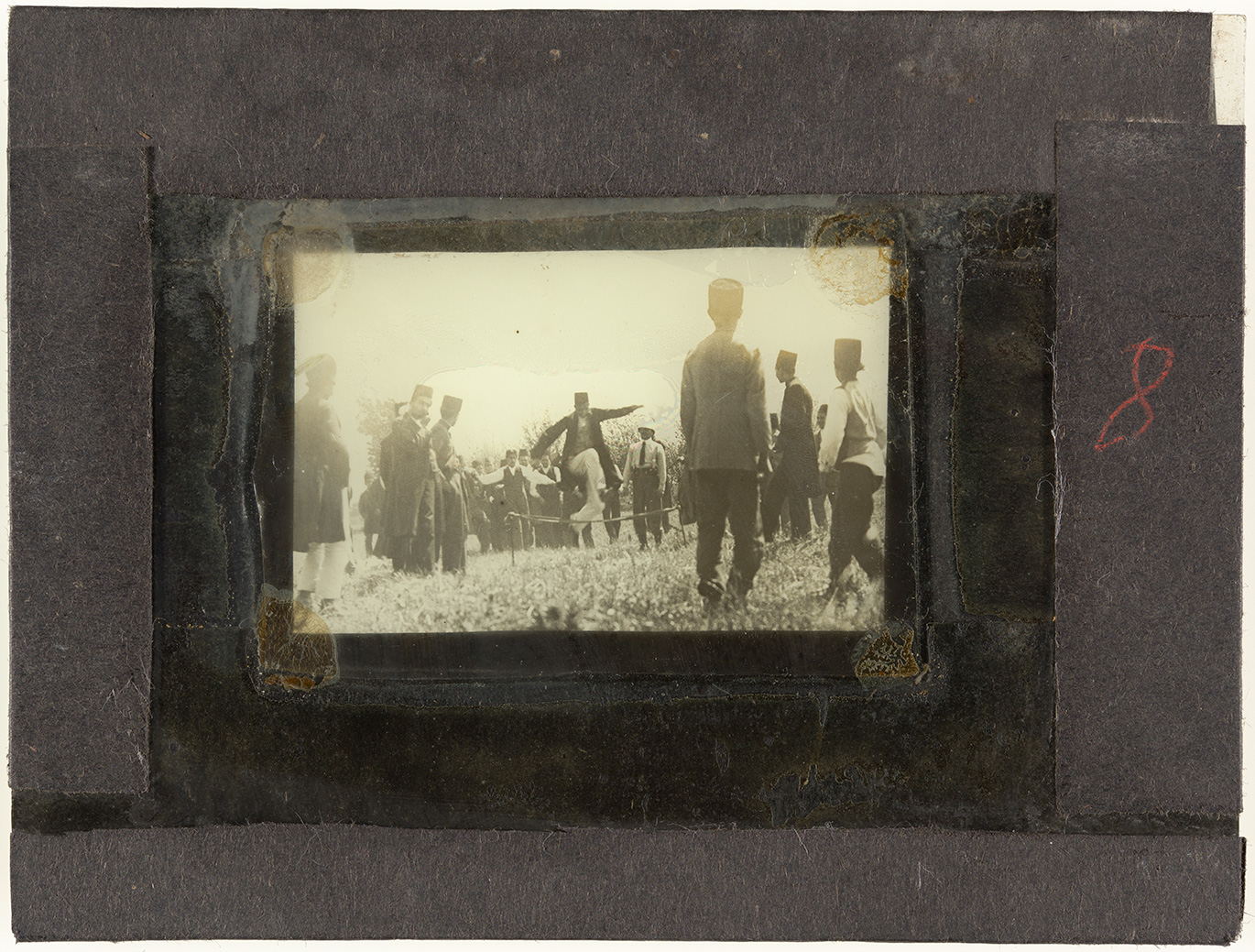 لقراءة هذه النشرة باللغة العربيّة، اضغطوا هنا

​Looking back on the past 160 years of photography, we discern a shift not only in the technological sense, but also in the space that photography occupies as a tool to record and document. To freeze a moment of an eminent event in a snapshot has been the profession of a photojournalist. Since the 1970s, this facility has spread to the masses, rendering it an act of amateurism.
Daily news and the conundrum of geopolitics are only getting louder. We are certainly more informed about invasions, environmental disasters, and human suffering. We are currently watching the Russian invasion of Ukraine. Since 1945, we have been spectators to over 19 invasions by the United States in Latin America, Africa, West and East Asia. But are photographers necessarily writing history? As onlookers, are we better able to take critical stances and to act on what shakes us to the core?
Even when photojournalists are commissioned to be on the frontline and evoke the moment, the damage has already been done. They take great risks on the job, but they are often at the mercy of the agency on the ground that orchestrates when and how close they can get to unfolding calamity. They are racing against time and attention and often with an indelible desire to fight erasure. They may be adding to our collective memory, but not necessarily going beyond a collective paralysis. What we do when confronted with campaigning images requires social and political intention that is much slower and more complex. Most of the time, the playing field does not venture beyond humanitarian response.
There is a thin line between photojournalism and documentary photography. Both can be ravishing and intense. We may be shaken by horrors seen through someone's eyes as they capture a moment in real time, or in its aftermath. Not showing the wounds as much as the trail of silence and numbness can be equally debilitating. Both can stir emotions in their agonising poetry, but a documentary photographer has more time to look at what is overlooked in the heat of the moment. For many issues related to justice and inclusion, many histories have not passed yet; hence the urgency over time to build on acts of remembrance and demystification.
Sometimes, stepping outside of time and politics to dig beyond burning events is essential to contribute to a critical understanding of the causes we care about. We turn to two different practices and subsequent collections which were recently brought to the Arab Image Foundation. Aline Manoukian is a photojournalist who covered the war in Lebanon extensively, and her story resembles her contact sheets. She tells us about the unselected shots, the ones before and after the images that ended up in the news. These are the kinds of meandering reflections she is able to make only after she put down her camera in 1989. As a photographer, Mohamad Abdouni has been documenting visual stories, building on images taken over 30 years by various photographers, themselves protagonists of the trans community in Lebanon, who until this day, are fighting to tell their stories.
It is the accumulation of safe platforms and archives that acknowledges the existence and the possibilities for movements and individuals to construct alternate histories and to revive social and political discourses. We may not be writing history, but then again, only time will tell.
Thursday 10 March 2022
---
Header image: 0264ab0008, 0264ab – Reza Abedini collection, courtesy of the Arab Image Foundation, Beirut.
---
WORK OF A PRACTITIONER
​Aline Manoukian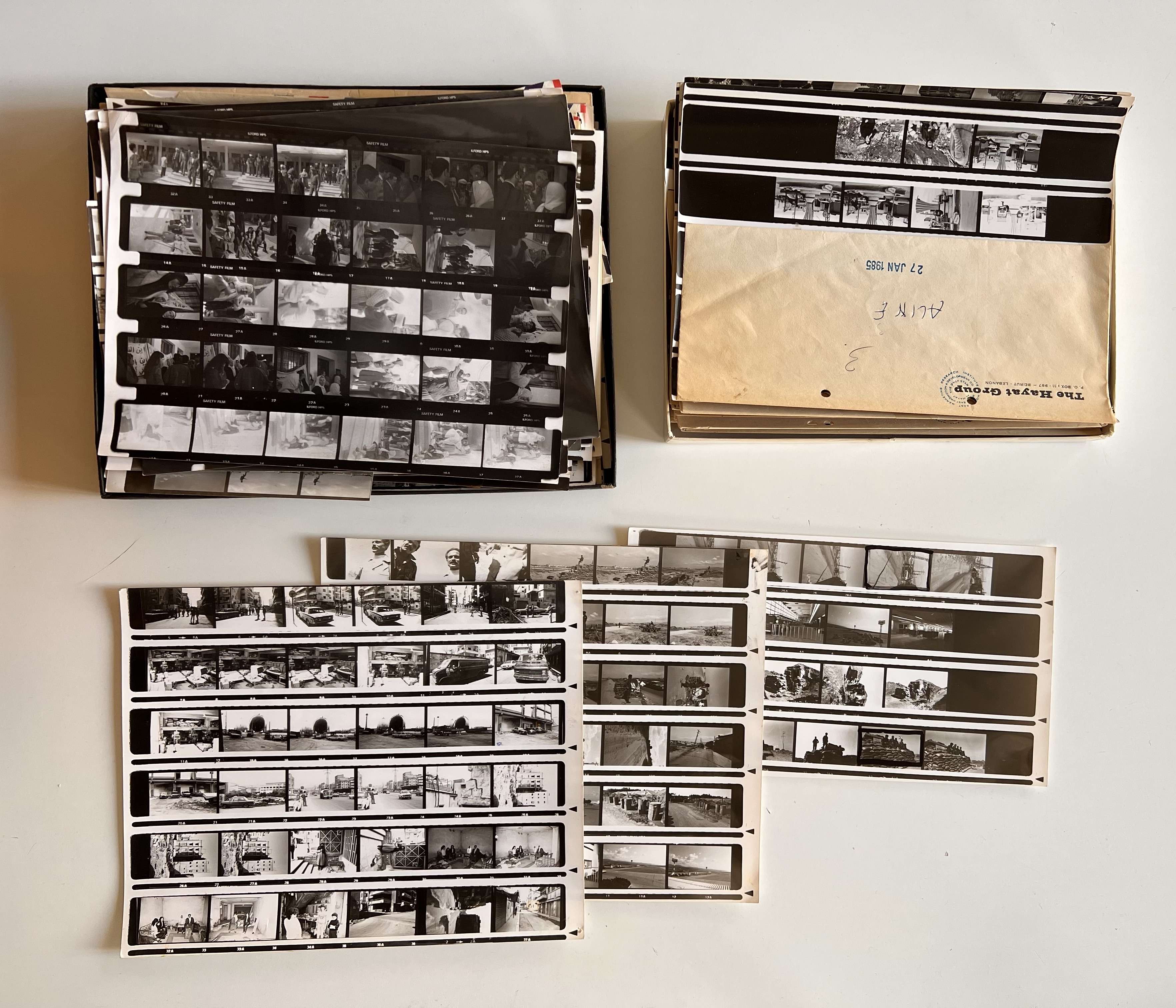 Born and raised in Lebanon, Aline Manoukian moved to the US upon graduating from high school, and studied photography at Pierce College, California. She returned to Beirut in 1983 – the civil war still raging – and was a staff photographer first for the Daily Star, then for Reuters, eventually becoming the latter's chief photographer for Lebanon and Syria.
She covered the Lebanese civil war from 1983 to 1989, capturing the brutality and frailty of everyday life, and documenting executions and armed conflicts, but also the suffering and hardship of ordinary people.
In a recent visit to the AIF, Aline donated hundreds of negatives and contact sheets from her own collection, dating back to 1984-1989. A small number of her negative strips remain intact, but the majority of them are cut up, with a single frame missing. That absent image is the one that has been carved out and published in the newspaper, the remaining ones on the same strip having been taken mere moments before or after that one shot that makes it to print.
Aline is one of Lebanon's first women photojournalists. Her work is an important record of what is arguably the most tempestuous period in the country's modern history, and an invaluable addition to the AIF's collections, which have limited documentation of the civil war in Lebanon.
This conversation is part of a series we have been having with practitioners and photographers close to the AIF. Over the past year, we held a conversation with former press photographer Radwan Mattar, who donated 30,000 photographic objects spanning the 1980s and 1990s to the foundation; with photographer Agop Kanledjian, a long-time friend of the foundation, who was the first to reproduce the collections' images using analogue photography; and with Tarek Mourad, a Brazilian-Lebanese artist working across analogue printmaking and analogue photography.
---
TALK
​On trans* histories in Beirut: A conversation with Mohamad Abdouni – 24 February 2022
What role do photographic archives play in the construction of alternate histories and the revival of historical discourses? How can these artefacts shed light on unheard stories and voices from the peripheries?
This February, we held a conversation with photographer, filmmaker, and editor-in-chief of Cold Cuts Mohamad Abdouni, exploring the documentation and archiving of trans* narratives and histories in Beirut. The conversation was moderated by AIF director Heba Hage-Felder.
We were also joined by Joy Stacey and Margot El Khoury. Stacey discussed the process of meeting with and interviewing the ten women featured in the journal, shedding light on the ethical parameters, methodological process, and subsequent framing of the women's words within the book. El Khoury, community center manager at Helem, spoke about Helem's role in the project, and its importance for the wider LGBTQIA+ movement in Lebanon.
Cold Cuts is a photo journal exploring queer culture in the South West Asian and North African region. The journal's third edition, titled Treat Me Like Your Mother: Trans* Histories From Beirut's Forgotten Past, comes out in March 2022, and celebrates the stories and lives of trans* women.
The journal brings together photographs of the trans* community in Beirut in the 1980s and the 1990s. These images are now in the custody of the Arab Image Foundation, in what is arguably the first such photographic archive of the queer community in the Arab region. But what is perhaps more important than the preservation of these photographic objects are the stories that need to be heard.
Mohamad Abdouni is an artist, photographer, filmmaker and curator based between Beirut and Istanbul. He is also the editor- in-chief and creative director of Cold Cuts magazine. His work has been exhibited at the Brooklyn Museum in New York, the Foam Gallery in Amsterdam, the Institute of Islamic Culture in Paris, Patel Brown in Toronto and in festivals around Europe such as IQMF, and the Leeds Queer Film Festival. His personal projects tend to focus on the untold stories of Beirut, and uncovering the rich yet eradicated queer histories of the Arab-speaking region through several documentaries and photo stories that have been exhibited and published in festivals and publications from around the globe.
---
PODCAST
​Lamha Podcast Episode 12: The Reza Abedini collection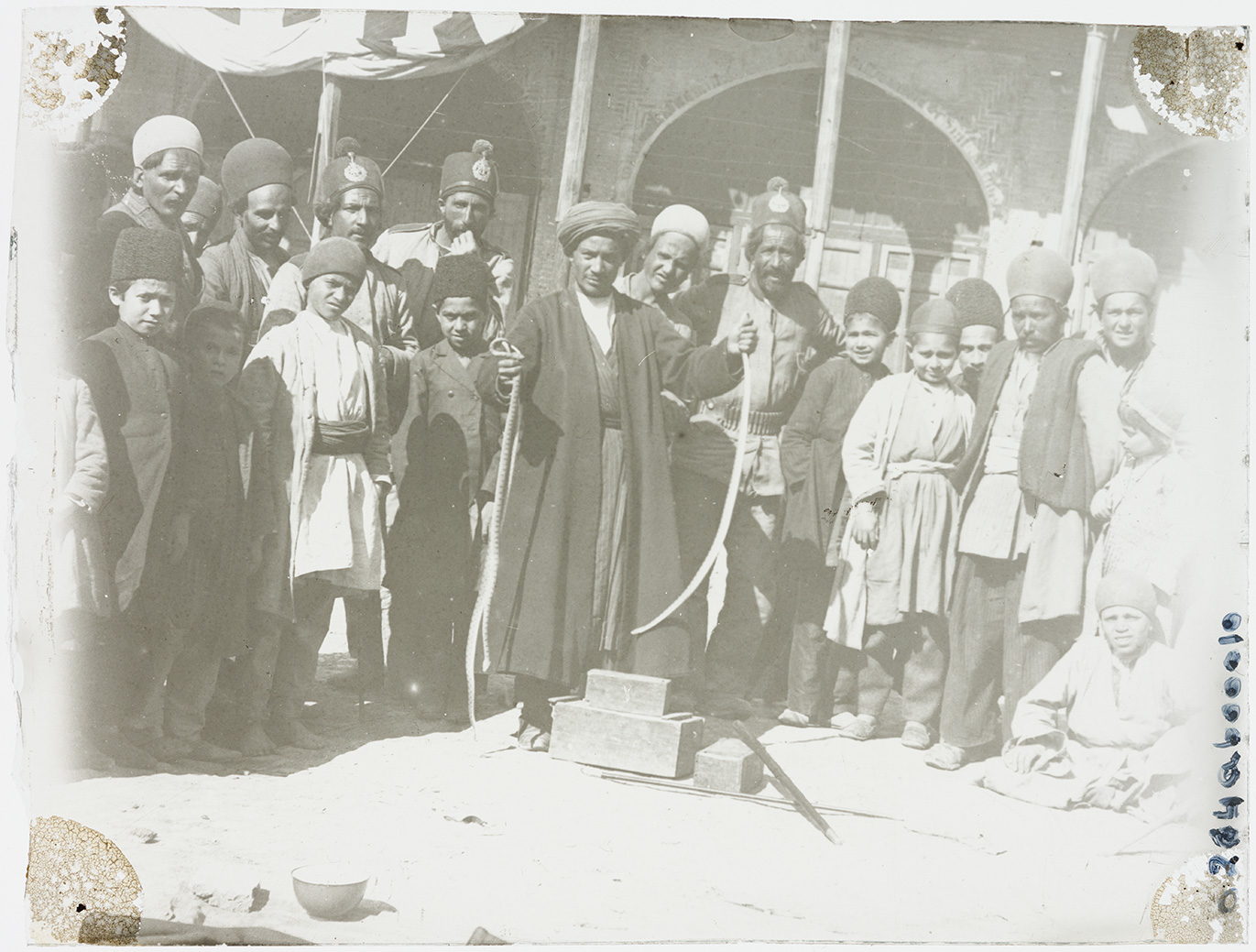 Lamha is a podcast in Arabic put together by the Arab Image Foundation with the aim of presenting the collections in its custody through a series of short snippets.
The 12th episode of Lamha presents the Reza Abedini collection, which is composed of 22 glass plates documenting public life in Qajar-era Iran (1789 to 1925). The collection brings together views of streets, souks, and landscapes; shots of men dancing or youths playing; images of horses and deer; and depictions of public festivities and ancient sites.
Click here to listen to the podcast and learn more about these collections.
You can explore this collection on our digital platform here.
Lamha is produced in collaboration with Tunefork Studios, Beirut, Lebanon.
---

---
We are celebrating our 25th anniversary in 2022 and would like to count you among our core mission supporters. To raise $250,000, we are looking for 25 generous individuals, foundations and private companies to donate $10,000 each to the Arab Image Foundation. If you wish to know more, please contact

[email protected]

or simply click on the link below to make your donation. If you happen to know generous donors out there, put us in touch!

---
COMMUNITY HIGHLIGHT
​Discover what is happening in our community. We are proud to showcase individuals and organisations that have been supporting us along the way, in addition to those we in turn support through training and consulting services. We are also eager to tell you about initiatives and collectives we admire, and whose work and mission intersect with ours. Members of this fast-growing community will be showcased in every issue of our Stories.
​​
​In this issue, we bring your attention to:
​Cinémathèque de Tanger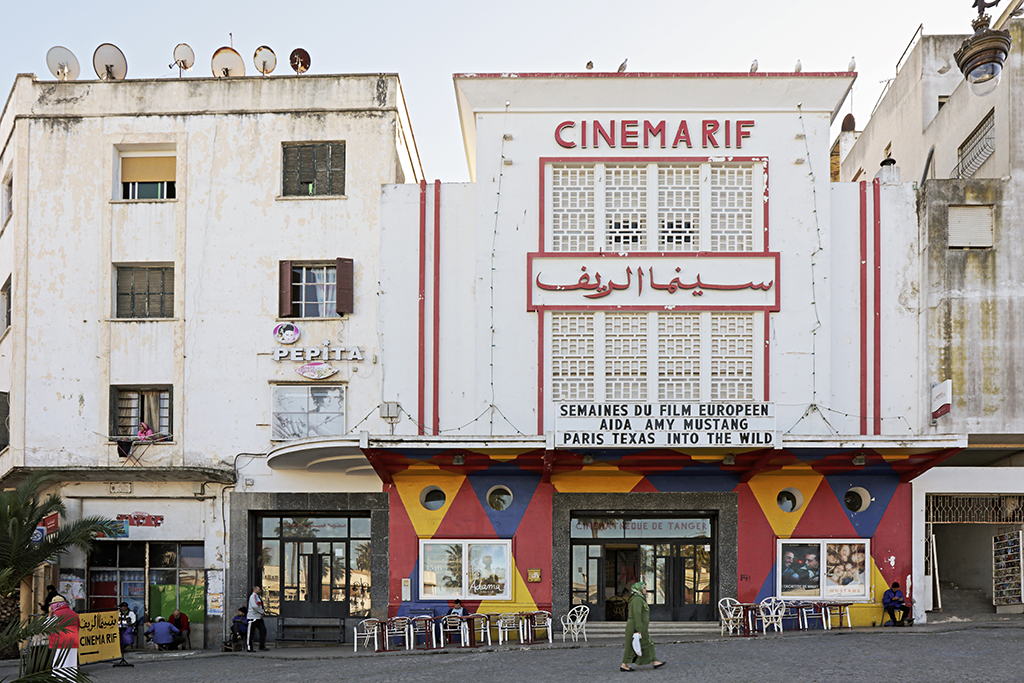 The Cinémathèque de Tanger is a non-profit organisation based in Tangiers.Founded in 2006, it is committed to the cinematic exchange between Morocco and the rest of the world. The cinémathèque shows a wide array of films, including documentaries, feature films, experimental films, and artists' videos. It also organises educational activities, and is a platform for dialogue and encounters for cultural practitioners working across film and cinema.
---
WORK IN PROGRESS
​Proofing and re-organising collections in the cool storage room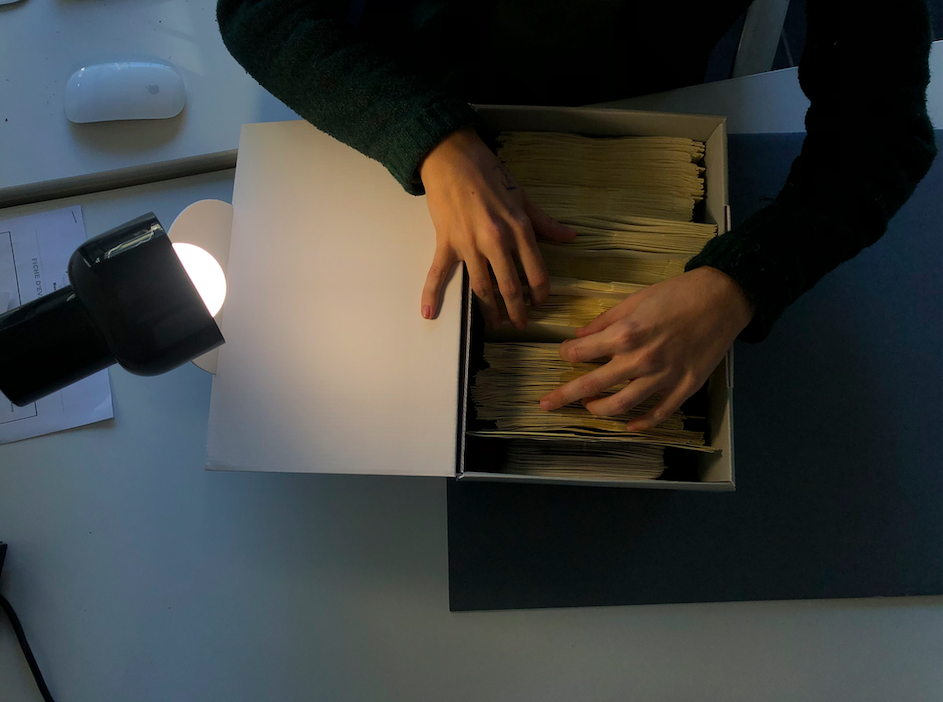 In preparation for processing the AIF's large pending collections, a number of critical conservation priorities have taken precedence at the foundation. Our prime concern has been to work towards relocating to safer facilities that can accommodate expanded preservation and digitisation labs, and to build a robust and energy-efficient storage for our collections.
 Photographic objects in the cool storage room (CSR) are currently stored by size, meaning that some items from the same collection may be orphaned, so to speak, and kept in different boxes. Thanks to generous support from the Getty Foundation, our team has been working on a methodology to restructure the storage by collection, and to plan the final move of each collection to the new storage facility when we eventually relocate.
The proofing of the AIF collection was recently completed. It involves double-checking our collections' items physically in our CSR, and cross-referencing them with the storage inventory database in order to identify any numbering mistakes or other discrepancies. As of November 2021, all 244 boxes in the CSR – holding 193,349 items, including prints, negatives, albums, and frames – have been proofed. This is the first step towards the preparation process for the relocation.
The next step would be to re-organise collections, i.e. rehouse items from the same collection and same format in one box, and update the location in the inventory database. In parallel, our archivists are measuring batches of prints (format times depth) from each box in order to later identify new rehousing needs.
This process is lengthy and requires an unparalleled attention to detail. Once this part of the work is completed, the arithmetic part of the process begins: the calculation of the number of boxes needed for the rehousing of collections, and getting quotes for their manufacturing.
---
LIBRARY RESOURCE
​Walker Evans: Lyric Documentary
​By John T. Hill. With an essay by Alan Trachtenberg.
​Published by Steidl, 2006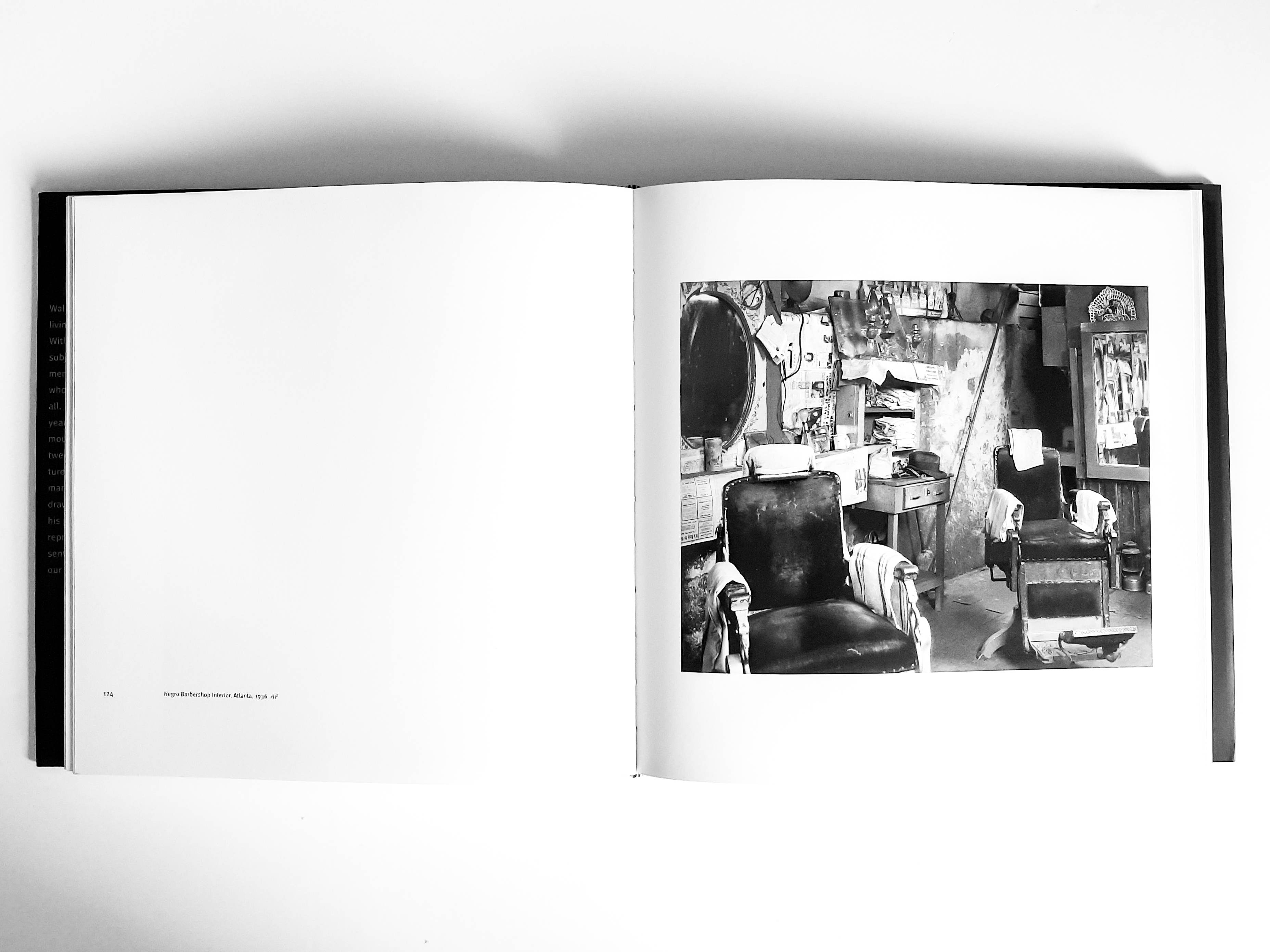 Walker Evans's career spread over forty-six fitful and prolific years, yet in a mere two, 1935-1936, he produced the singular body of work that came to define him. During that brief time, while working for the Farm Security Administration (previously the U.S. Resettlement Administration) photographing the consequences of the Great Depression, he refined a hybrid style that combined documentation with sly personal comment. He delighted in traveling incognito as an artless photojournalist, but with the independence to satisfy his own artistic designs. Walker Evans: Lyric Documentary presents these seminal images for the first time as a comprehensive, cohesive body of work, in chronological order. These are prime examples of Evans's alchemy, his seemingly effortless transformation of mundane fact into sweeping lyricism. They not only define his mature style, but also offer a path for artists of future generations. Evans has been called the most important American artist of his century, and the impact of his vision reaches well beyond the province of photography.
This title is available for consultation at the AIF Library. Read it at our premises, where you can also explore over 2,000 other books, every Tuesday and Wednesday from 14:00 to 17:00. Book your visit here. We have teamed up with PILOT to give you access to the bulk of our library holdings – we are gradually working towards making our entire catalog available online. Click here to see if we have the publication you're looking for.
---
CONVERSATION
​afikra Conversations: Heba Hage-Felder
afikra is a grassroots movement that evolved into a global media and educational platform focused on the histories and cultures of the Arab world. Their long-form interview series, afikra Conversations, features academics as well as cultural and media practitioners who are helping to document and/or shape the history and culture of the Arab world through their work.
As part of afikra Conversations, AIF director Heba Hage-Felder spoke with afikra founder Mikey Muhanna about the Arab Image Foundation's mission; its collection of over 500,000 photographic objects; our ongoing projects and upcoming programmes; and the challenges of operating in Lebanon in the midst of the ongoing crises the country is witnessing.
The conversation took place on 10 February 2022 via Zoom. You can watch the recording in full here.
---
PUBLICATION
​Becoming Van Leo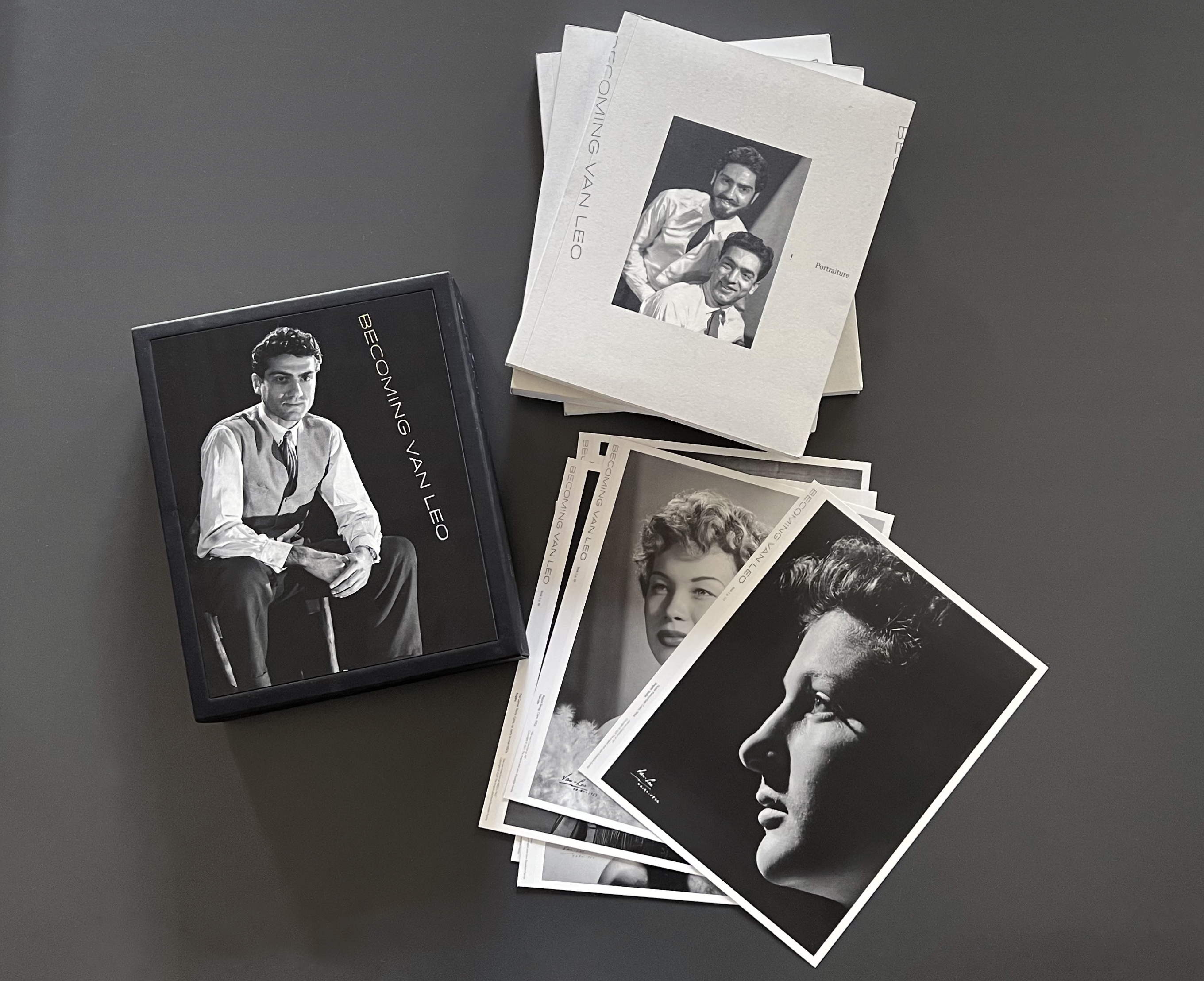 For those of you who live outside Lebanon, you can (finally!) order a copy of our latest publication Becoming Van Leo via the website of our co-publisher, Archive Books. Click here to get your copy.
This three-volume publication is a study of the life and times of the late Armenian-Egyptian photographer. Born in 1921, Leon Boyadjian would come to be known as Van Leo, one of the most singular twentieth-century studio photographers in the Arab world. Drawing on the abundant archive from the collections of the AIF and the American University in Cairo, in addition to accounts of people who knew him, the publication intricately narrates the story of one of the most iconic photographers of the Arab region.
Authored by Karl Bassil in collaboration with Negar Azimi and Katia Boyadjian, Becoming Van Leo is co-published by the Arab Image Foundation and Archive Books, in partnership with the Prince Claus Fund and Sharjah Art Foundation, and with the cooperation of the American University in Cairo. It is designed by Mind the gap and printed by 53dots, both in Beirut.
If you are in Lebanon, you can always get a copy of the book via the AIF. Send an email to [email protected]
---
WORKSHOP
​Lebanon Solidarity Fund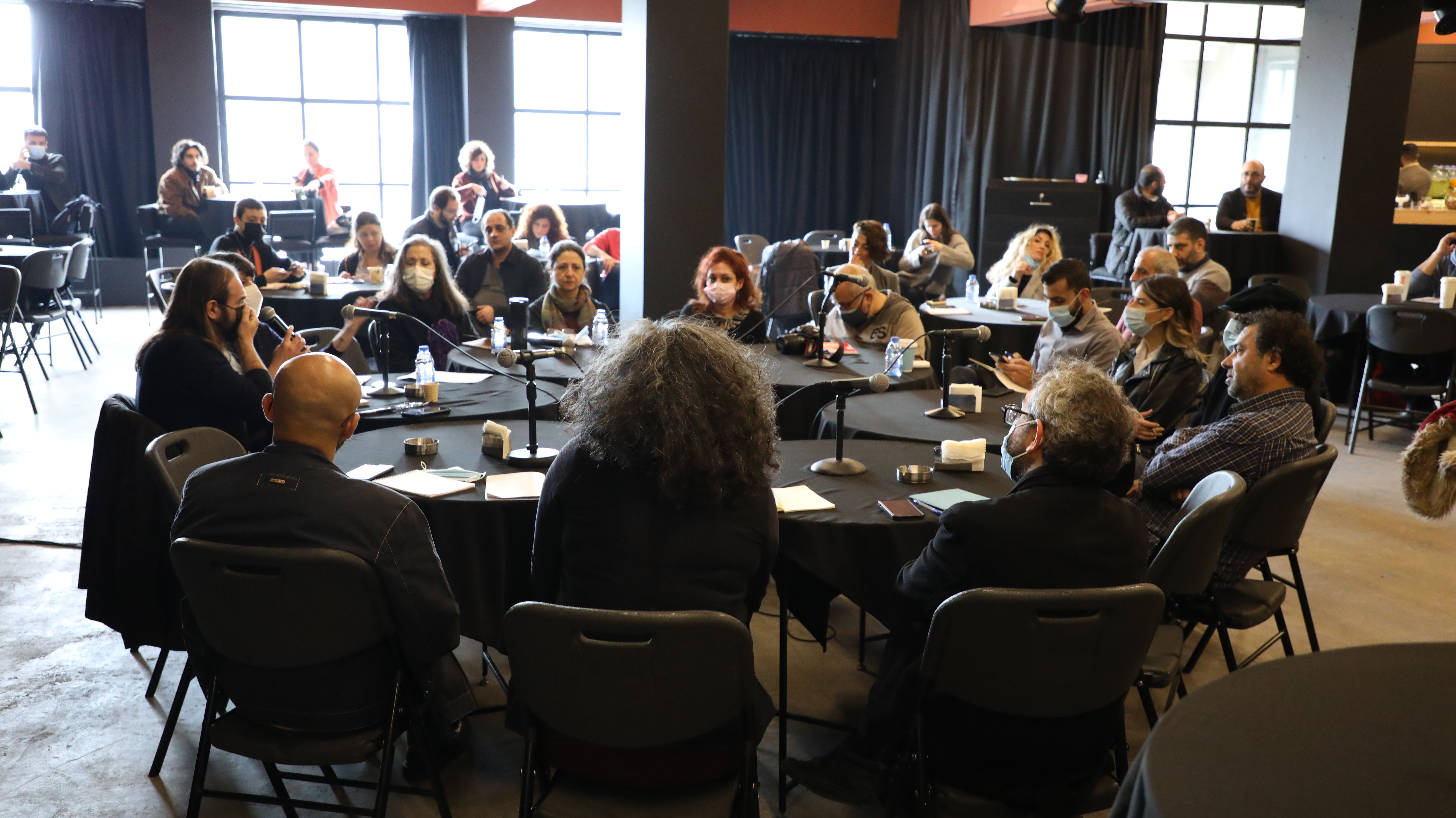 Established before the wake of the Beirut port explosion of August 2020, the Lebanon Solidarity Fund (LSF), initiated by the Arab Fund for Arts and Culture (AFAC) and Culture Resource, has continued to provide core and programmatic support to cultural actors in Lebanon, allowing institutions and practitioners alike to stand their ground in the face of the country's multiple crises.
The AIF received critical support from the Lebanon Solidarity Fund for two consecutive years. It gave us headspace institutionally to plan and mobilise resources, but also to resume our online and physical programming, and to launch new collaborations with local and regional partners.
On 18 and 19 February, the Lebanon Solidarity Fund invited the 54 arts and culture institutions and spaces it supported to convene at KED, Beirut. This gathering – the first of its kind to take place in the past two years – was a chance for representatives of these entities to collectively reflect, discuss their current work conditions, and share their thoughts and experiences. Topics of relevance to the sector, such as institutional strengthening and preservation, avenues of collaboration, and programming and audiences, were on the programme.
---
INTERNSHIP
​Sabine Hodeib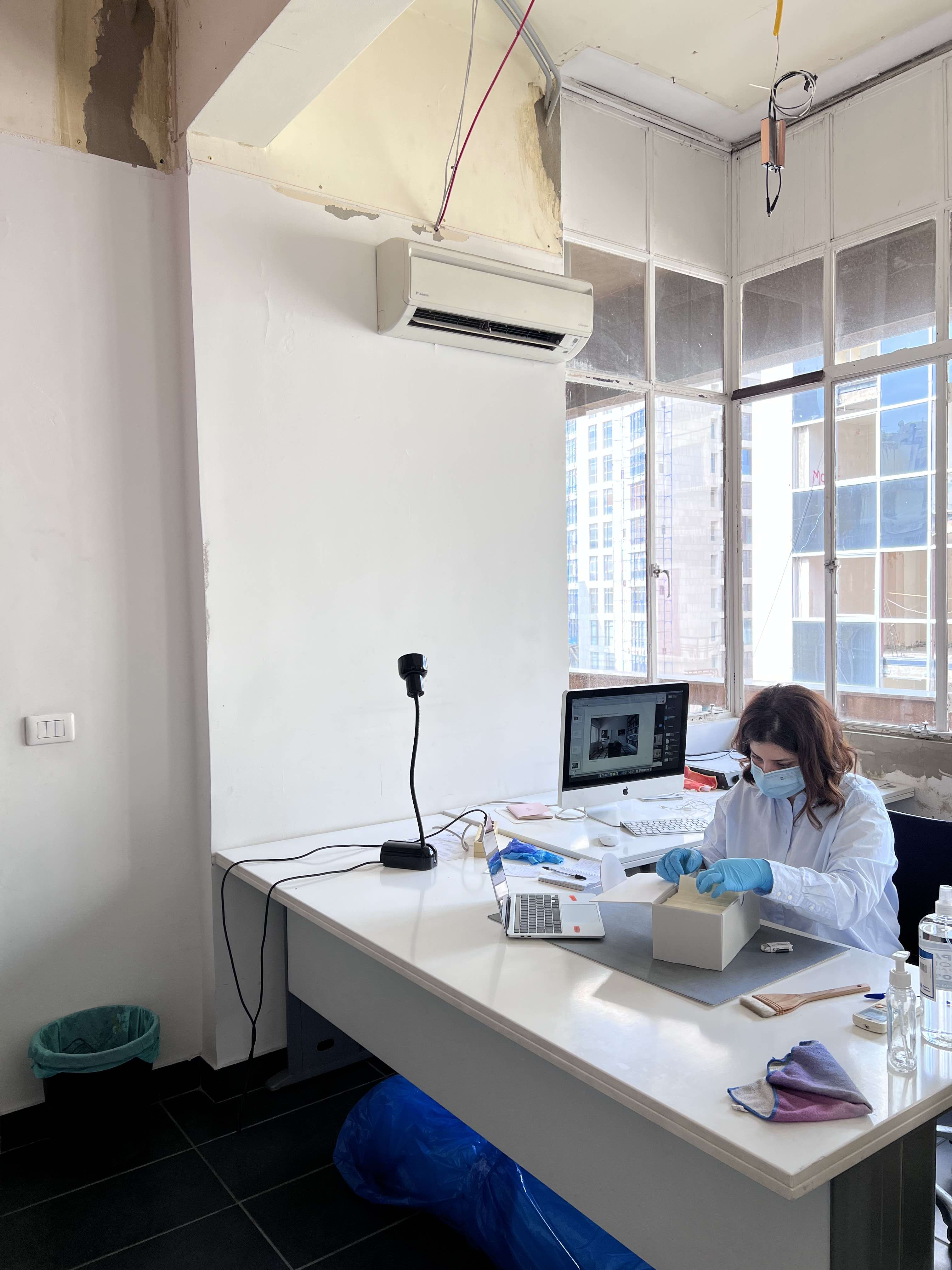 From October 2021 to February 2022, the AIF's preservation lab welcomed a new intern in its midst: Sabine Hodeib. Sabine works as a documentalist at the Grand lycée franco-libanais; in parallel, she is completing her final semester at USJ's MA programme in curatorial studies. Throughout her internship, Sabine helped our archivists in the mapping and proofing of the collections in the cool storage room, a task we have been undertaking ahead of our eventual relocation. Though the nature of the work itself may at times be tedious, Sabine demonstrated exceptional attention to detail, and says that "working on the collection proofing allowed [her] to discover important aspects of archival practices."
The AIF is always eager to welcome learners and practitioners from all walks of life. If you wish to complete an internship at the AIF and learn more about the different aspects of preservation, digitisation, research, or even the inner workings of cultural institutions, send an email to [email protected]
---
HELLO, GOODBYE
​February 2022 was an emotional month for us here at the AIF. We were delighted to welcome a new member to our team, but also sad to see one of our own go, even if in search of greener pastures.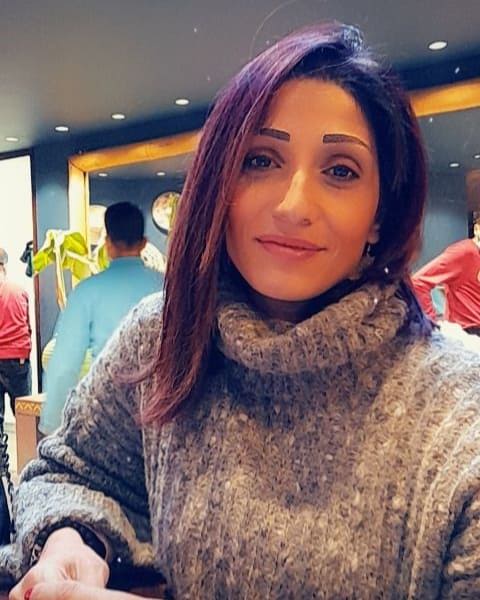 Rana Souki joined us as the operations coordinator this month, having been in charge of operations at Outsourcing SARL for more than fifteen years. With a bachelor's degree in law from the Arab University and an MA in information law from Sagesse University (where, incidentally, she was taught by AIF lawyer Pierre El Khoury), she is learning the ropes of the administrative and legal aspects of the AIF in record time, and has already contributed tremendously to the facilitation of the workflow between the different labs at the foundation.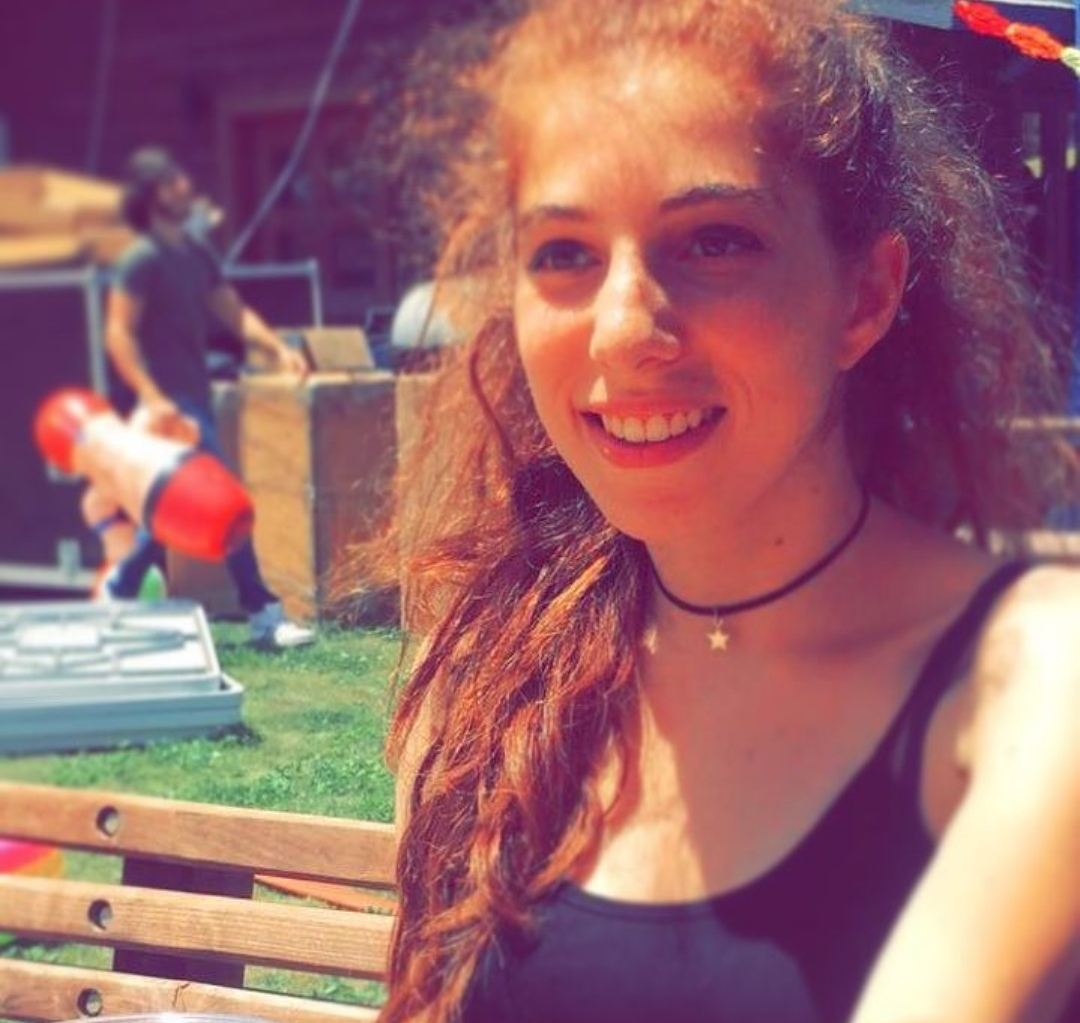 Rhéa Dagher joined us as an archivist in the summer of 2021. She is now going to work partly with Nadim Karam and with the Institute of History, Archaeology, and Near East Studies at the University of Balamand. During her time at the AIF, Rhéa primarily worked on proofing the collection, and cross-referencing physical items in the cool storage room with the AIF storage inventory database, at an item level. Her presence and spiritedness will be missed; and we wish her the best of luck on her new journey.
---
TRIBUTE TO OUR DONORS
​The Arab Image Foundation extends its appreciation to our current generous supporters that make our activities possible. We are equally grateful to those who wish to remain anonymous.
Major Supporters
Royal Norwegian Embassy in Beirut ▪ Arab Fund for Arts and Culture ▪ Al Mawred Al Thaqafi ▪ Foundation for Arts Initiatives ▪ The Violet Jabara Charitable Trust ▪ Getty Foundation
Project Supporters
Modern Endangered Archives Program (MEAP) at the UCLA Library, with funding from Arcadia ▪ Prince Claus Fund for Culture and Development ▪ Institut Français ▪ William Talbott Hillman Foundation ▪ Akram Zaatari ▪ Alexandre Medawar ▪ MAGRABi ▪ Fund for the International Development of Archives – FIDA ICA ▪ Victoria and Albert Museum – V&A ▪ Art Jameel ▪ New York University's Hagop Kevorkian Center for Near Eastern Studies
Post-Explosion Supporters
Financial donations – institutions: Prince Claus Fund for Culture and Development ▪ Cultural Emergency Response ▪ Cultural Protection Fund of the British Council ▪ Gerda Henkel Stiftung ▪ US Ambassadors' Fund for Cultural Preservation ▪ Mariët Westermann and the Pardoe-Westermann Family Fund ▪ Middle East and Islamic Caucus of Franklin & Marshall College ▪ Luminous-Lint ▪ Oteri General Construction ▪ Moore Archives & Preservation LLC ▪ GAPS LLC ▪ Blue Shield ▪ Book Works ▪ American Institute for Conservation of Historic & Artistic Works ▪ Savvy Wood Photography ▪ Benevity ▪ PhotoArts Studio ▪ Robert Rauschenberg Foundation ▪ Stanley Thomas Johnson Stiftung ▪ Europeana Foundation ▪ Rotary Club Essen-Gruga
In-kind donations – institutions: Institut National d'Histoire de l'Art ▪ Middle East Photograph Preservation Initiative ▪ Musée Français de la Photographie ▪ Klug-Conservation ▪ Centre de la Photographie
AIF could not have made this journey without all the individual contributors.
Click here for the full list of individual donors.
Thank you for those who have supported us in previous years: Sharjah Art Foundation, Pikasso, Ford Foundation, Graham Foundation.