Issue #2022.01
More than meets the eye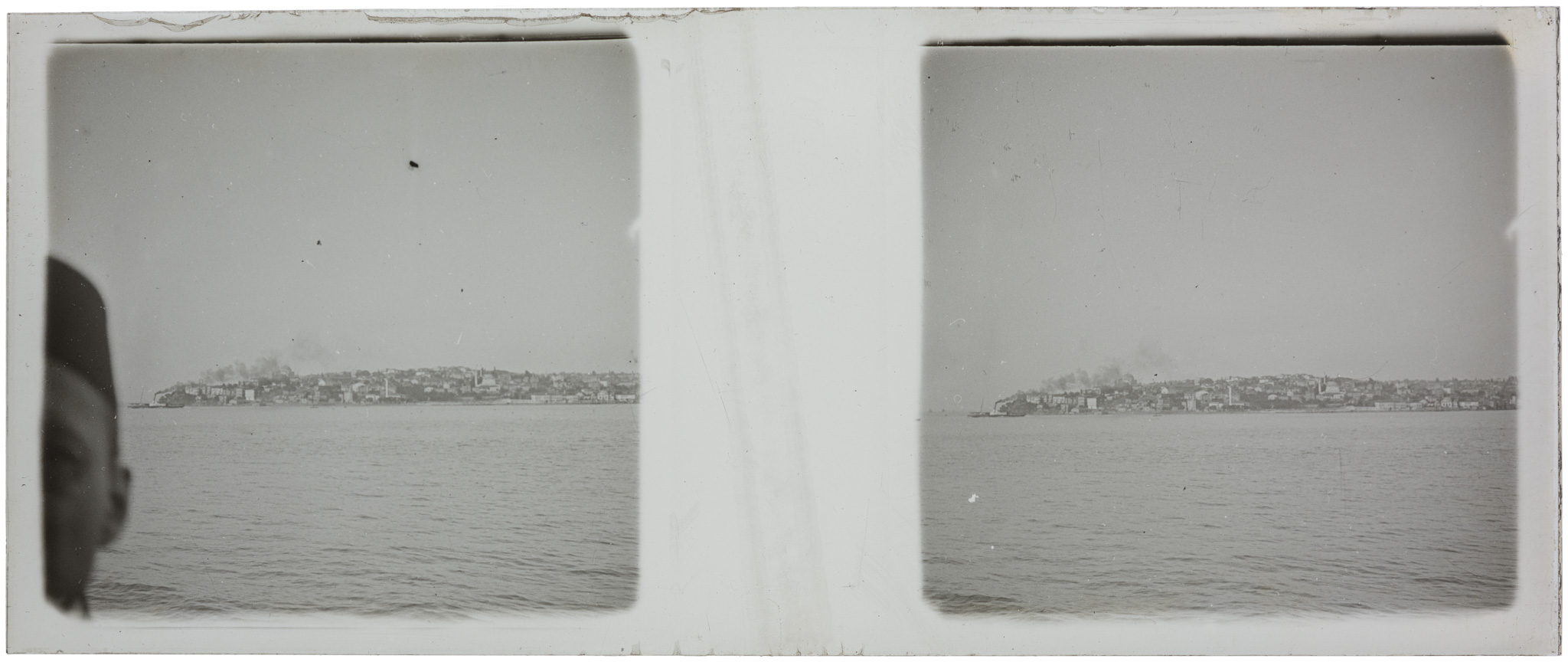 لقراءة هذه النشرة باللغة العربيّة، اضغطوا هنا

​We take on our 25th anniversary in 2022 with fervour. We intend to capture and share what we have accrued in a quarter of a century and what the story of AIF may illuminate. Our journey, like many others in this region, has been fraught with volatility and risk. Our quest has been to challenge mainstream linear (his)tories within complex struggles and timid spaces. Appropriating our local stories and confronting societal issues is a cumulative act of narration with a context-specific language and a plurality of lenses.
The materiality we work with is the photographic object in all shapes and forms: stereoscopic images on paper or glass; negatives on glass; positive slides known as diapositive; film negatives – colour as well as black and white –; prints; and albums. These different formats in our custody elucidate a period in the history of the shores east and south of the Mediterranean and its hinterland, but also the far reaches of communities in diaspora. What these objects also reveal are the technical tools appropriated from colonial and economic giants; notwithstanding the content of images which may be a reproduction of hegemonic worldviews and a pre-meditated eye.
Through critical research, we can read this content and these frames to understand where we are today and what has shifted or remained stagnant in our relations to places and people. What is most revealing is the vernacular, the surprising lens, and the intimate captures, as well as the archiving process of the photographer and the collectors. This is the playing field that may not conform neither to standard tools nor to a language. The variety of our collections, their formats, and our approach to capturing the photographic object in its materiality open up a plethora of research possibilities and stories to weave about our societies and photographic practices. It is what we see within the images but also what is absent that is equally telling. The multiplicity of viewing experiences in terms of content is as important as our attempts to recreate these experiences online in their materiality.
We invite you in this first edition of the year to be inspired by the newly acquired collection of Linda Jacobs on Stereoscopic views of Palestine, and the visual storytelling publication and podcast based on Eugène Cottard's daily strolls and visits across the region. Our internal kitchen is better exposed to the outside world through the ingenious technological inventions such as the start-up of Negative Supply, and the critical ways of transposing objects online, as explored by Max Mahmoud Wardeh and our very own Mahmoud Merjan.
Our themes and practices may be specific to idiosyncrasies of this region, but may also resonate with initiatives in many different parts of the world. It takes deliberate acts to create intimate and public spaces for weaving stories we care about and to showcase them with the help of various disciplines, ranging from the technical to the anthropological. It is about self-representation and a projection of what society we want to live in. Sometimes, it is not in the images and formats we hold physically and digitally, but in all the absent ones that have never seen the light. Just as an image is a representation of a reality gone by, we submit to the reality of having to live with what is not replicable.
Monday 7 February 2022
---
Header image: 0300co00061, 0300co – Eugène Cottard collection, courtesy of the Arab Image Foundation, Beirut.
---
WORK OF A PRACTITIONER
​Akram Zaatari: ​ Three Snapshots and a Long Exposure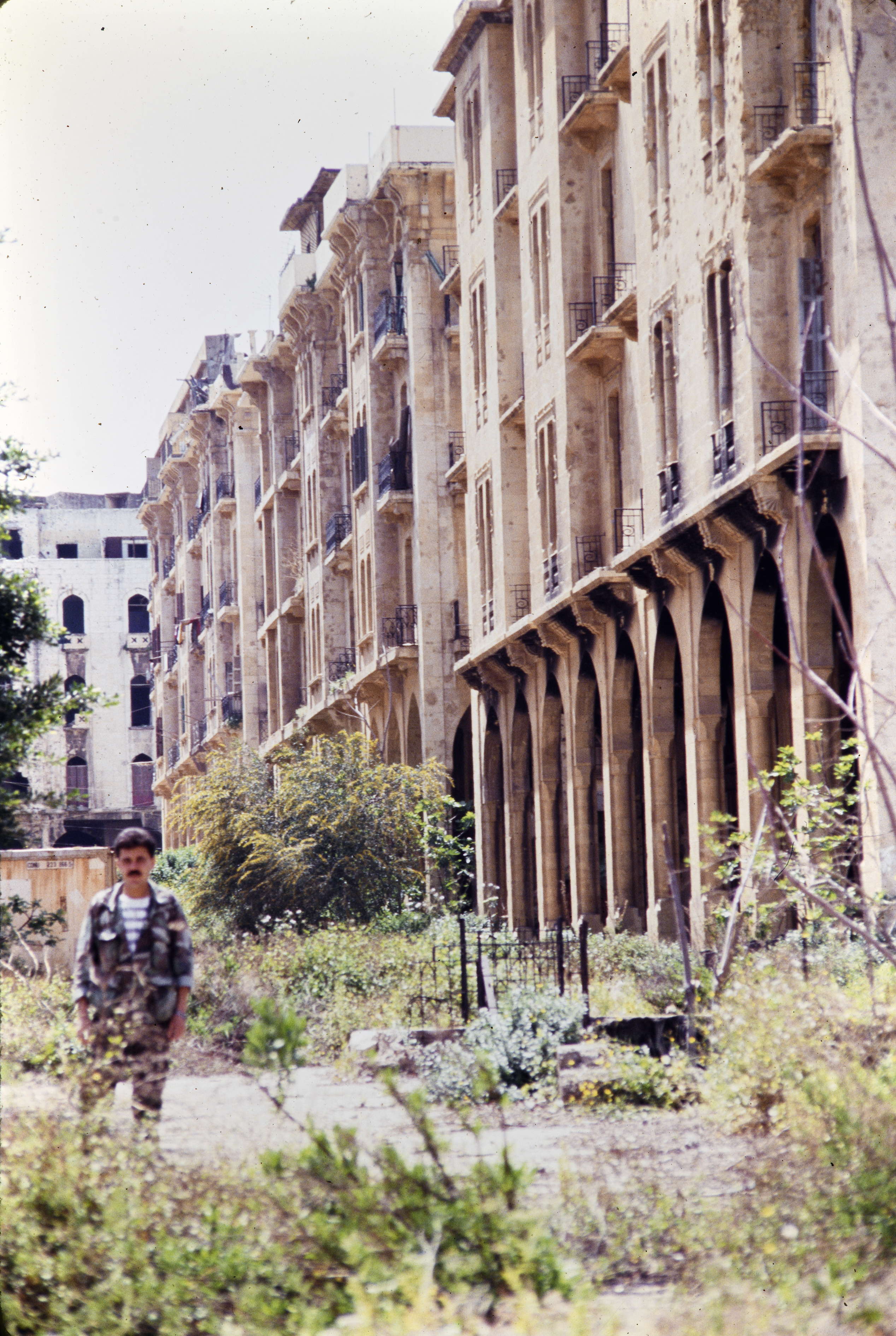 In the AIF's early years, it was not uncommon for those who crossed paths with the foundation to have done so through its co-founders – Fouad El Khoury, Samer Mohdad, and Akram Zaatari – who were also the first people to research collections and entrust them to the custody of the foundation.
In this issue, we highlight founding member Akram Zaatari's recent article "Three Snapshots and a Long Exposure," published in the fourth edition of the journal A/R. Though Akram is no longer a member of the AIF, his own research and practice continue to explore collecting and archival practices, and the alternate histories that images help to uncover.
"Three Snapshots and a Long Exposure" reflects on human presence or absence in photographs and highlights the violence embedded in the extraction of specific figures away from photographs after their captures. The text looks at displacement in Lebanon's recent history, and namely how the depopulation of Beirut's city center and the formerly occupied South was made to serve a speculative economy and calls for an approach to photograph preservation where photographs' people are considered an integral part of records. You can read the full text here.
A/R is a journal produced by a / r asbl – art-recherche (art and research), a non-profit organisation for the support, exchange, circulation, and promotion of arts research in the Écoles Supérieures des Arts of the Wallonia-Brussels Federation (FWB). You read issue 04 online here.
---
TALK
​Ways of seeing: A conversation with Max Mahmoud Wardeh and Mahmoud Merjan – 27 January 2022
The Arab Image Foundation is home to 44 photographic albums, which we were able to catalogue and rehouse thanks to support from the William Talbott Hillman Foundation. How can we digitise these albums in a way that would allow them to be flipped through on our digital platform? How does a photographic object's materiality impact the way we view and experience the image in question? Whether we are talking about an album, a stereoscopic view, or a glass plate, how do different photographic formats contribute towards a multiplicity of viewing experiences? How can these experiences be (re)created online – or can they be?
This January, we held an online conversation with data engineer and professor of digital technologies Max Mahmoud Wardeh, and our very own digital collections coordinator Mahmoud Merjan, exploring the challenges of transposing different formats of photographic objects onto the virtual realm. The conversation was moderated by AIF director Heba Hage-Felder.
Max Mahmoud Wardeh is a technologist and educator who's interested in exploring different ways of creating and sharing knowledge. He is currently advising the AIF on digital assets management systems (DAMS) and metadata standards.
Mahmoud Merjan has been working at the AIF since 2016. In his capacity as digital collections coordinator, he is in charge of the AIF's digitisation operations and digital archiving practices, in addition to the documentation and research activities related to the AIF's collections.
---
PODCAST
​Lamha Podcast Episode 11: The Eugène Cottard collection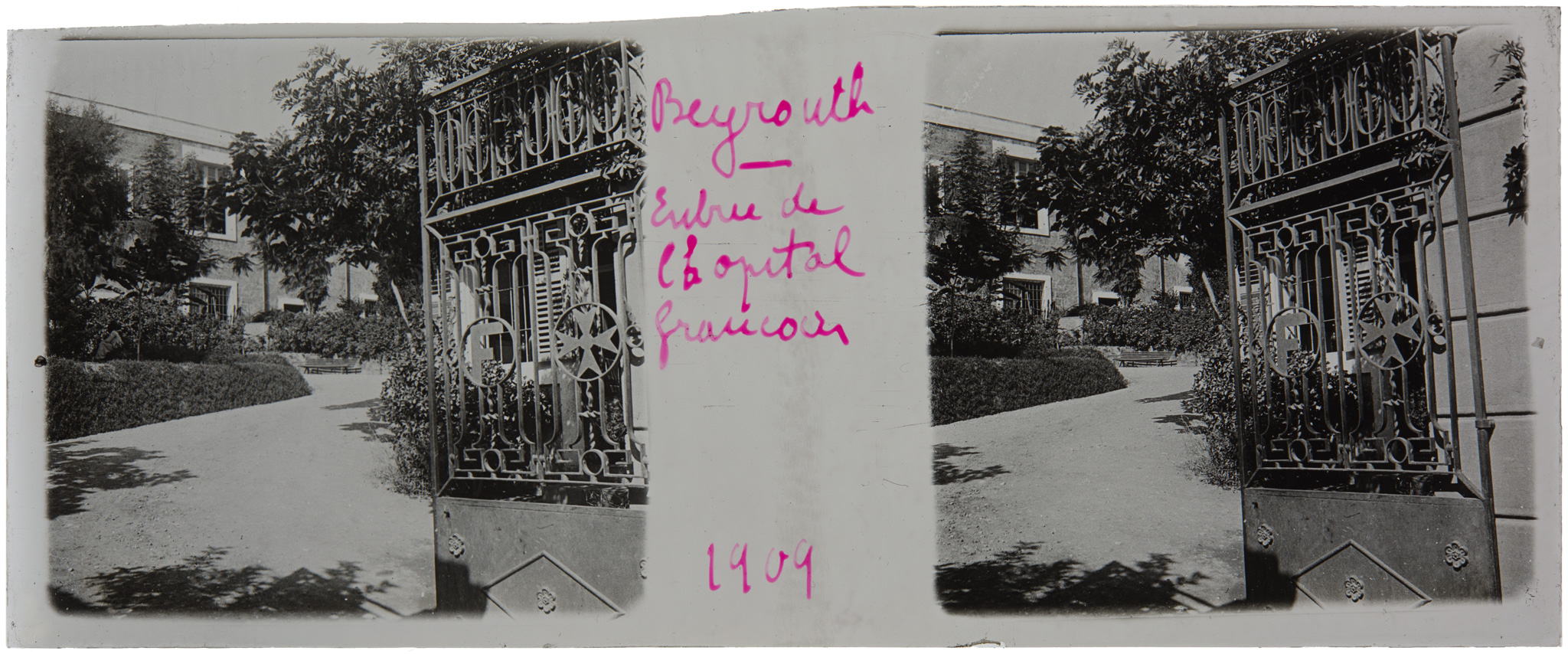 Lamha is a podcast in Arabic put together by the Arab Image Foundation with the aim of presenting the collections in its custody through a series of short snippets.
The 11th episode of Lamha presents the Eugène Cottard collection, comprised of 1,229 images captured by Cottard himself during the time he spent in Greater Syria. Eugène Cottard was a French doctor. Born in Annecy, France in 1873, he moved to modern-day Lebanon in 1908 to work as a surgeon. Cottard's images document the evolution of social life and the industrial developments over the span of forty critical years in the history of the country and the region. Unlike many such pictures taken at the time, the images in this collection shy away from romanticising the local landscape or fetishising the provincial residents and communities.
Click here to listen to the podcast and learn more about these collections.
You can explore this collection on our digital platform here.
Lamha is produced in collaboration with Tunefork Studios, Beirut, Lebanon.
---

---

---
COMMUNITY HIGHLIGHT
​Discover what is happening in our community. We are proud to showcase individuals and organisations that have been supporting us along the way, in addition to those we in turn support through training and consulting services. We are also eager to tell you about initiatives and collectives we admire, and whose work and mission intersect with ours. Members of this fast-growing community will be showcased in every issue of our Stories.
​​
​In this issue, we bring your attention to: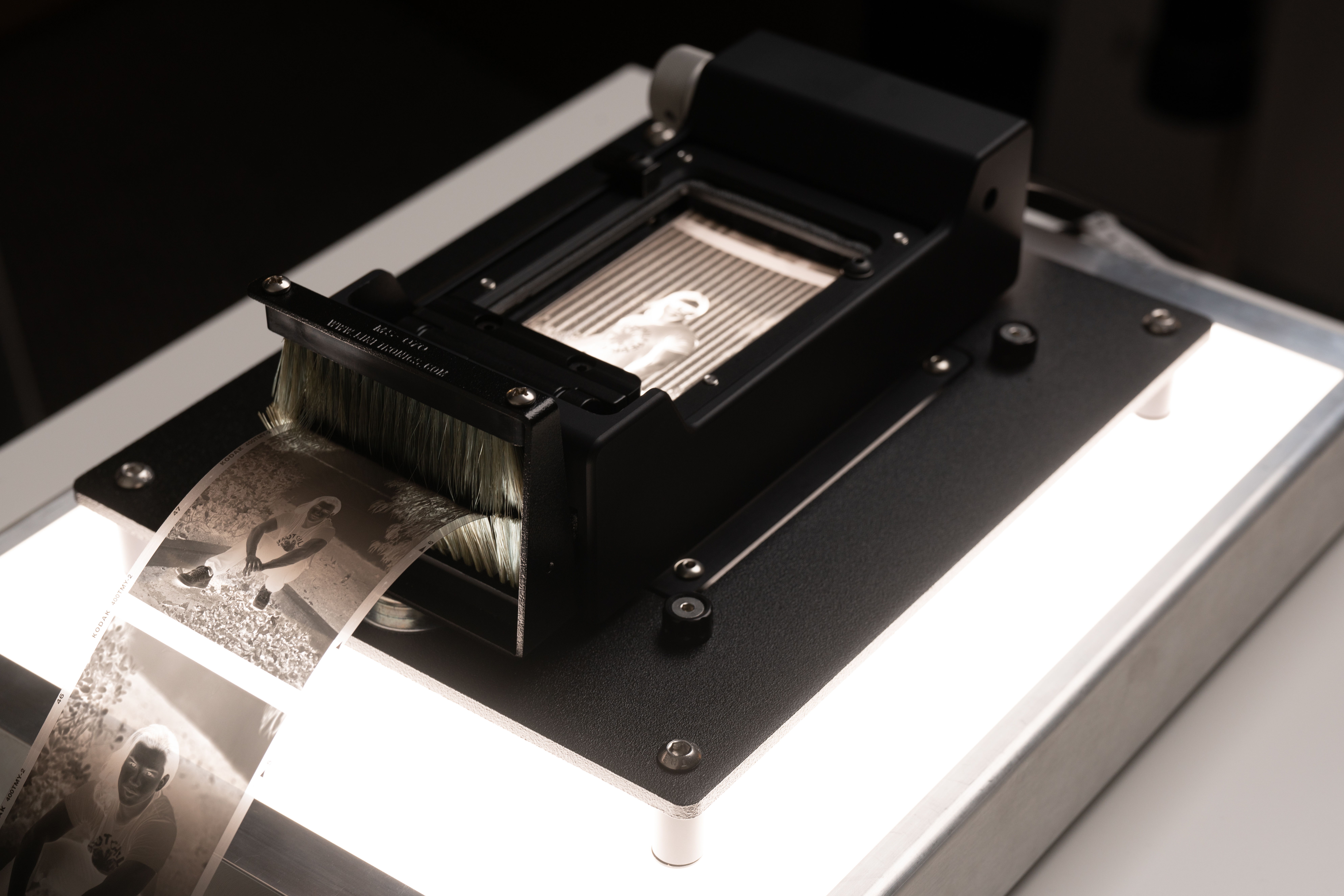 Co-founded by Saxon McClamma and AJ Holmes, Negative Supply is a company that works to respond to the needs of film photographers around the world while actively evolving with a rapidly changing industry. It aims to become a resource for film photographers of all skill levels and career points to come and learn, share, and support the industry together. Negative Supply exists to create tools for film photographers around the world that want to spend more time photographing, and less time scanning. Their first product, the Film Carrier MK1, allows you to digitise negatives using your digital camera and a macro lens in as little as 5 minutes (or less) with tools you may already have; and now they make products for scanning film up to 8x10 sheet film.
---
WORK IN PROGRESS
​AIF's albums soon to be online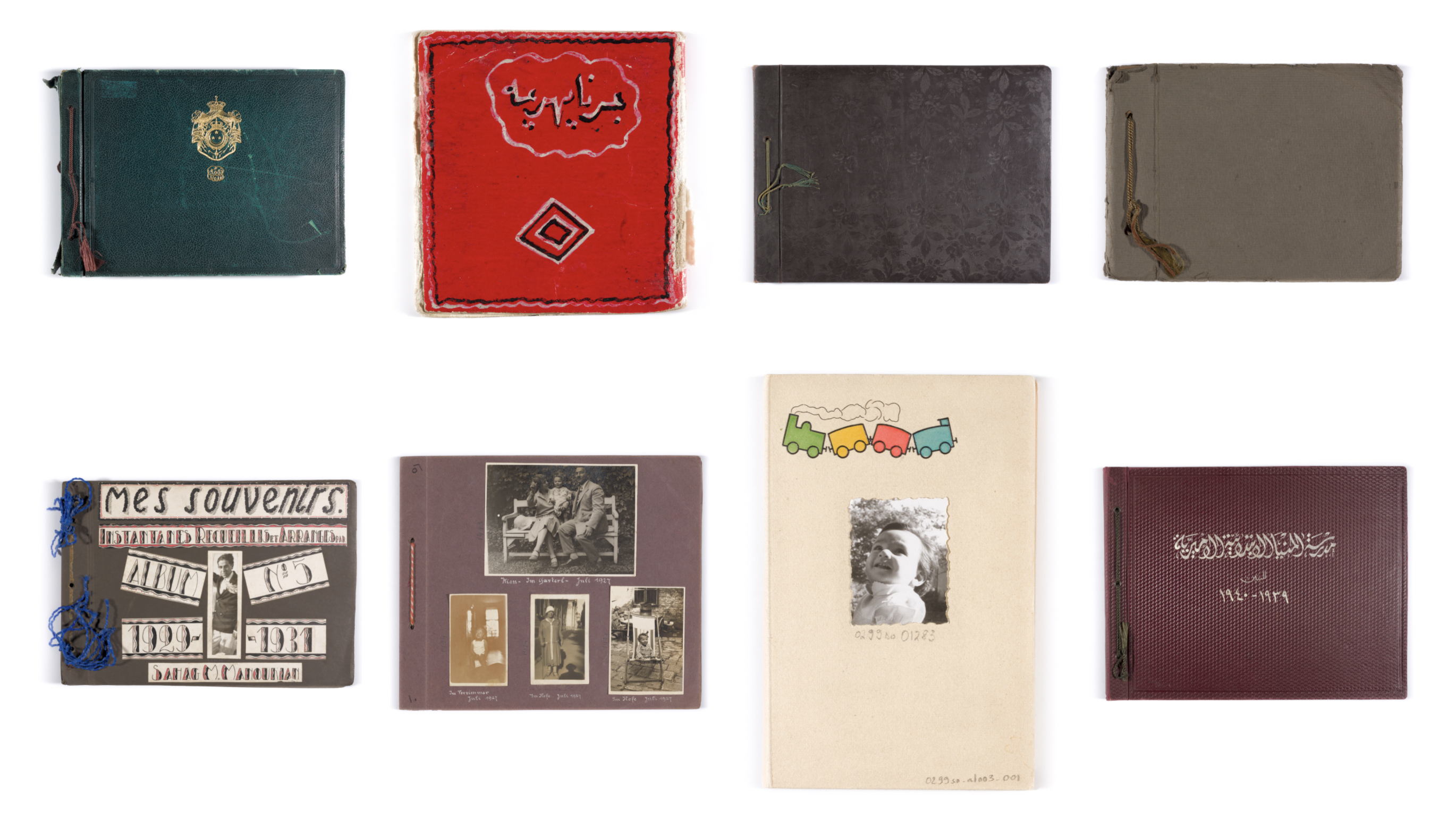 The Arab Image Foundation is the custodian of 44 photographic albums from Lebanon, Jordan, Iraq, and Egypt, spanning the 1900s to the 1970s. Over the past year, we were able to pay much-needed attention to these photographic objects, cataloguing them, rehousing them, and digitising them, thanks to crucial support from the William Talbott Hillman Foundation.
The past few months have been dedicated to reflecting on – and rethinking of – how to make these digital reproductions available online so they can be accessible to the wider community.
Each photographic object has a specific materiality of its own, which is inherent to the object in question and that object alone; in a way, it is similar to DNA. How can this materiality be translated and transposed online? That is precisely the question that has prompted us to work closely with data engineer Max Mahmoud Wardeh in order to find relevant answers and solutions.
The main challenge has been to try to recreate the experience of looking at and flipping through an album, a physical gesture specific to this particular format. For this reason, all 44 albums were digitised spread by spread, as opposed to each page being reproduced on its own, meaning that albums can be viewed online in a similar way to an open book.
The available documentation around each album has been kept to a minimum: we are only including the baseline information of the collection name, dimensions, and inscriptions, as well as a brief description of each album, to try to create a more intimate user experience, without the burden of didacticism ​ – or in any case, one that is unique to the person viewing the album.
You will soon be able to view the AIF's albums online on a dedicated website. Stay tuned for more updates!
---
LIBRARY RESOURCE
​The Digital Print: Identification and Preservation
​By Martin C. Jürgens
​Published by the the Getty Conservation Institute, 2009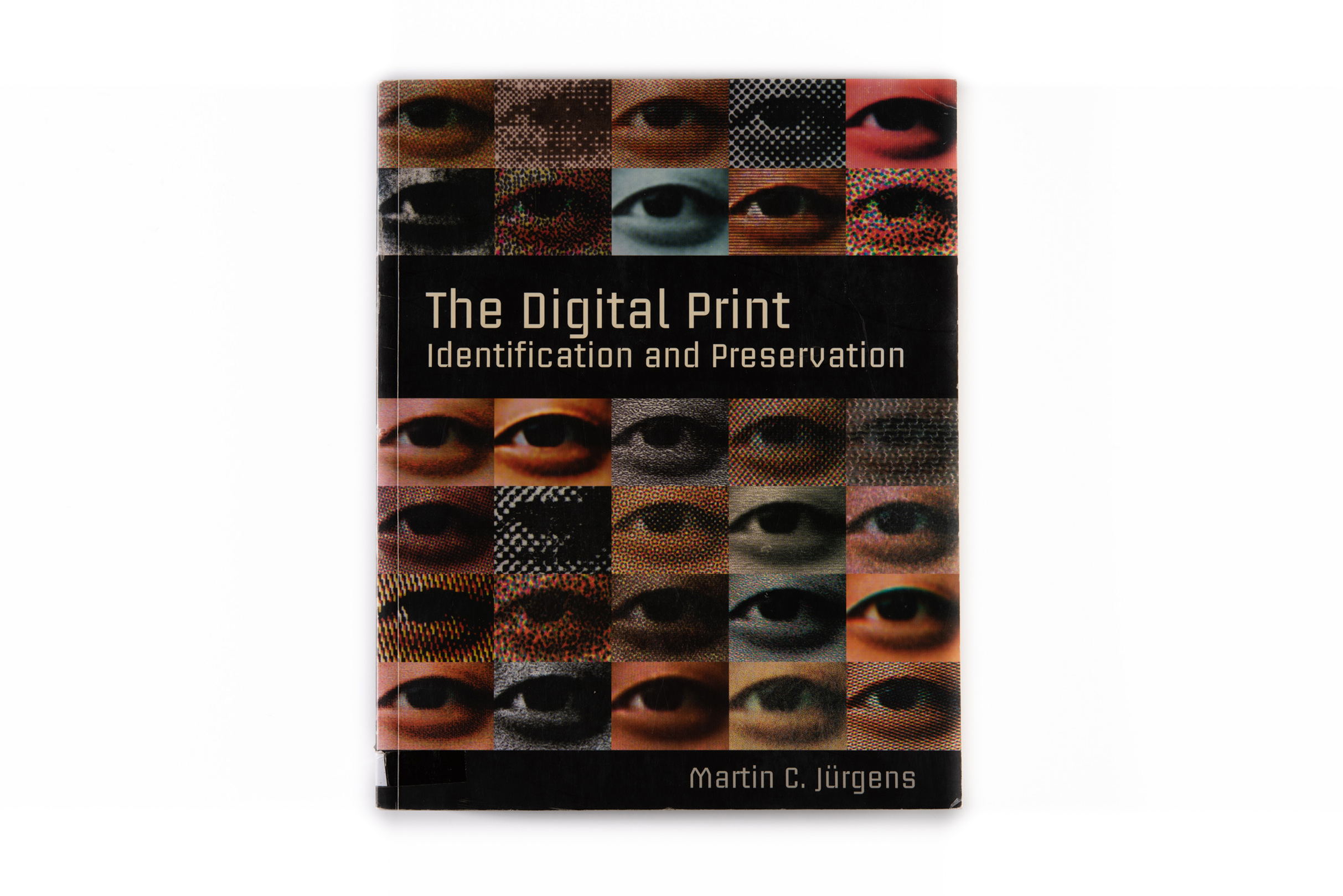 The Digital Print: Identification and Preservation demystifies the complex, rapidly changing, and sometimes confusing world of digital print technologies. It describes the major digital printing processes used by photographers and artists over the past forty years, explaining and illustrating materials and their deterioration, methods of identification, and options for acquiring and preserving digital prints. A removable poster provides a ready reference for identifying specific processes and materials. Anyone involved in identifying and preserving digital prints – from conservators, curators, archivists, and registrars to photographers, artists, and printing studios – will welcome this comprehensive, one-of-a-kind volume.
This title is available for consultation at the AIF Library. Read it at our premises, where you can also explore over 2,000 other books, every Tuesday and Wednesday from 14:00 to 17:00. Book your visit here.
---
NEW ACQUISITION
​Stereoscopic views from Palestine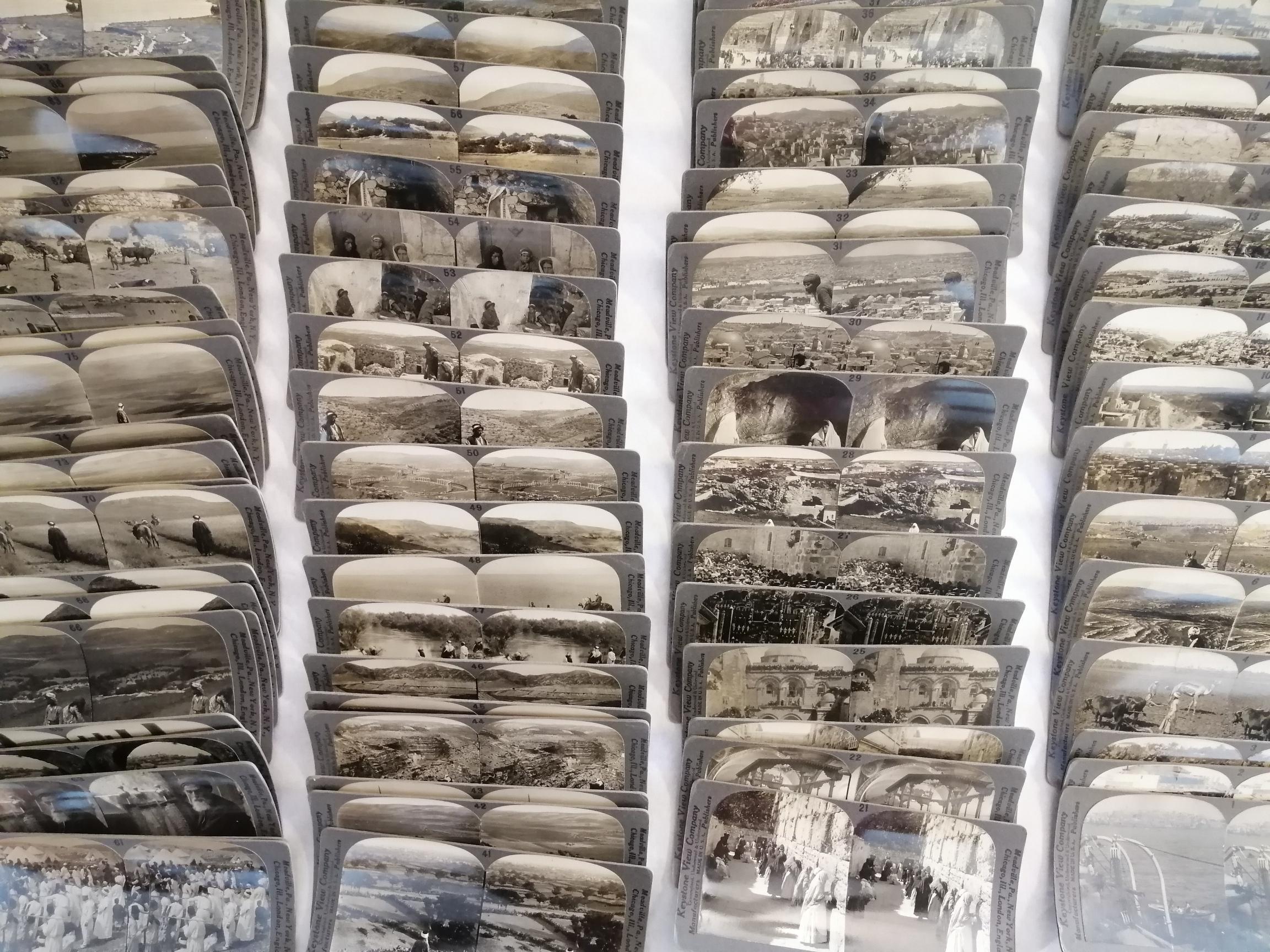 In October 2021, we welcomed a new collection in our midst. Linda Jacobs, a longtime friend and supporter of the Arab Image Foundation, donated a set of over 90 stereoscopic views on Palestine, dating back to the year 1900, along with a book documenting these very images. Both the stereographs and the accompanying publication were produced by Keystone View Company. 
Linda purchased the box of stereoscopic images at a junk store in Pasadena, California, in the late 1960s-early 1970s for just 5 USD. Two decades later, in yet another junk store, she came across Palestine through the Stereoscope (1914), a book that acts as supplement or appendix to the stereoscopic views she had purchased earlier, and which documents each image included in the set. The book also includes a map of Palestine, dated 1900, that locates and identifies where each image was taken, with the numbers on the map matching the numbers written on the stereoscopic views.
This collection is a valuable addition to the AIF collections, and an important record of the people and land of pre-1948 Palestine. The AIF is home to more than 500,000 photographic objects from the region; now more than ever, we are adamant on bridging the gaps that exist within our collections, and on bringing about better representation of different, and often sidelined, communities. We welcome everyone to visit our premises and activate the photographic objects in our custody, whether through research, exhibitions, or otherwise. Get in with us at [email protected]
---
FAREWELL
​Cynthia Zeidan Abou Hassan, part-time operations coordinator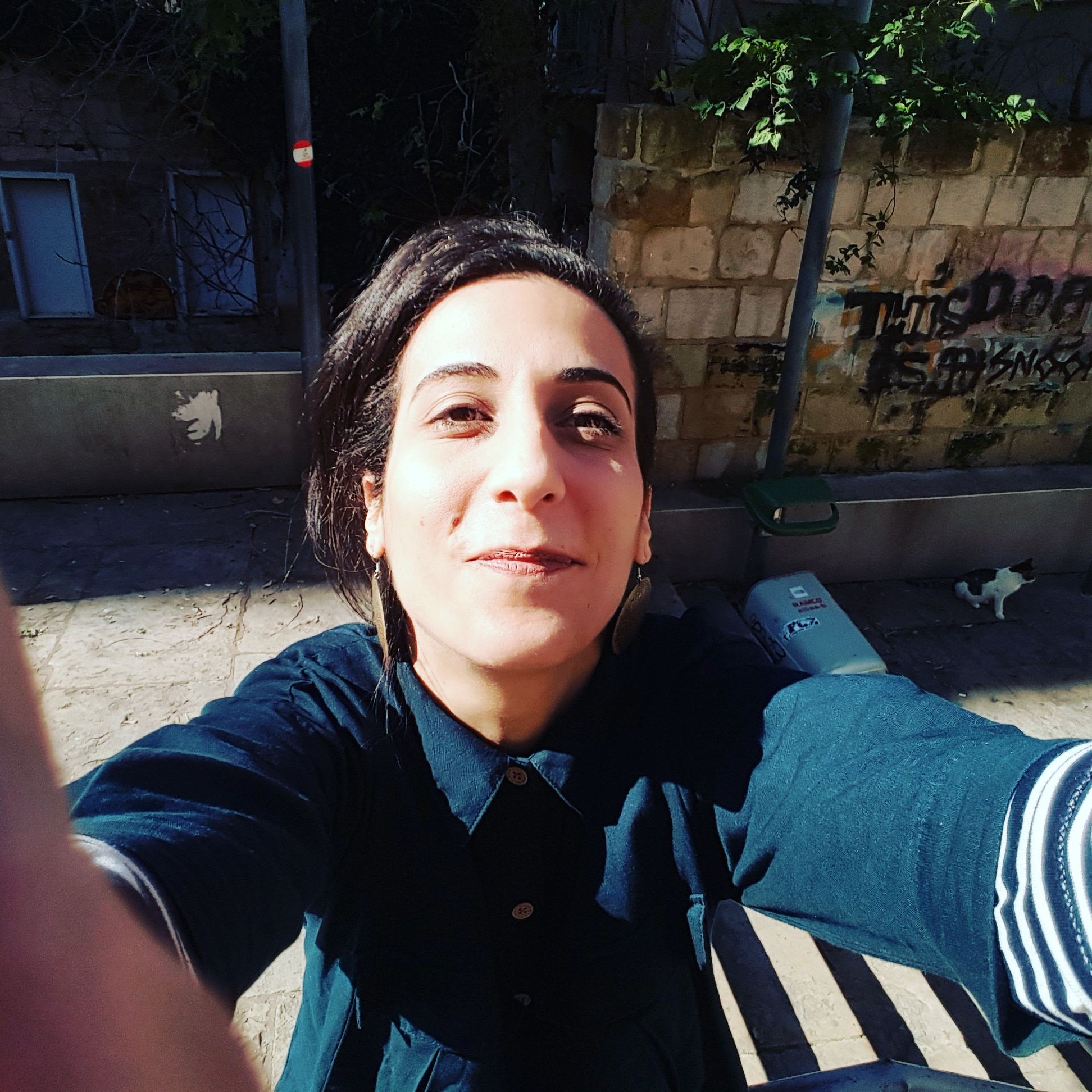 Cynthia Zeidan Abou Hassan joined the AIF as the operations coordinator (part-time) in June 2021, and quickly became a team favorite. Her buoyant energy and whimsical banter brought lightness and laughter to the office, and her top-notch organisational skills ensured that the AIF's day-to-day operations were running smoothly.
Those who know Cynthia are no stranger to her passion for Arabic music and applied music theory, especially playing the oud, a skill she has been studying and refining for many months with Oussama Abdel Fattah. This January, Cynthia is leaving the AIF in order to pursue her dream of becoming a musicologist and instrumentalist, and will be enrolling in the Antonine University's BA program in Musicology in the spring.
We will miss Cynthia dearly, and wish her the best of luck on her exciting new journey. Hers is a name we will be looking out for.
---
TRIBUTE TO OUR DONORS
​The Arab Image Foundation extends its appreciation to our current generous supporters that make our activities possible. We are equally grateful to those who wish to remain anonymous.
Major Supporters
Royal Norwegian Embassy in Beirut ▪ Arab Fund for Arts and Culture ▪ Al Mawred Al Thaqafi ▪ Foundation for Arts Initiatives ▪ The Violet Jabara Charitable Trust ▪ Getty Foundation
Project Supporters
Modern Endangered Archives Program (MEAP) at the UCLA Library, with funding from Arcadia ▪ Prince Claus Fund for Culture and Development ▪ Institut Français ▪ William Talbott Hillman Foundation ▪ Akram Zaatari ▪ Alexandre Medawar ▪ MAGRABi ▪ Fund for the International Development of Archives – FIDA ICA ▪ Victoria and Albert Museum – V&A ▪ Art Jameel ▪ New York University's Hagop Kevorkian Center for Near Eastern Studies
Post-Explosion Supporters
Financial donations – institutions: Prince Claus Fund for Culture and Development ▪ Cultural Emergency Response ▪ Cultural Protection Fund of the British Council ▪ Gerda Henkel Stiftung ▪ US Ambassadors' Fund for Cultural Preservation ▪ Mariët Westermann and the Pardoe-Westermann Family Fund ▪ Middle East and Islamic Caucus of Franklin & Marshall College ▪ Luminous-Lint ▪ Oteri General Construction ▪ Moore Archives & Preservation LLC ▪ GAPS LLC ▪ Blue Shield ▪ Book Works ▪ American Institute for Conservation of Historic & Artistic Works ▪ Savvy Wood Photography ▪ Benevity ▪ PhotoArts Studio ▪ Robert Rauschenberg Foundation ▪ Stanley Thomas Johnson Stiftung ▪ Europeana Foundation ▪ Rotary Club Essen-Gruga
In-kind donations – institutions: Institut National d'Histoire de l'Art ▪ Middle East Photograph Preservation Initiative ▪ Musée Français de la Photographie ▪ Klug-Conservation ▪ Centre de la Photographie
AIF could not have made this journey without all the individual contributors.
Click here for the full list of individual donors.
Thank you for those who have supported us in previous years: Sharjah Art Foundation, Pikasso, Ford Foundation, Graham Foundation.