Issue #2021.10
Lyrical imaginations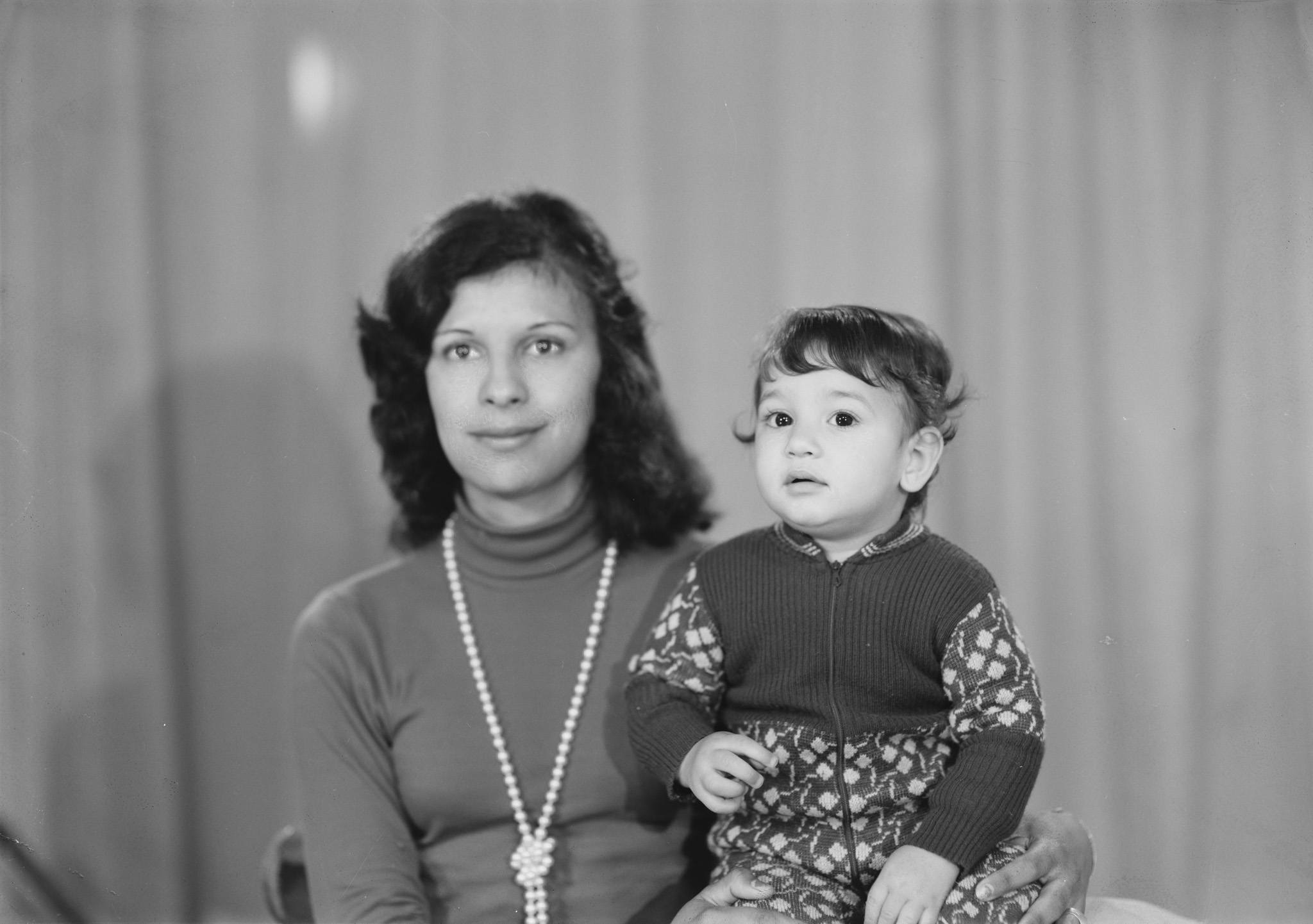 لقراءة هذه النشرة باللغة العربيّة، اضغطوا هنا
Words are powerful. Whether written or spoken, the moment they are transmitted, they become unpredictable. Even when we strive for candour, variations in the reception are natural and even welcome. At the Arab Image Foundation, our archival practice comes with great responsibility, prodding us to be critical and accountable to both the creators and subjects of photographic objects, and the wider community. Like our practice in preservation, we do not seek to restore or alter items. Rather than correcting or censoring original content which may today be perceived as inappropriate, hurtful or discriminatory, we consider contemporaneous interpretation important in critical and historical study. 
As our language statement indicates, we endeavour to only use language that distinguishes based on age, disability, race, ethnicity, religion, nationality, gender, and sexuality in contexts where it is particularly relevant for historical research, and mainly through tags, to help our users easily access the content they are looking for. Moreover, we try to move away from generic labels, towards adopting terms used by groups and communities to define themselves and their histories. This may involve direct discussions with relevant individuals or organisations, or research into how other institutions have tackled such questions. 
Like life itself, a photographic object contains many layers to read through. Our documentation process at the AIF is dedicated to recording and preserving as much information as possible from the moment when collections are acquired and continues even after they are disseminated. In the process of documenting, our team generates two types of data. Cataloguing is carried out by AIF's archivists, who draw out technical metadata that is discernible through the materiality of the object. The collections researchers add the context, production, and content of the photograph, both on an item- and collection level; and often with the assistance of the donor/depositor of the collections or with other invited researchers. Many collections have limited information and require extensive research efforts. Hence, we welcome inquisitive attempts by researchers and practitioners – individually or as a joint effort – to generate content about the collections and the different image practices. 
Research is a form of preservation. We take you behind the scenes with our collection researchers, Omar Thawabeh and Paul Ghorra who share with us what they are currently reviving in AIF's archives, and what excites them in their investigation for clues and stories around the Radwan Mattar collection and the Fawaz Kheiry collection. 
Our eighth Lamha podcast episode highlights two collections from Algeria and Morocco that illustrate the challenge of unpacking the stories related to photographic collections. While we scout for information that is scant about collections from the last century, a group of passionate photographers based in Algeria are weaving their own photographic tale. Our community highlight for this issue is Collective 220, who show diverse and intimate perspectives of people, cities, and spaces in Algeria today.
With still images, one can choose to only view and give space for a wandering imagination, without the additional garnish of data found in captions and collection biographies. Cinema, on the other hand, is a delicate act of synthesizing image, sound, and sequencing, and often involves a lot of compromises. The poetry in cinema unfolds when people reveal their own stories in their own language. Our talk with Mohamed Soueid elucidates the relationship between the still and the moving image. He expresses his yearning for the multiple readings of his films, arguing that ultimately, it is irrelevant to tell a viewer what they should be seeing and understanding. Being touched by a film is what counts. 
Who produces images speaks volumes about the ways in which those may end up being interpreted. The power bestowed on photographs takes on different meanings depending on whether they are branded as official record, historical evidence or art. ​ Our library selection for this month, The disciplinary frame: Photographic truths and the capture of meaning by John Tagg, explores the notions of truth and authenticity.
The quest for representation in many parts of our world is synonymous with survival, as communities struggle to challenge daily violence and the act of shunning. We chose as work of a practitioner, Sigil, a collective authorship that takes on the gaping absences in discourse, design, and landscapes through representational and site-specific interventions titled monuments of the everyday. 
Activating our collections takes on different shapes. In the latest contribution to our Lab page, titled The Eclipse of the (Fe)Male Sun, short texts are accompanied by different photographs to illustrate how pre-modern Arabic, Islamic, and Persian image culture reflect non-binary gender expressions and homosocial relations as part of everyday life. To mark the tenth anniversary of the official opening of Casa Árabe's permanent headquarters in Cordoba, a group exhibition with works by more than 60 artists was featured, to acquaint the public with the shared history between Spain and the Arab region. The show included reproductions of photographs by Marie El Khazen from the Mohsen Yammine collection, housed at the Arab Image Foundation. A different selection from her photographs was also projected at the NO'PHOTO Biennale of Photography in Geneva, facilitated and featured by La Couleur des jours, Geneva's quarterly arts and culture journal.
Friday 5 November 2021
---
Header image: 0290me00127, 0290me – Chaouki Merazi collection, courtesy of the Arab Image Foundation, Beirut.
---
WORK OF A PRACTITIONER
​Sigil: Monuments of the everyday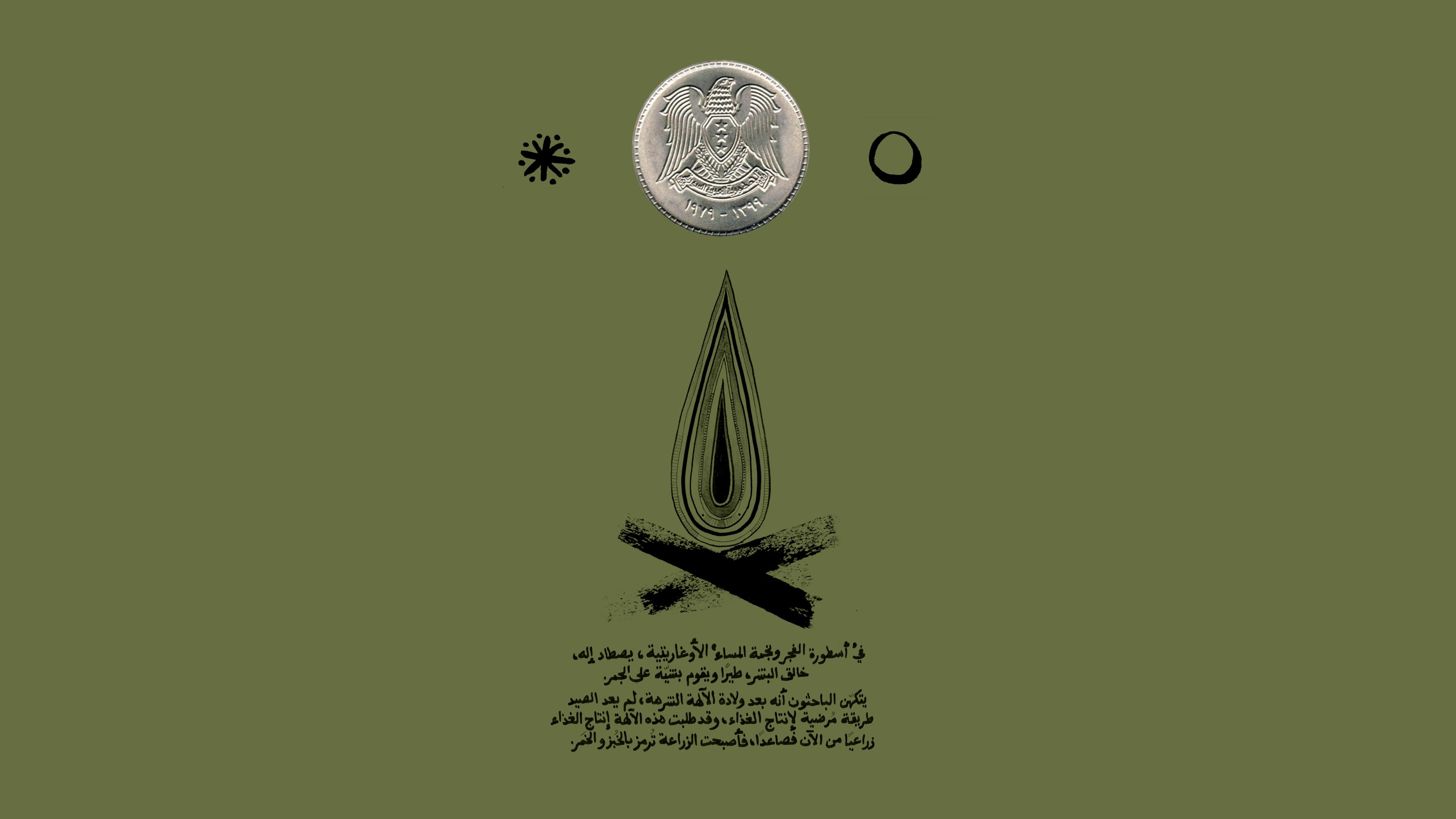 Sigil is a collective based in Beirut and New York City. It was founded in 2014 by Khaled Malas, a member of the Arab Image Foundation, as well as Salim al-Kadi, Alfred Tarazi, and Jana Traboulsi. Along with multiple interlocutors and associates, many primarily based in Syria, Sigil has produced a series of representational and site-specific interventions titled monuments of the everyday. These projects seek to explore the marvelous and terrifying metamorphoses of the Arab landscape marked by historical and contemporary struggles. Sigil's projects embark on committed inquiries regarding the relations between radical built gestures, the role of narrative in design, and attempts to challenge ongoing violence by evoking transmutational hope.
Sigil's most recent project was birdsong. birdsong was commissioned by the 2019 Milan Triennale, Broken Nature: Design Takes on Human Survival (curated by Paola Antonelli with Ala Tannir, Laura Maeran, and Erica Petrillo). The project's primary collaborators are Aamer Ibrahim, Imad al-Maddah and the Fateh Al Mudarris Center for Arts and Culture in Majdal Shams, the Occupied Jawlan. Through a series of textual and image-based incantations drawn from Syria, birdsong explores the human entanglement with birds, not as flesh and feathered bodies, but rather as representations. Doing so allowed Sigil to explore alternative roles for contemporary design, capable of critically examining peoples and places during this particularly fraught moment of Syrian history. The project cumulated in an agricultural monument of the everyday erected in the occupied Jawlan: an anthropomorphic harvest figure/scarecrow known colloquially as "Umm al-Ghaith" [the Mother of Rain].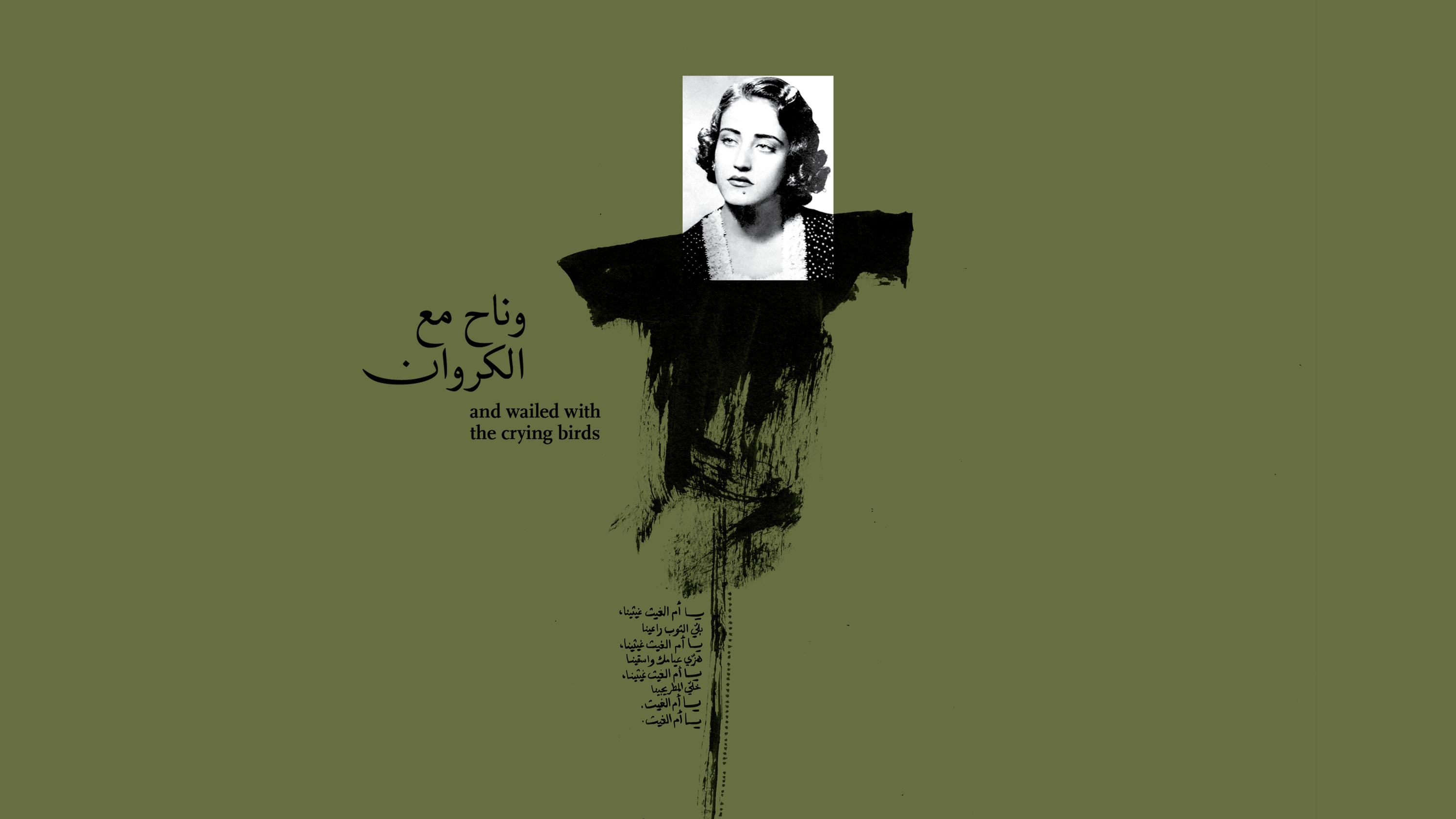 Since the occupation of the Western Jawlan in 1967, the Israeli military forces have destroyed most villages and farms, and built illegal settlements upon their ruins, often utilising the same stones. Steadfastedly refusing the ongoing occupation, Syrians of the Jawlan have remained stateless for decades, a population mostly forgotten, yet archetypical of the contemporary Syrian condition of determined struggle against systematic violations of their basic rights. Among other activities, Jawlanis have expressed their resistance and attachment to the land through the cultivation of rain-fed apples. In their courageous practices, Sigil find affinities with their own modest interventions as Sigil, many of which include an infrastructural project built in Syria, such as a well or an electricity-producing windmill. On an agricultural plot near Mas'ade, a scarecrow, a birdhouse, and an orchard of forty apple trees serve to support the local community. In addition, an exhibition was organised at the Fatheh Moudarres Center for Art and Culture, an active hub for the preservation and celebration of the Syrian history and identity in Majdal Shams. In Milan, a scarecrow wearing a talismanic garment was installed next to copies of a book showcasing the above-mentioned forty incantations of Syrian entanglements with avian species, both real and fantastic.
The bilingual book associated with birdsong was awarded a special honorable mention by the Syrian Studies Association in 2019, and elements from birdsong have since been exhibited at the 2nd Biennale d'Architecture d'Orléans ("L'étrangère sur terre: 2019-1969: Radical Imaginaries for Architecture in the Arab Mashriq and Maghreb") and at the Hochschule für Gestaltung und Kunst, Fach-hochschule Nordwestschweiz (HGK FHNW) in Basel (Future Sense exhibition).
---
TALK
​In conversation with Mohamed Soueid – 28 October 2021
What is the relationship between the still and moving image? In what ways do photography and the cinematic experience intersect?
This October, we held a conversation with writer and filmmaker Mohamed Soueid, exploring his practice and his relationship to the photographic archive. The talk was moderated by AIF director Heba Hage-Felder and Nour Ouayda, deputy director at Metropolis Cinema Association. A Q&A with the audience followed.
Despite holding monthly talks via Zoom over the past ten months, this was the first in-person talk at our premises in more than two years – and it will certainly not be the last. To watch the conversation, click here.
Mohamed Soueid is a writer, filmmaker, and producer. He is the author of several books in Arabic about Lebanese and Arab cinema, including Suspended Cinema: Lebanese Civil War Films (1986), History of Movie Theaters in Old Beirut (1996), and Literature and Screen-writing in Arab Countries (1995); and the director of Absence (1990), Cinema Fouad (1993), Tango of Yearning (1998), Nightfall (2000), and Civil War (2002).
---
PODCAST
​Lamha Podcast Episode 8: The Chaouki Merazi and Michel Peraldi collections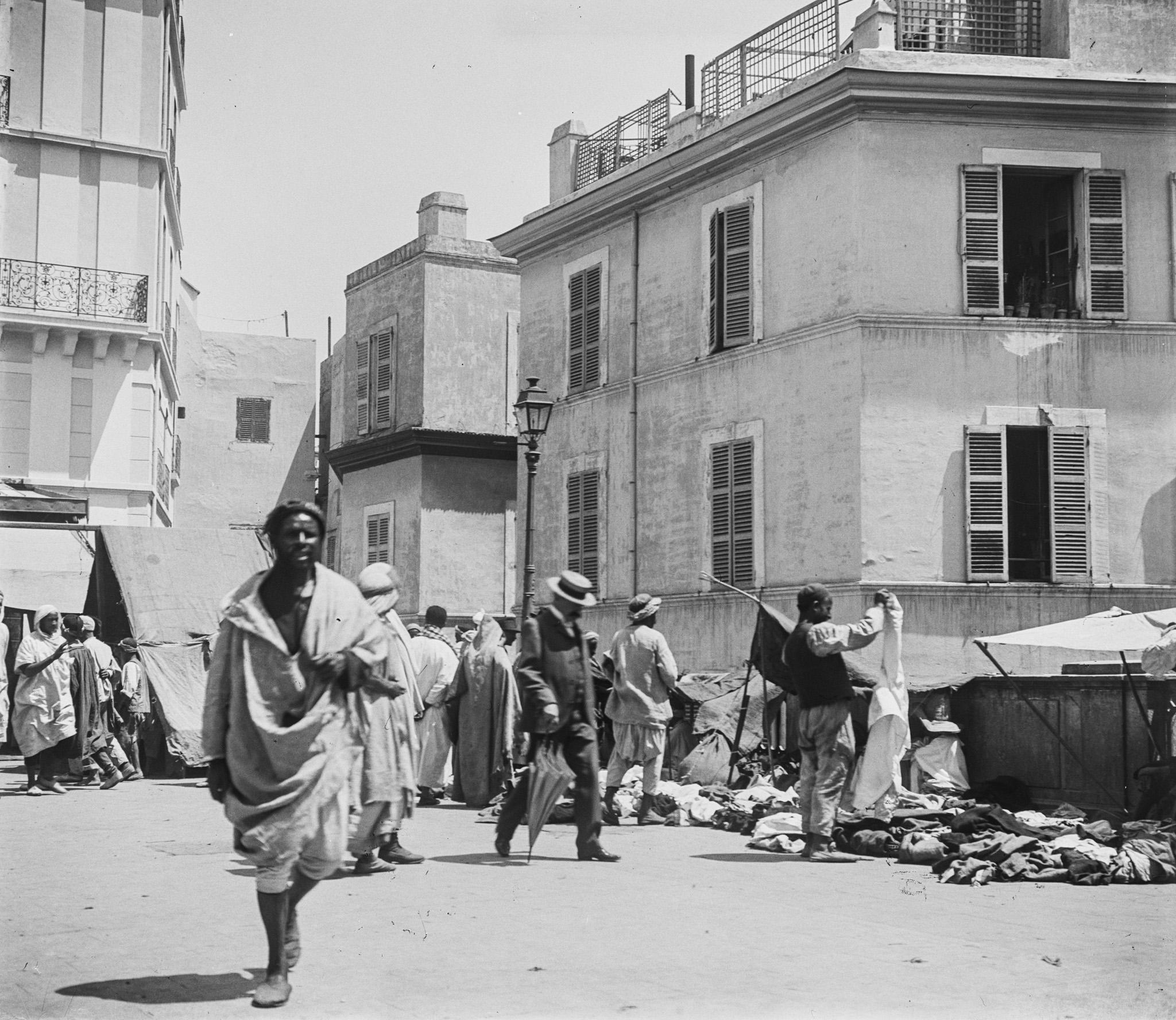 Lamha is a podcast in Arabic put together by the Arab Image Foundation with the aim of presenting the collections in its custody through a series of short snippets.
The eighth episode of Lamha foregrounds the Michel Peraldi collection from Morocco, and the Chaouki Merazi collection from Algeria. These two collections are presented side by side, not because of the geographical proximity of their provenance, but rather, to compare the different ways through which we attempt to unpack these photographic collections, especially when we have very little information about them.
Click here to listen to the podcast and learn more about these collections.
Lamha is produced in collaboration with Tunefork Studios, Beirut, Lebanon.
---

---

---
COMMUNITY HIGHLIGHT
​Discover what is happening in our community. We are proud to showcase individuals and organisations that have been supporting us along the way, in addition to those we in turn support through training and consulting services. We are also eager to tell you about initiatives and collectives we admire, and whose work and mission intersect with ours. Members of this fast-growing community will be showcased in every issue of our Stories.
​​
​In this issue, we bring your attention to: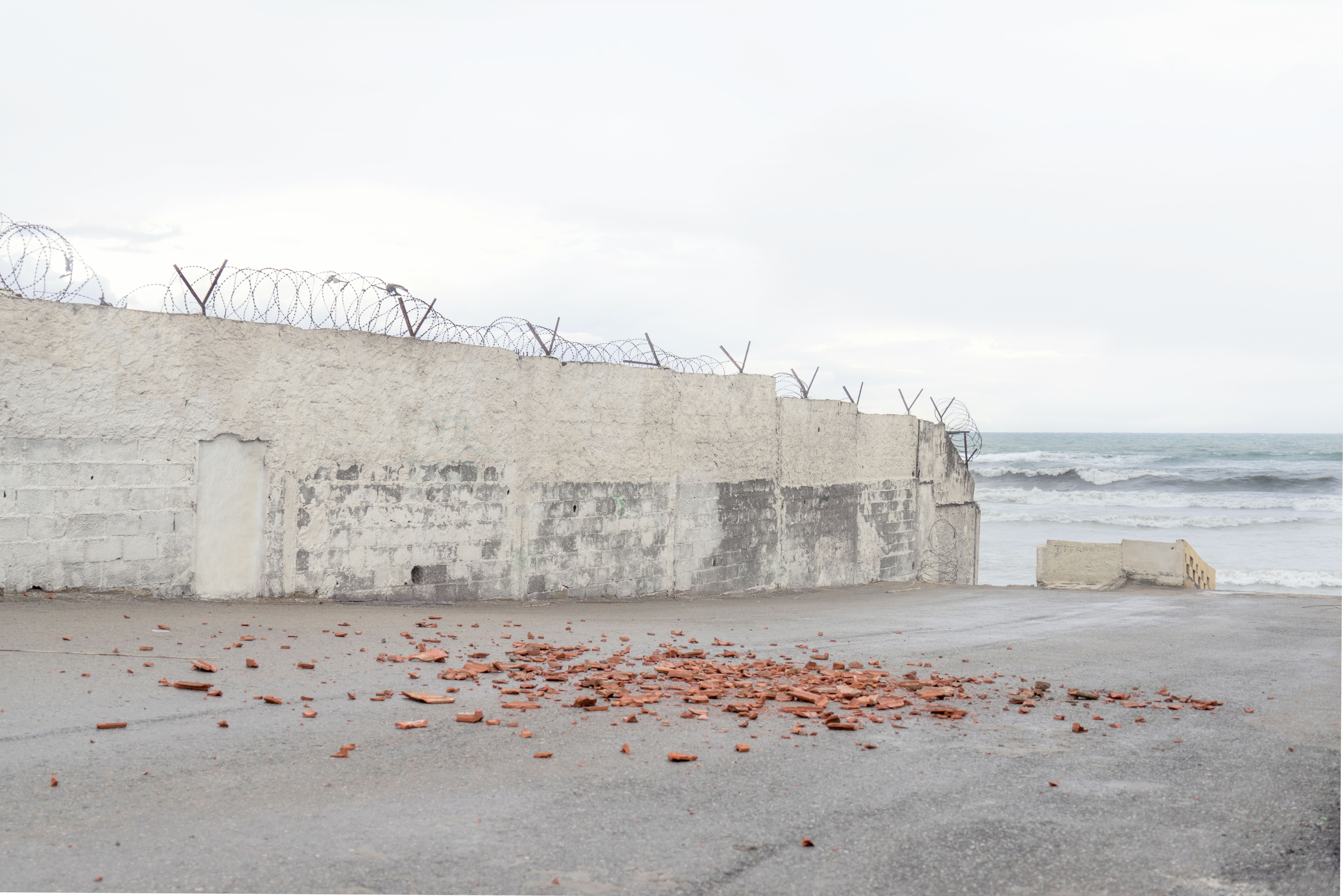 The number 220 is the hotel room number where the collective's founding members met while taking part in a photography festival in Algiers. This name is a tribute to this impromptu meeting and the connections that emerged from it. The desire to create this group was mainly because of the collective's need to provide a space for exchange, reflection, and common work in an environment that was, up until then, lacking this kind of collective experience. The collective's members' approaches and visual languages vary but they share the same desire to photograph their realities in personal and subjective ways, to tell their stories, and to bring other perspectives of what Algeria is today. Collective 220 is a photographic tale anchored in various, scattered areas of Algerian territory, telling stories of people, cities and spaces. This collective intends to be a wide field of experimentation and learning for each member, with their varied subjects, techniques and tools. In addition to being a kind of internal shared laboratory, Collective 220 is a way to create external links to promote exchanges with photographers, artists and other collectives around the world.
---
WORK IN PROGRESS
​Documenting the AIF's collections: An epic
Since joining the Arab Image Foundation this summer, collection researchers Paul Gorra and Omar Thawabeh have been hard at work. Some collections are easier to work on than others – we have more information about the social and historical context in which they are rooted, or the photographer included copious inscriptions on the backs of the photographs. In this issue, we highlight the work Paul and Omar have been doing, and the challenges of documenting photographic collections.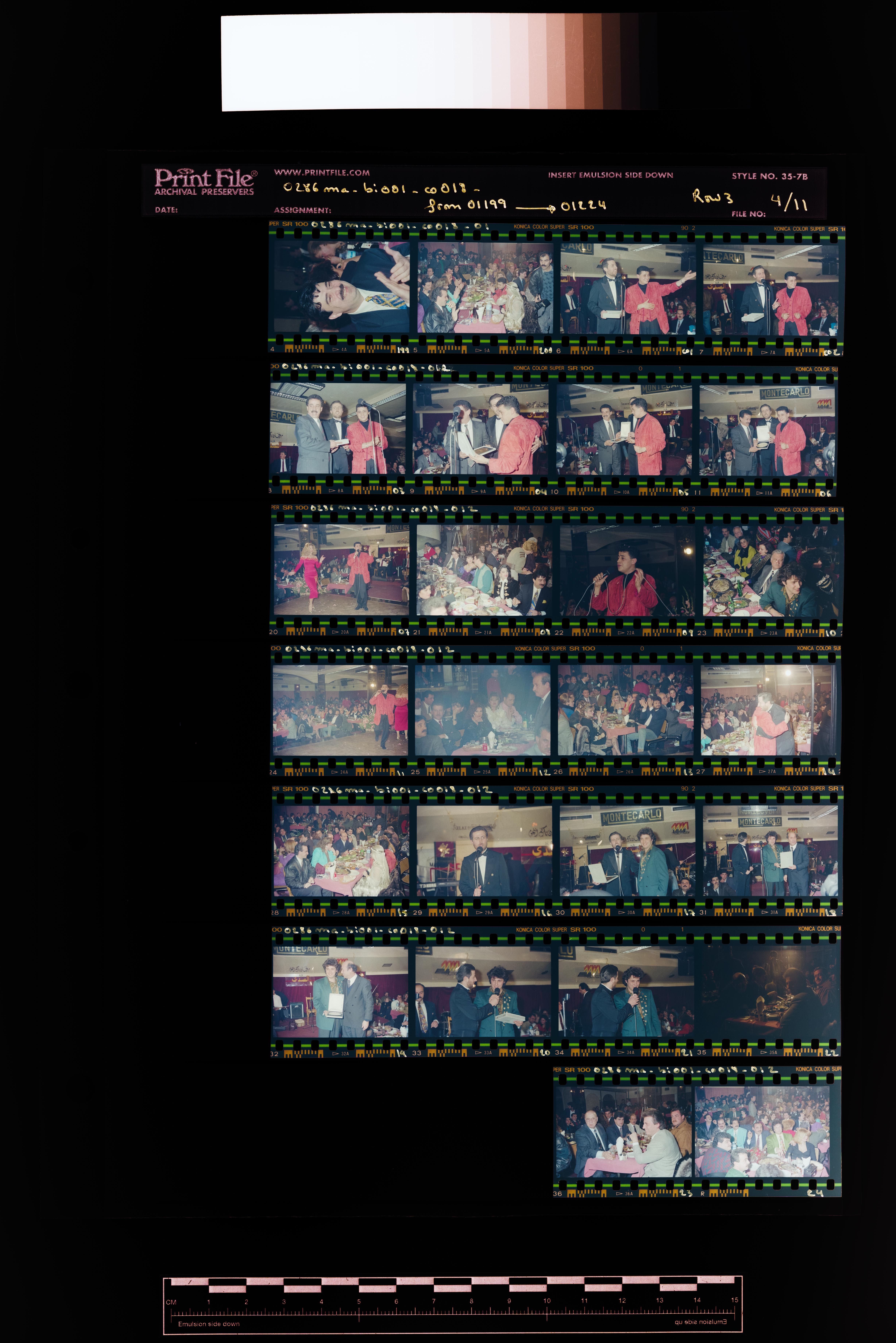 The Radwan Mattar collection is riveting. Throughout his extensive career, Radwan covered the Lebanese entertainment industry, taking photographs of pop concerts, casino and restaurant singers, as well as famous TV personalities and public figures. In 2009, he donated 30,000 photographic objects spanning the 1980s and 1990s to the foundation.
Paul began documenting the Radwan Mattar collection in August, and felt a personal connection to the images from the get-go. First, because the period that the photographs cover overlaps with his early childhood – a time that he has nearly no visual recollection of. And second, because the images' aesthetic quality – the Radwan Mattar collection being one of the few collections with coloured photographs – shares a lot of similarities with his own family photographs. 
From an anthropological perspective, this collection provides a comprehensive overview of public life in Lebanon in the aftermath of the civil war. Radwan was commissioned to take pictures of essentially everything: concerts, performances, press conferences, political events. To view them from the vantage point of the past two years' multiple crises and collapses was, for Paul, a bittersweet experience. As difficult as it is to not include words that insinuate lack of legitimacy, corruption, or negligence, the AIF endeavours to describe the images in its custody in a way that facilitates research, through keywords and tags, while steering away from passing direct political judgment. The potential for extensive research on issues of justice and political analysis is enormous and acutely unexplored. This is the turf of researchers and artists to explore.
Myriad public figures feature in Radwan Mattar's photographs, some more famous than others. Perhaps one of the funnest parts of documenting this collection was showing the images to other members of the team, in the hopes that one of them will recognize the lesser-known celebrities photographed by Radwan.
The documentation of the Radwan Mattar collection is supported by the Royal Norwegian Embassy (RNE) in Beirut.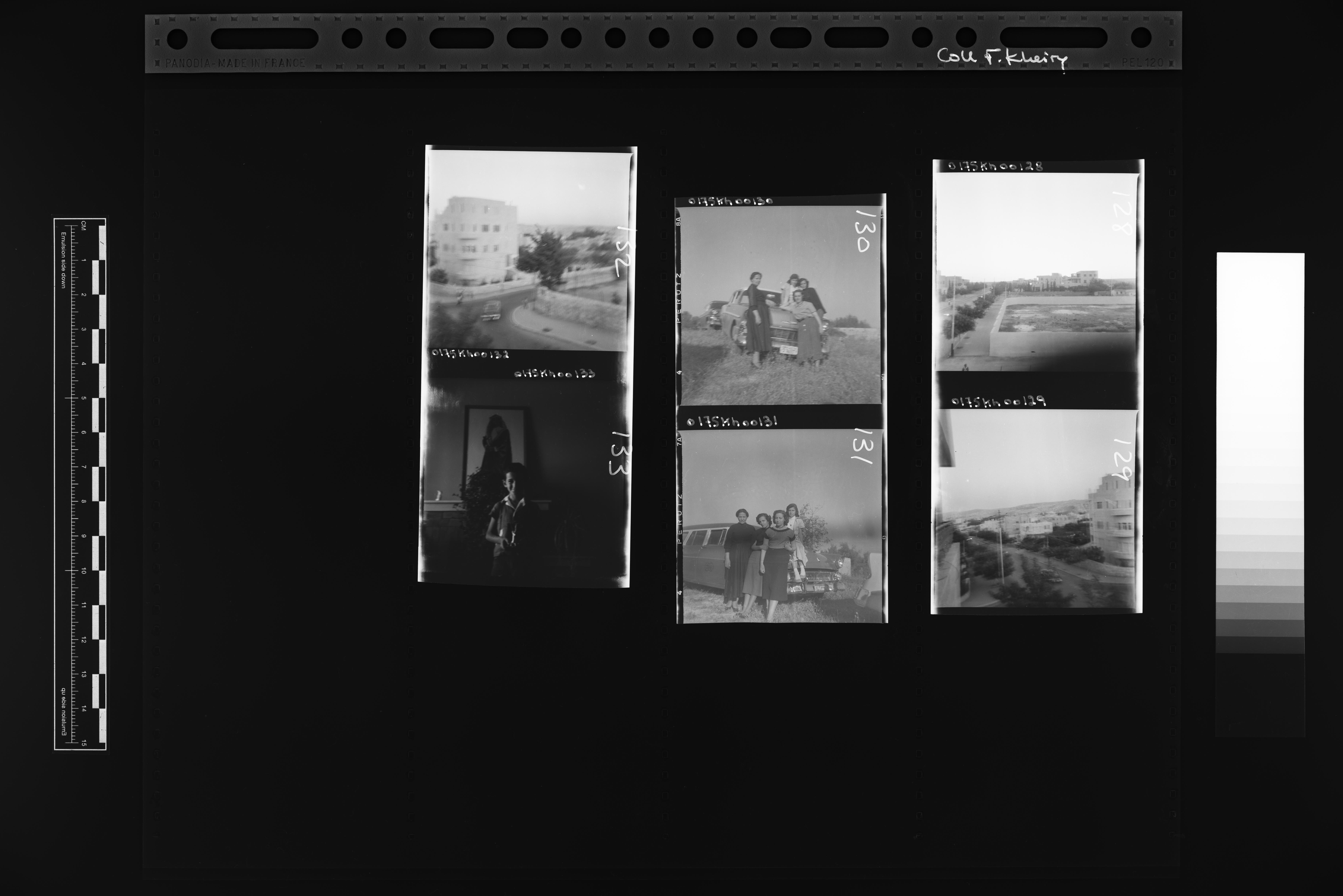 In recent weeks, Omar has been researching and documenting contact sheets hailing from a number of different collections, a mission also supported by the RNE. Though contact sheets from a single collection are doubtless connected, there is very little that brings these photographic objects together across the various collections.
One such collection is the Fawaz Kheiry collection, which dates back to 1930s-1950s Palestine. These photographs that predate the Nakba give rare insights into the life of the bourgeoisie in Palestine at the time, through the lens of one family: the Taji family. Taking up residence in a mansion in Wadi Hnein in Ramle, Palestine, the family also made many excursions to the Dead Sea in Jordan, along with other neighboring countries. The years that followed transformed this village's social and political landscape considerably. In time, the family mansion was repurposed into a psychiatric institution; and after the Nakba, the village's inhabitants were expelled, virtually emptying it of human presence. With a context this rich, but also this tragic, it can be difficult to restrict these images to the regimented – though always vital – ​ information and criteria that accompany every photograph: the date; keywords; and tags, which ultimately help to facilitate the search process on our online platform and offline database.
---
LIBRARY RESOURCE
​The disciplinary frame: Photographic truths and the capture of meaning
​By John Tagg
​Published by University of Minnesota Press, 2009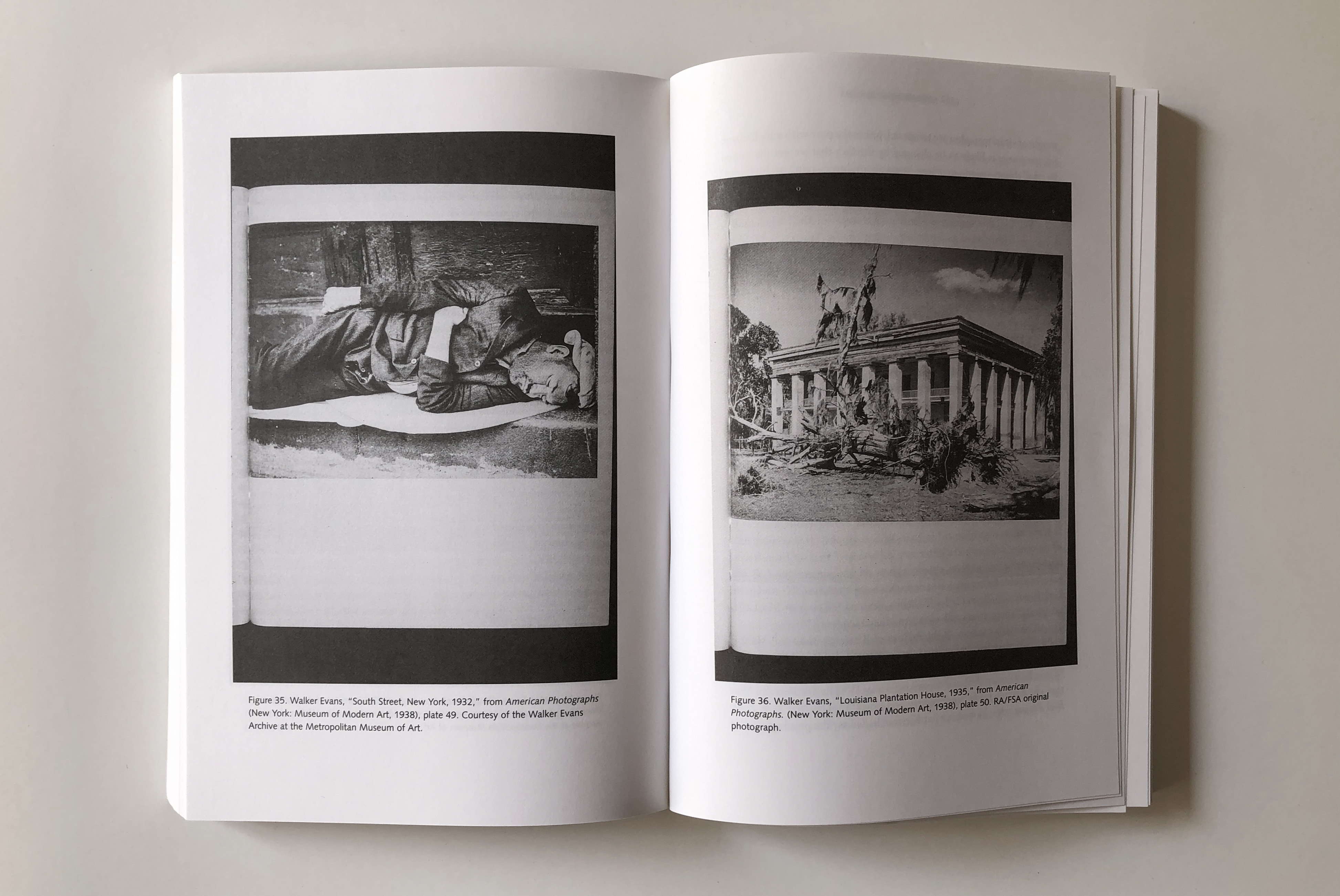 Photography can seem to capture reality and the eye like no other medium, commanding belief and wielding the power of proof. In some cases, a photograph itself is attributed the force of the real. How can a piece of chemically discolored paper have such potency? How does the meaning of a photograph become fixed? In The Disciplinary Frame, John Tagg claims that, to answer these questions, we must look at the ways in which all that frames photography – the discourse that surrounds it and the institutions that circulate it – determines what counts as truth. The meaning and power of photographs, Tagg asserts, are discursive effects of the regimens that produce them as official record, documentary image, historical evidence, or art. Teasing out the historical processes involved, he examines a series of revealing case studies from nineteenth-century European and American photographs to Depression-era works by Walker Evans, Dorothea Lange, and Margaret Bourke-White to the conceptualist photography of John Baldessari. Central to this transformative work are questions of cultural strategy, the growth of the state, and broad issues of power and representation: how the discipline of the frame holds both photographic image and viewer in place, without erasing the possibility for evading, and even resisting, capture. Photographs, Tagg ultimately finds, are at once too big and too small for the frames in which they are enclosed – always saying more than is wanted and less than is desired.
This title is available for consultation at the AIF Library. Read it at our premises, where you can also explore over 2,000 other books, every Tuesday and Wednesday from 14:00 to 17:00. Book your visit here.
---
IN THE PRESS
​La Couleur des jours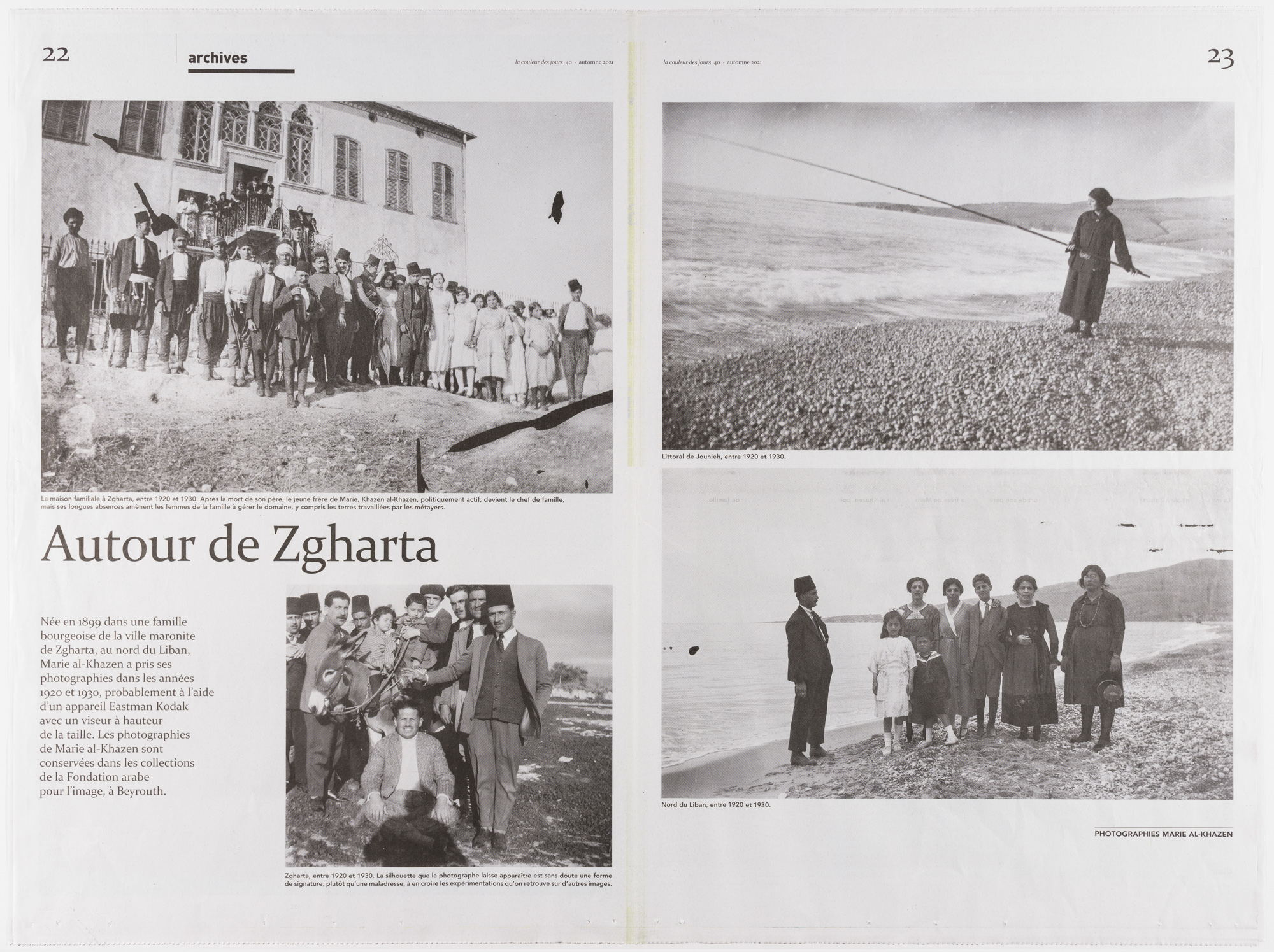 La Couleur des jours is a Swiss quarterly journal that publishes essays and reports on (and around) photography, literature, and the arts.
Their autumn issue, which also celebrates the journal's ten-year anniversary, features a double-spread on the photographer Marie El Khazen, whose photographs are part of the Mohsen Yammine collection, housed at the Arab Image Foundation. El Khazen's photographs paint an intimate portrait of her own life in Lebanon in the 1920s and 1930s, subverting normative notions of class and gender of the time: portraits of women cross-dressing, smoking, or driving cars are not uncommon among her photographs. Her images were recently featured in the third edition of the NO'PHOTO biennale, which ran from 25 September to 10 October 2021. Organised by the City of Geneva, its cultural institutions, and its partners, this edition showcased the work of more than 80 photographers from Geneva and elsewhere.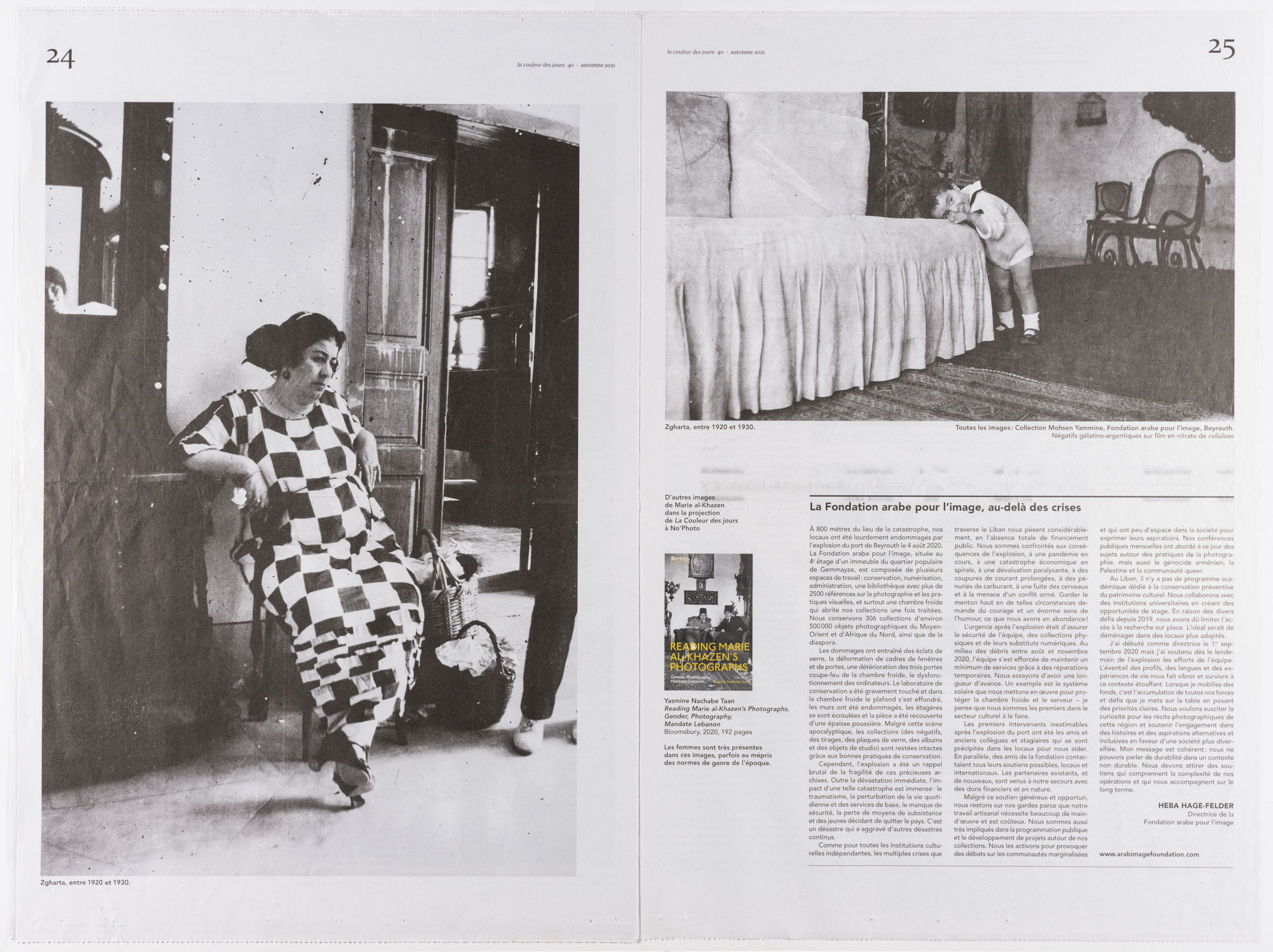 A text by AIF director Heba Hage-Felder is also featured in this issue. Looking back at the AIF's journey over the past year and the challenges the foundation has faced, she reflects on what can keep the foundation going. Despite the generous and timely support of many, the team remains on its toes to mobilise multiple-year funding because the nature of our work is labour-intensive. In addition to preservation, digitisation, and documentation, the AIF is very involved in public programming and developing new initiatives around its collections and practices. What is critical to the foundation is for donors to accompany it for 3-5 years and with core funding, and not just for limited projects.
---
LAB
​The Eclipse of the (Fe)Male Sun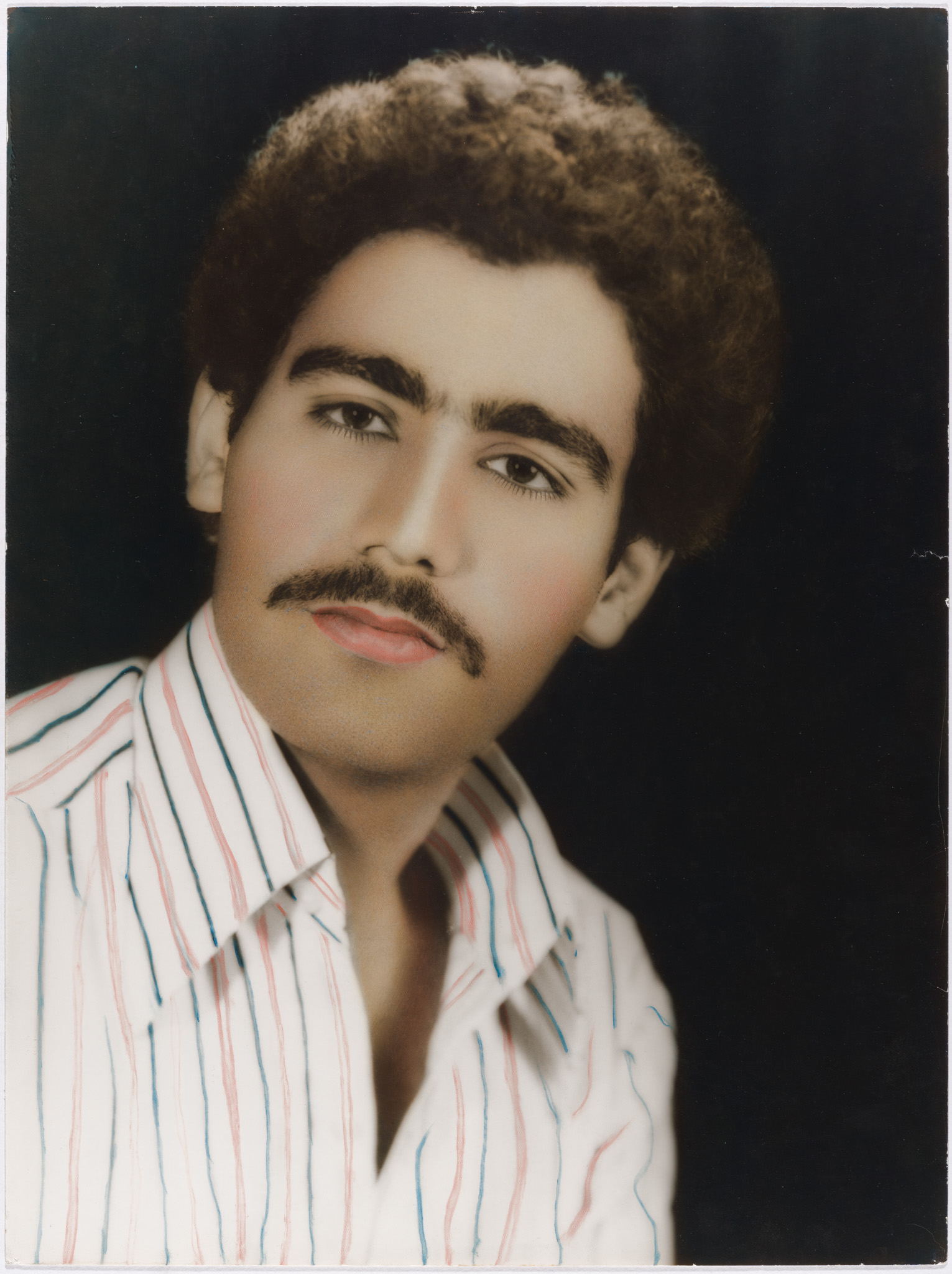 Pre-modern Arabic, Islamic, and Persian image culture reflect non-binary gender expressions and homosocial relations as part of everyday life. Strict notions of femininity and masculinity did not necessarily prevail before the modernisation process took place in these regions. Instead, specific facial features were celebrated as more beautiful than others.
In the latest contribution to our Lab page, titled The Eclipse of the (Fe)Male Sun, Nour Helou and Afrang Nordlöf Malekian present a series of short texts accompanied by different photographs from the Asghar Beechareh, Photo Caron, and Studio Marjan collections dating back to the mid-20th century, housed at the Arab Image Foundation. 
The Photo Caron and Studio Marjan collections mainly consist of hand-coloured studio portraits of individuals, couples, and families. The Asghar Beechareh collection contains a unique assemblage of photographs, documenting actors on film and theatre sets.
Explore this contribution on our Lab page here.
---
EXHIBITION
​Retrospective: A decade of reacquainting with the Arab world
​21 October 2021 to 28 January 2022 – Casa Árabe, Cordoba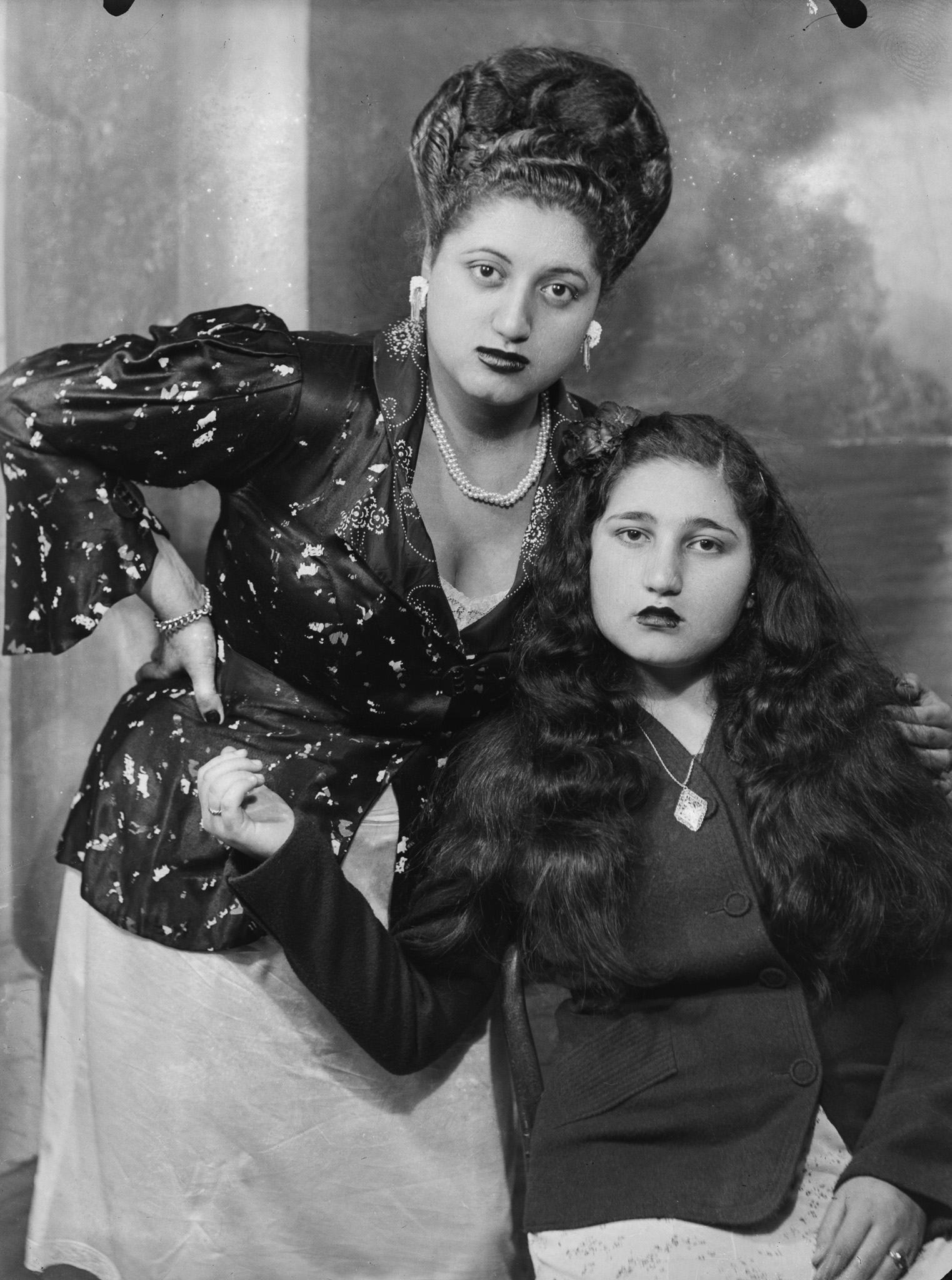 To mark the tenth anniversary of the official opening of Casa Árabe's permanent headquarters in Cordoba, Casa Árabe organised a group exhibition with works by more than 60 artists, reflecting the plethora of practices that the institution has engaged with over the past decade. Featured in this exhibition are several reproductions of photographs by Marie El Khazen from the Mohsen Yammine collection, housed at the Arab Image Foundation.
Spain and the Arab world have a shared history that goes back centuries. Cordoba, whose traditions, atmosphere, and geography have witnessed and been the setting for relations with the Arab world for years, is the perfect site for cooperation with institutions, creators, and professionals from cultural industries. This collaboration is an essential tool for cultural diplomacy and dialogue, which has also materialised through Casa Árabe's 49 exhibitions, and the 200 artists who showcased their work there over the past ten years.
Thus, a meeting point has been established, from which Spain and the Arab world can dialogue, interact, and cooperate; and that is what this exhibition aims to highlight, bringing the public closer to the different contexts and realities that they otherwise may not be acquainted with.
Read more about this exhibition here.
---
TRIBUTE TO OUR DONORS
​The Arab Image Foundation extends its appreciation to our current generous supporters that make our activities possible. We are equally grateful to those who wish to remain anonymous.
Major Supporters
Royal Norwegian Embassy in Beirut ▪ Arab Fund for Arts and Culture ▪ Al Mawred Al Thaqafi ▪ Foundation for Arts Initiatives ▪ The Violet Jabara Charitable Trust ▪ Getty Foundation
Project Supporters
Modern Endangered Archives Program (MEAP) at the UCLA Library, with funding from Arcadia ▪ Prince Claus Fund for Culture and Development ▪ Institut Français ▪ William Talbott Hillman Foundation ▪ Akram Zaatari ▪ Alexandre Medawar ▪ MAGRABi ▪ Fund for the International Development of Archives – FIDA ICA ▪ Victoria and Albert Museum – V&A ▪ Art Jameel ▪ New York University's Hagop Kevorkian Center for Near Eastern Studies
Post-Explosion Supporters
Financial donations – institutions: Prince Claus Fund for Culture and Development ▪ Cultural Emergency Response ▪ Cultural Protection Fund of the British Council ▪ Gerda Henkel Stiftung ▪ US Ambassadors' Fund for Cultural Preservation ▪ Mariët Westermann and the Pardoe-Westermann Family Fund ▪ Middle East and Islamic Caucus of Franklin & Marshall College ▪ Luminous-Lint ▪ Oteri General Construction ▪ Moore Archives & Preservation LLC ▪ GAPS LLC ▪ Blue Shield ▪ Book Works ▪ American Institute for Conservation of Historic & Artistic Works ▪ Savvy Wood Photography ▪ Benevity ▪ PhotoArts Studio ▪ Robert Rauschenberg Foundation ▪ Stanley Thomas Johnson Stiftung ▪ Europeana Foundation ▪ Rotary Club Essen-Gruga
In-kind donations – institutions: Institut National d'Histoire de l'Art ▪ Middle East Photograph Preservation Initiative ▪ Musée Français de la Photographie ▪ Klug-Conservation ▪ Centre de la Photographie
AIF could not have made this journey without all the individual contributors.
Click here for the full list of individual donors.
Thank you for those who have supported us in previous years: Sharjah Art Foundation, Pikasso, Ford Foundation, Graham Foundation.