Issue #2021.06
Writing on the leaves of trees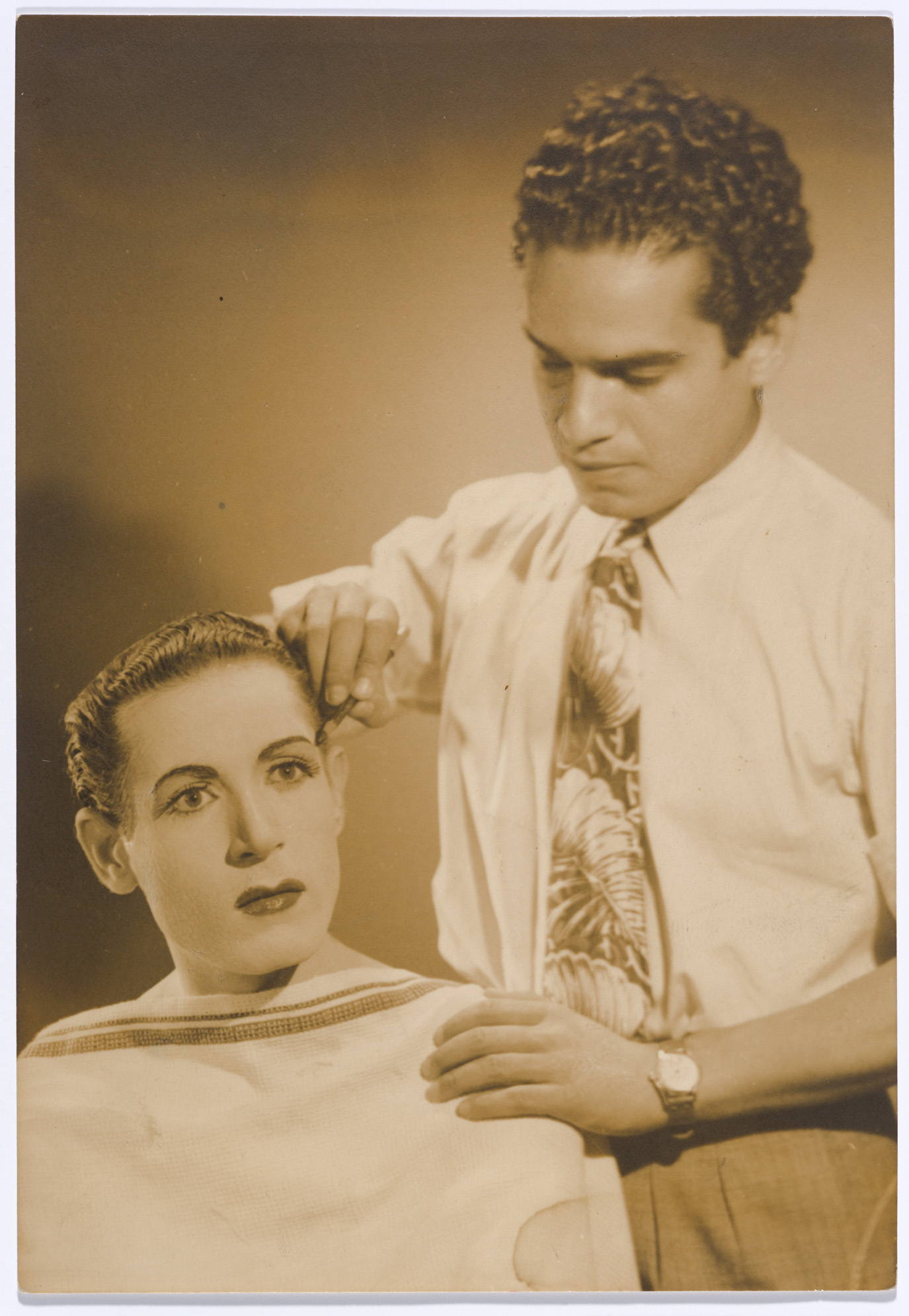 لقراءة هذه النشرة باللغة العربيّة، اضغطوا هنا

​1948 was the year of the Nakba. The process of displacement and dispossession had started years before, but by then, half the Palestinians were forcefully expelled from Palestine. Seventy-three years later, millions of Palestinians are scattered across the globe living in exile, and countless others continue to live under Israeli occupation.
As it happens, 1948 also marks the first commemoration of International Archives Day. An erasure in the making, with time, becomes a subject of representation or an object of research, relegating what was in the process of disappearing to a memory. But it can be much more than that. The value of archives lies in our shared heritage and the fight for justice. There is a pressing need to talk about what is shared (as well as what is not), and this implies questioning power, hegemony, and who gets to tell the stories – but also, whose stories are being told.
The Arab Image Foundation dedicated its open day in celebration of archives to the Palestinian people. The intention was not to simply put images and short films on display, and to talk about the lives of Palestinians for the sake of memory – but rather, to liberate the story through contextualized narratives, and to talk about agency in the present. 
Yazan Kopty and Issam Nassar in conversation with Yasmine Eid-Sabbagh illustrated how the act of decolonising archives is a massive undertaking that starts with injecting our stories and subjectivities into the archive. This community-sourced history and debate about ownership and control over culture is also at the heart of A Few in Many Places, a multi-city exhibition organised by Protocinema, and inspired by a semester-long workshop led by AIF's board members at New York University's Kevorkian Center. 
June was a celebratory month for the queer community and for music. If queer stands for sexual and gender diversity, we are called on to do away with certainties and what we perceive to be normative. Helem is featured in our community highlight as a local organization that has been toiling to expand our imagination and to stand with and celebrate the richness in diversity. For avid listeners of classical Arabic music, Lamha, the fourth of our monthly short podcasts, evokes the Faysal El Atrash collection, deposited at the foundation in 1998. You may find yourself humming to tunes of Farid El Atrash and his sister Amal (a.k.a. Asmahan) as you sift through the 97 paper prints on our platform. In this issue, we also highlight music researcher-turned-archive enthusiast Akram Rayess, who completed an internship at the AIF in 2020, and who tells us about his experience.
Friday 9 July 2021
---
Header image: 0122ne00091, 0122ne – Amgad Neguib Collection, courtesy of the Arab Image Foundation, Beirut.
---
WORK OF A PRACTITIONER ​
​A Few in Many Places
​A group exhibition across five cities
​8 May to 8 August 2021 – Colonel's House, 410A, Governor's Island, New York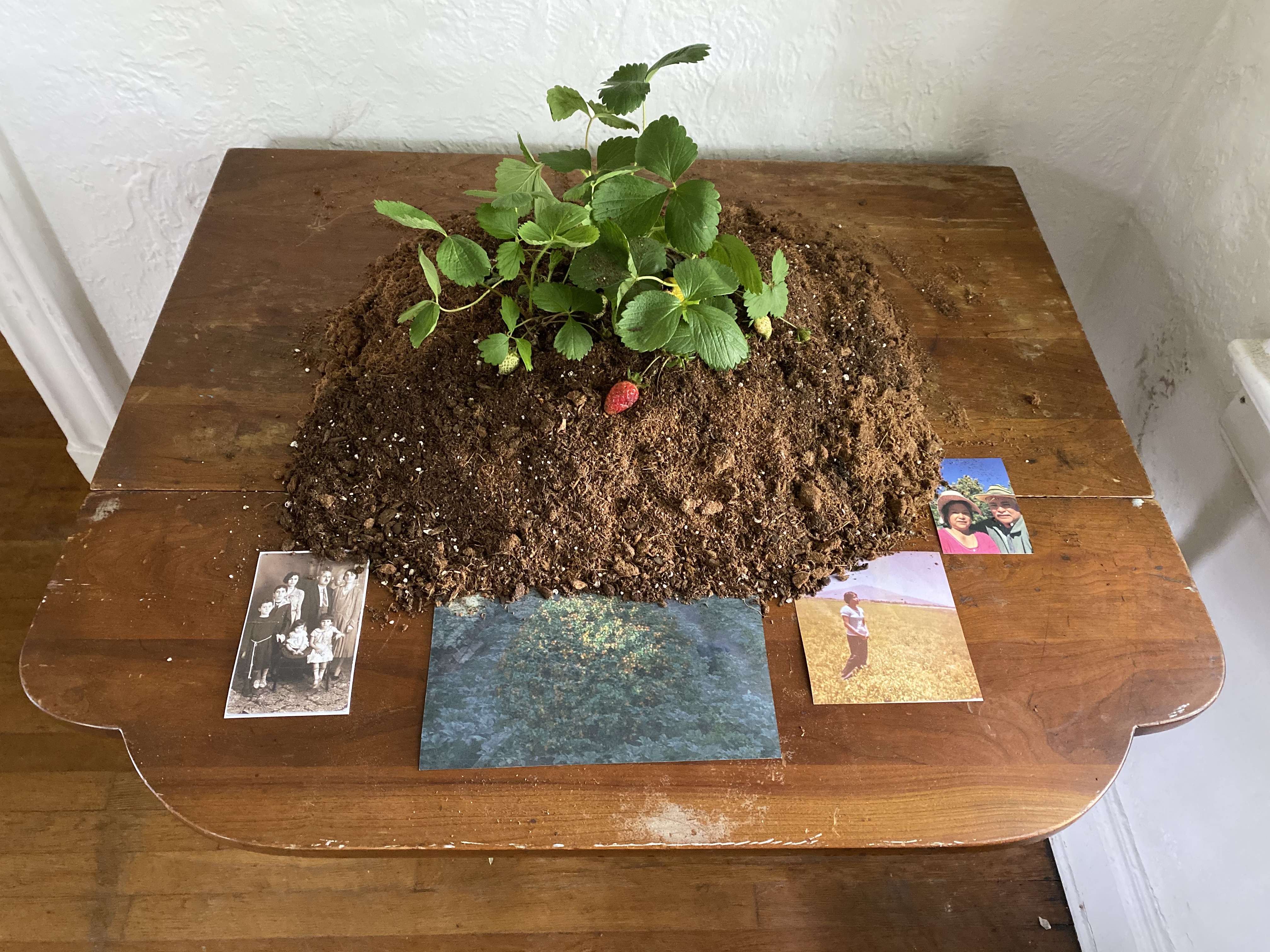 This past spring, Vartan Avakian, Yasmine Eid-Sabbagh, and Kristine Khouri, all members of the AIF's Board of Directors, led a semester-long workshop titled "Unravelling Collections and Practices: Rights, Materialities, and Photographic Agency at the Arab Image Foundation" as part of the practitioners-in-residence program at NYU's Hagop Kevorkian Center for Near Eastern Studies. Spanning a period of 14 weeks, the workshop investigated the ways in which an archive can function as a space for renegotiating the distribution of agency, imagining forms of custodianship, and addressing questions around rights.
This workshop inspired the New York edition of the multi-city exhibition A Few in Many Places, curated by Mari Spirito and Abhijan Toto, and organized by Protocinema. With additional chapters in Seoul, Bangkok, Istanbul, Santurce, and Guatemala City, the exhibition addresses ongoing collapses and cycles of violence through various forms of collectivity. 
The New York exhibition was put together by Lila Nazemian, one of the workshop's participants, in collaboration with Avakian, Eid-Sabbagh, and Khouri. It brings together works by a number of the workshop's participants, and includes photographic works, research texts, and videos exploring the themes of repatriation, rightful ownership, custodianship, and control over culture and data.
Avakian also showed two of his works as part of the exhibition. The first, Suspended Silver (2015), is a photographic series made from silver particles collected from film debris, which is found in the dust of a photo archive. The second, titled Poison (2021), is a new commission that documents oral histories aimed at preserving cultural lineage. 
A Few in Many Places is on view at Colonel's House, 410A, Governor's Island, New York, until 8 August 2021.
Read more about it here.
---
EVENT
​From the River to the Sea: Reframing History
​AIF celebrates International Archives Week
For this year's International Archives Week, celebrated around the world from 7 to 11 June 2021, the AIF organized a series of events centered around Palestine.
On Wednesday 9 June, we opened our doors to the public, welcoming old friends and curious minds, and inviting them to take a closer look at our collections and current projects. On view was a special display of photographic items featuring collections from Palestine, depicting everyday life across Palestinian cities, and bearing witness to the history and vitality of this age-old nation.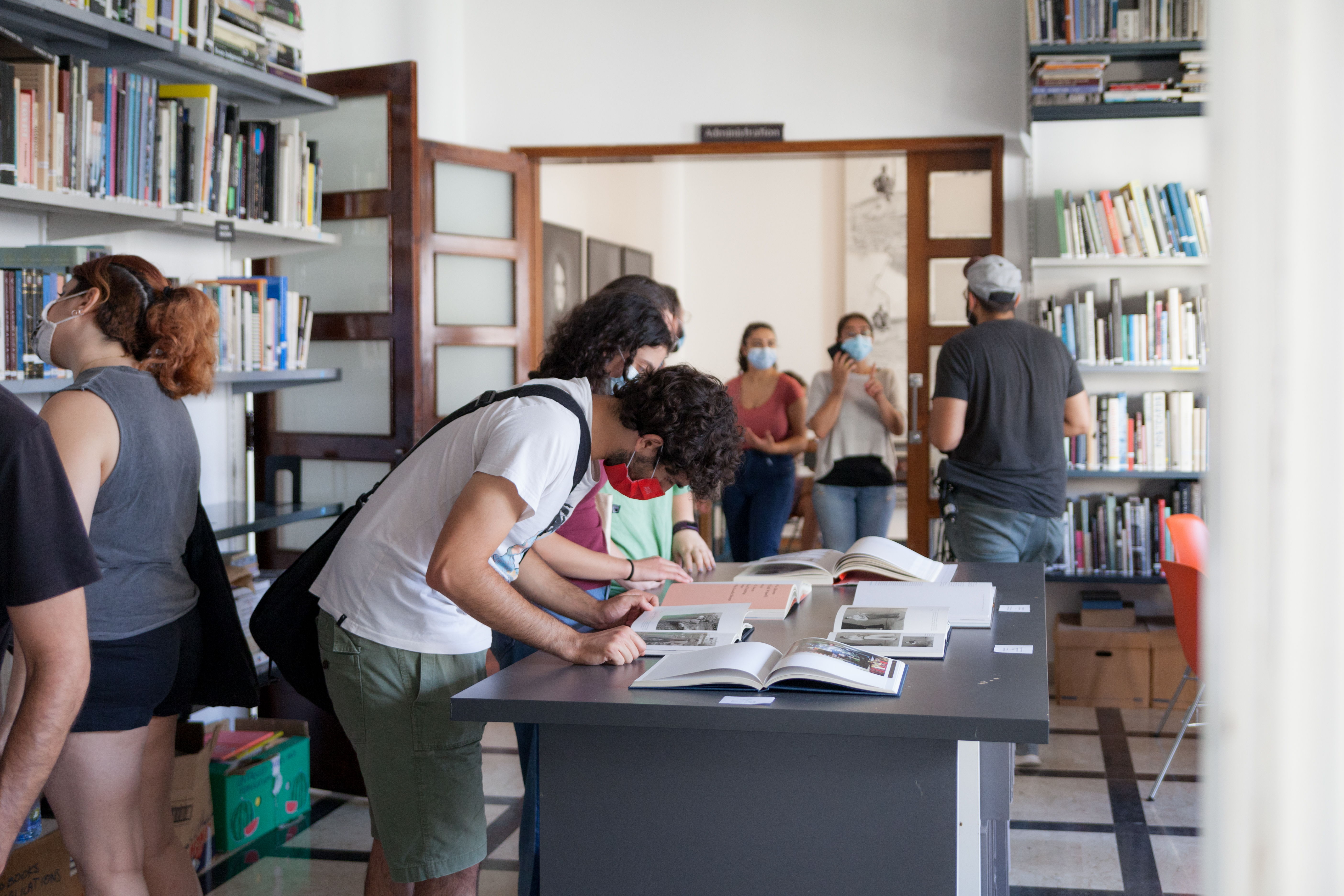 Thursday 10 June kicked off with a visit to AMAR (Foundation for Arab Music Archiving and Research) organized by the AIF, and included six peer institutions based in Lebanon and working with archives. AMAR's small and committed team told us about their archival practices, and the challenges of digitization and awareness-building. Located an hour away from Beirut, AMAR is dedicated to the preservation and dissemination of traditional Arab music. Their collection comprises over 7,000 records, mainly from the Nahda era, in addition to some 6,000 hours of recordings on reel.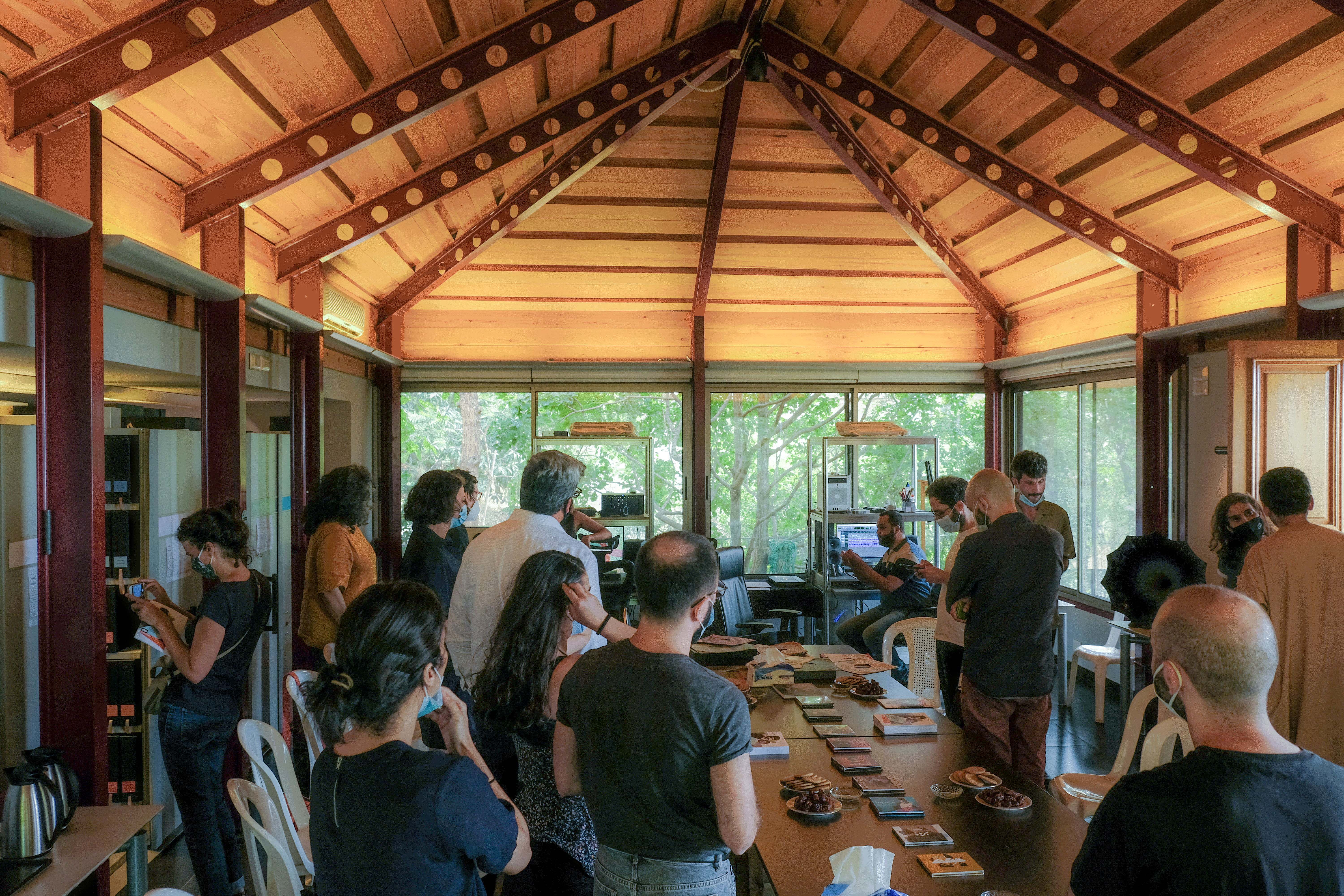 On Thursday evening, we screened a series of short films exploring images and portraits of physical and emotional scars, which speak to what has been happening in Palestine since 1948 and until today. The film program included Basma Alsharif's Everywhere was the Same (2007); Fouad el Khoury and Sylvain Roumette's Jours tranquilles en Palestine (1998); Samar Kanafani's Mounzer (2003); and Diana Allan's Still Life (2007). Following the screenings was a Q&A with Samar Kanafani and Mounzer Baalbaki.
This event, organized in collaboration with Metropolis Cinema Association's "To Palestine with Love" film program, was held at Sunflower Theater in Beirut.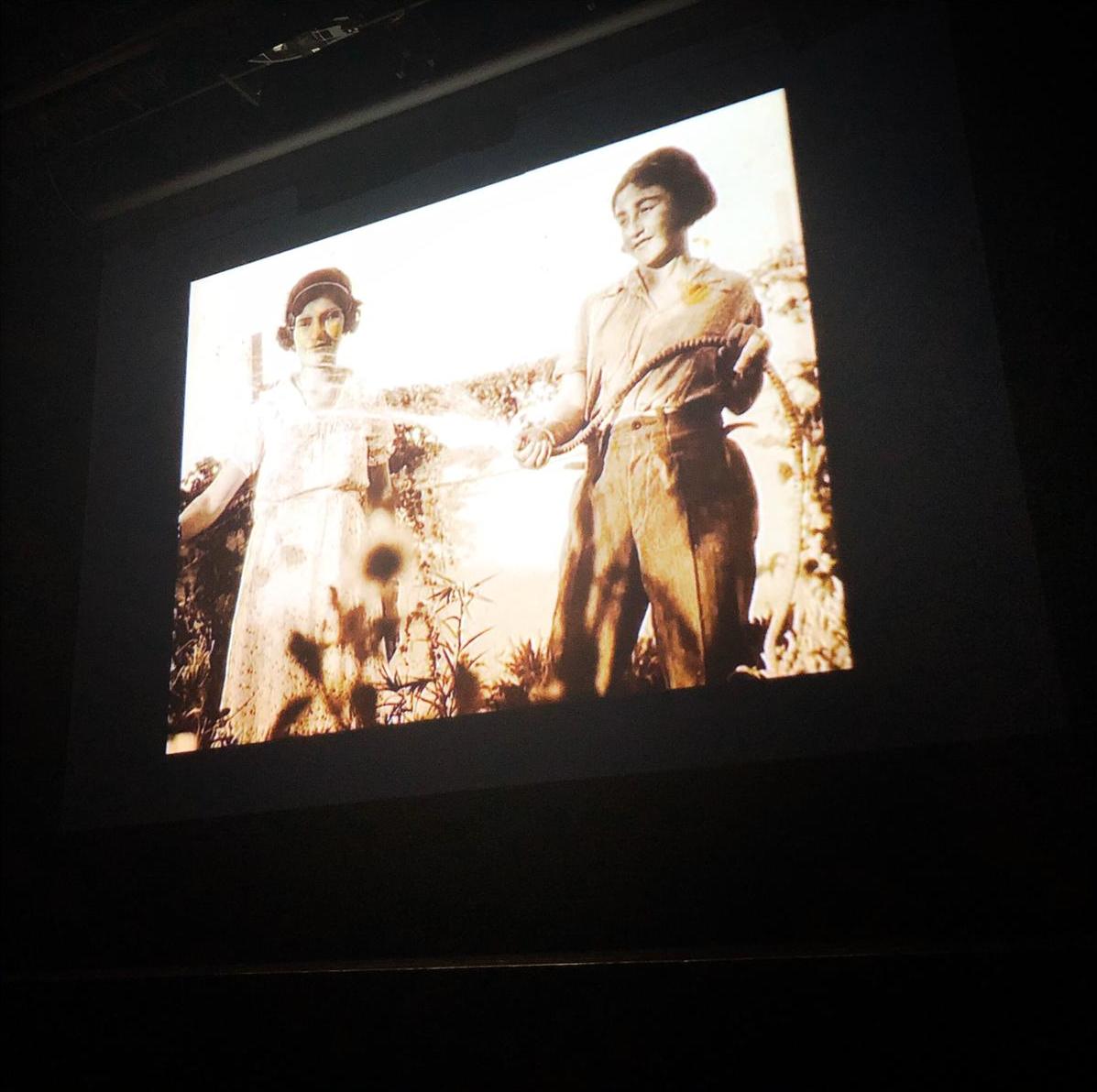 We would like to extend our gratitude to Megaphone for their coverage of our activities, and for their brave and critical reporting of the events in Lebanon, Palestine, and elsewhere.
---
PODCAST
​Lamha Podcast Episode 4: The Faysal El Atrash collection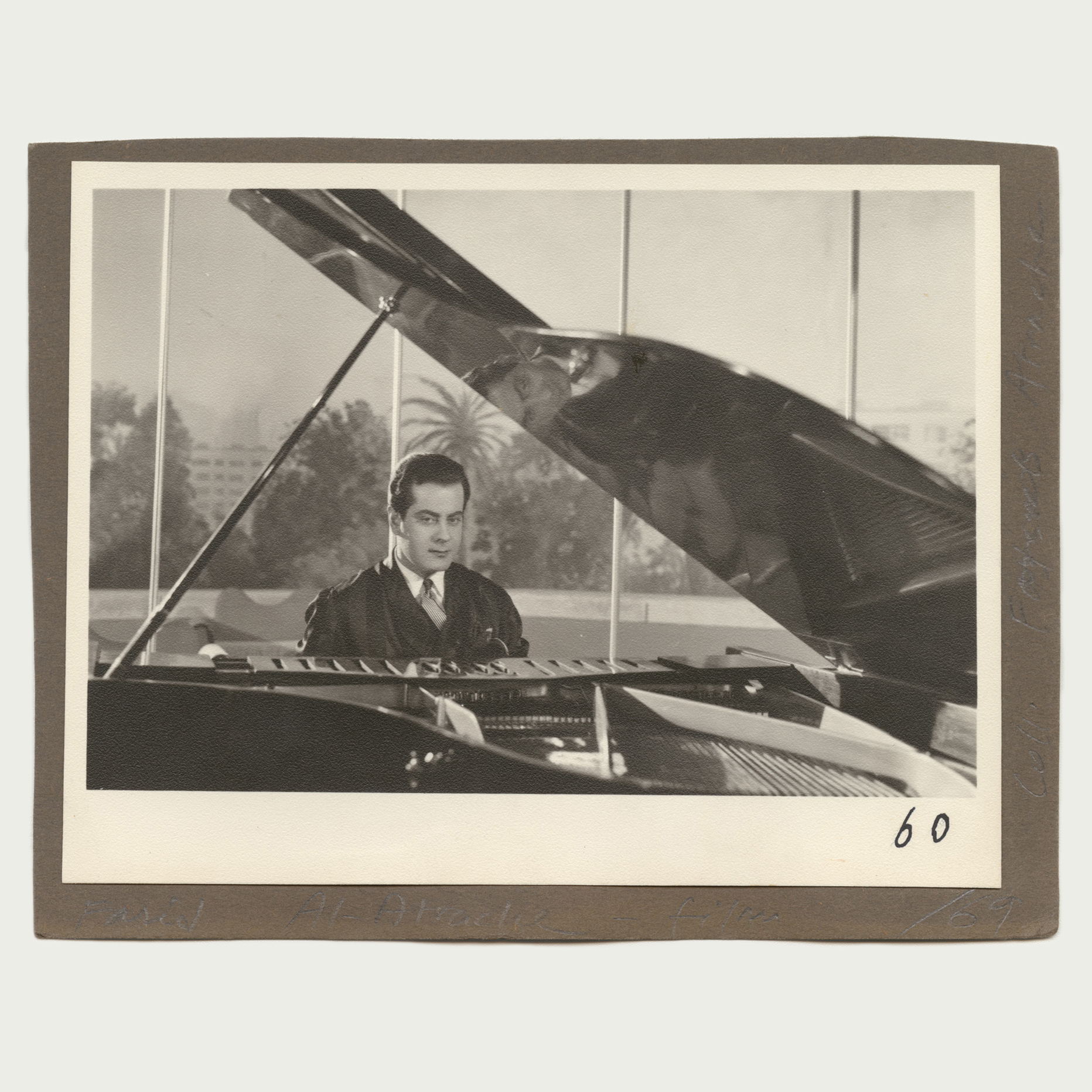 Lamha is a podcast in Arabic put together by the Arab Image Foundation with the aim of presenting the collections in its custody through a series of short snippets.
The fourth episode of Lamha pays tribute to World Music Day (21 June) by shedding light on the Faysal El Atrash collection, which is made up of 97 paper prints and one photo on film. At the heart of the collection are the many lives of Farid El Atrash and Amal El Atrash (better known by her stage name Asmahan), the Syrian-born brother-and-sister duo who captivated the Arab world with their film and music performances during the golden age of Egyptian cinema.
Click here to listen to the podcast and learn more about this collection.
You can explore the Faysal El Atrash collection on our platform here.
Lamha is produced in collaboration with Tunefork Studios, Beirut, Lebanon.
---
TALK WITH PRACTITIONERS ​
​On Archives: Yazan Kopty and Issam Nassar in conversation with Yasmine Eid Sabbagh – 8 June 2021
In the framework of International Archives Week, we held an online talk with Yazan Kopty and Issam Nassar, exploring their artistic and research projects on Palestine. The talk was moderated by Yasmine Eid-Sabbagh, chair of the AIF's Board of Directors.
Yazan Kopty presented "Imagining the Holy," an archive-based community research project working to indigenize the National Geographic Society's collection of photographs of Palestine and Palestinians; and Issam Nassar discussed the photographic albums of Wasif Jawharriyeh, which span from Ottoman Jerusalem to the Nakba in 1948.
Yazan Kopty is a writer, oral historian, and National Geographic Explorer based in Washington DC. His work centers around the acts of listening and narrating, focusing especially on memory as a form of resistance and community-sourced history. He is the lead investigator of "Imagining the Holy."
Issam Nassar is professor of modern Middle East history at Illinois State University and the Doha Institute for Graduate Studies. He authored, edited, and co-edited a number of books on photography in Palestine, including Different Snapshot: Photography in Palestine, 1850-1948 (2005); Karimeh Abbud: Pioneering Woman Photographer in Palestine, 1893-1940, edited with Mitri al-Raheb and Amad Mwroat (2013); and I Would Have Smiled: Photographing the Palestinian Refugee Experience, co-edited with Rasha Salti (2009).
---

---

---
COMMUNITY HIGHLIGHT
​Discover what is happening in our community. We are proud to showcase individuals and organizations that have been supporting us along the way. We are also eager to tell you about those we in turn support through training and consulting services. Members of this fast-growing community will be showcased in every issue of our Stories.
​​
​In celebration of diversity – including queer culture – during the month of June, we bring your attention to: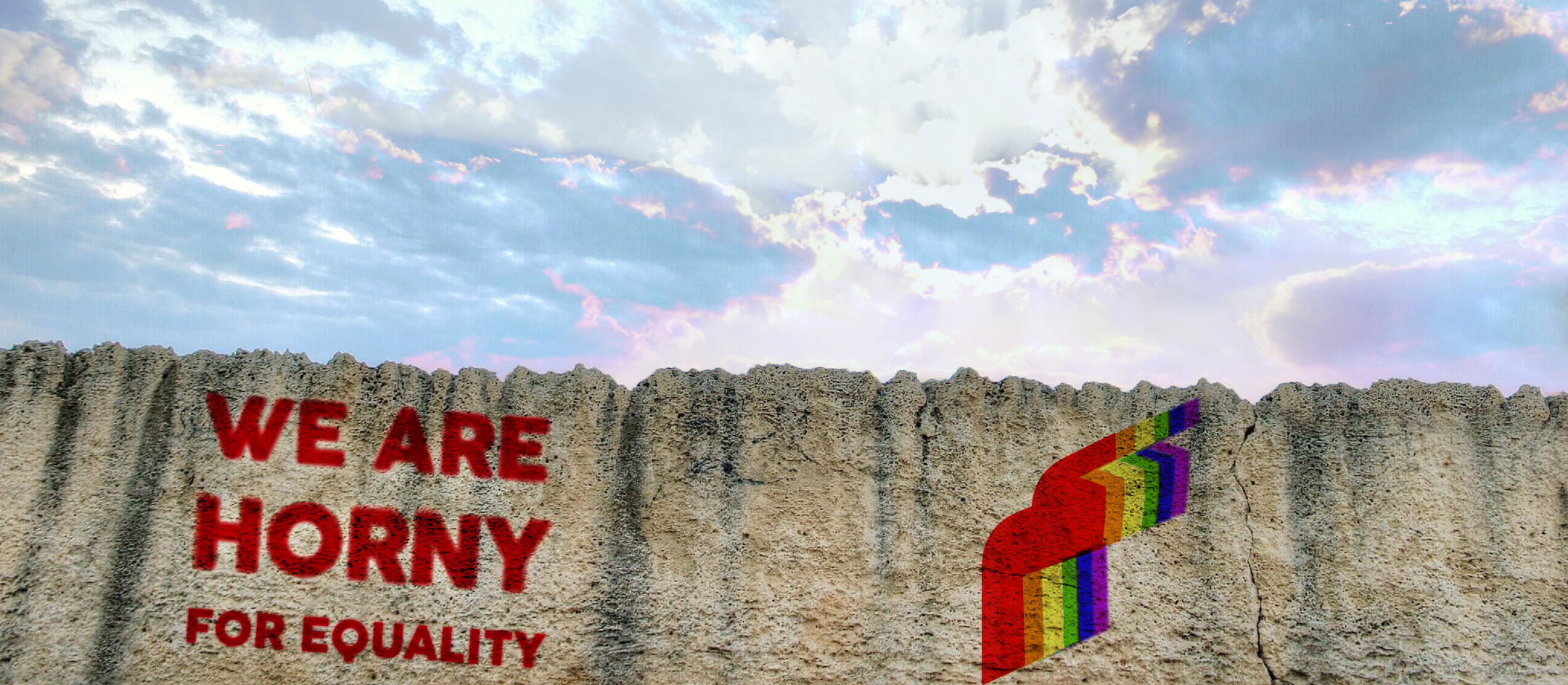 Established in 2001, Helem is a non-governmental organization working towards justice and equality for all LGBTQIA+ people in Lebanon and the South West Asian/North African (SWANA) region. It seeks to mobilize a community that leverages its strength and diversity to build a world of equality, equity, and justice, where queer individuals may live and thrive. In order to achieve this, Helem protects sexual and gender minorities by resisting their arrests; reducing the harm caused by discrimination; empowering them through education and communal bonding; and mobilizing them to change the policies and practices denying their equality and compromising their quality of life.
---
INTERNSHIP
​We are currently hosting three interns, each for roughly 50 hours or more – Blanche Eid, a freelance photographer and teacher at the Notre Dame University; Hussein Nakhal, co-founder of Waraq and Studio Kawakeb, who is completing curatorial studies at the Université Saint-Joseph; and Asadour Garvanian, a freelance photographer working across both analog and digital photography.
In this issue, we highlight music researcher-turned-archive enthusiast Akram Rayess, who completed a research internship at the AIF from October to November 2020.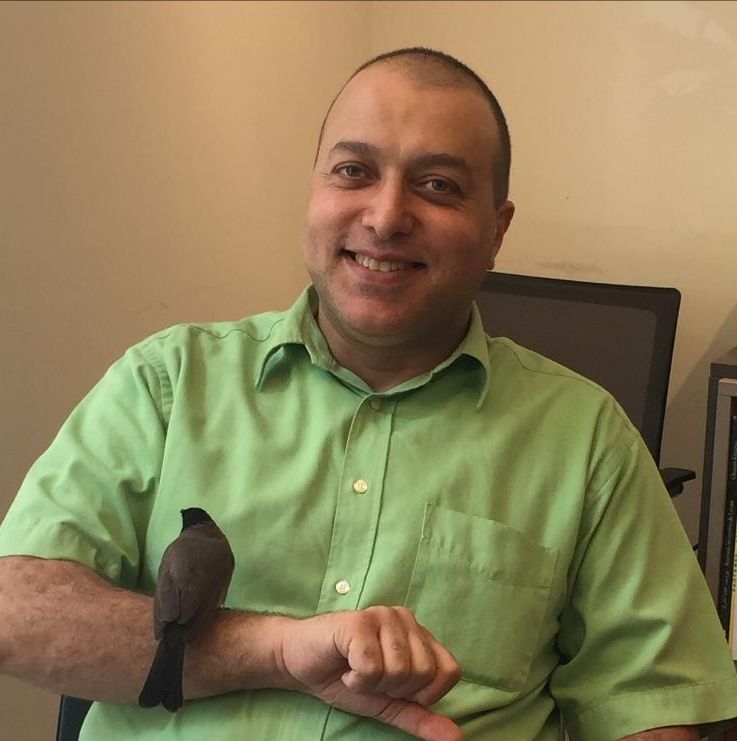 Akram Rayess is a researcher in ethnomusicology, with interests in music of the Levant, music theater, cultural development, modern heritage, and documentation. He is one of the founding members of the Foundation for Arab Music Archiving and Research (AMAR), a steering Committee member of the Modern Heritage Observatory (MoHO), a consulting committee member of the quarterly cultural journal Bidayat, and a member of PEN Lebanon.
Akram graduated with an MA in Public Policy and International Affairs from the American University of Beirut (AUB) in February 2021. His dissertation project investigated the practices and policies pertaining to the institutionalization of folklore in Lebanon and the region, beginning in the mid-20th century and until the onset of the Lebanese civil war.
My time at the AIF allowed me to reflect on the aesthetics of sound, writing, photography, and the archive, and the many ways in which they intersect. The internship supported my research considerably, and prompted questions about the functional representations of folkloric practices, as well as the social and material life of the carrier "objects," whether they are photographs, sound recordings, or books.
---
TRIBUTE TO OUR DONORS
​The Royal Norwegian Embassy (RNE) has been a generous donor to the AIF and Metropolis Cinema Association (MCA) in the past years. In an effort to support these two institutions, which have organically come together to explore common priorities in an increasingly challenging local context, the RNE recently provided a year-long support to both institutions. The grant is meant to ensure that photographic and film archives and practices are protected, accessible, and maintained through structural, institutional, and peer collaboration, thereby improving and sustaining public accessibility to collections, resources, and facilities. This support also ensures that the institutional knowledge of AIF's image and photographic practices is consolidated and transmitted to other peer entities, including MCA, so that they can develop their own capacities/knowledge on film archiving and preservation. In addition, the grant aims at establishing and reinforcing public programming that is intended to share knowledge and build capacities around image practices and collections/archives.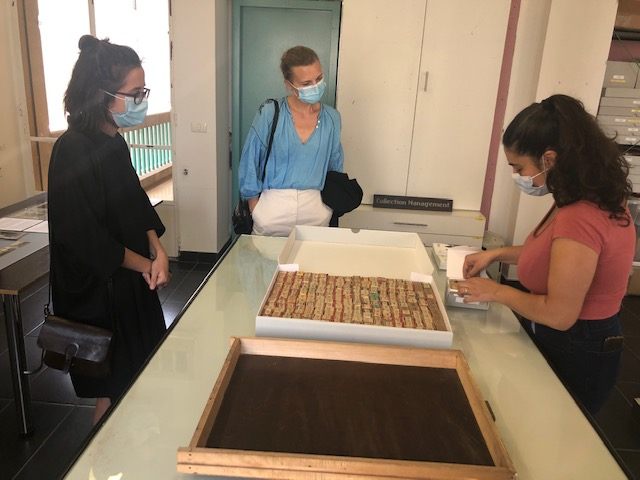 The Arab Image Foundation extends its appreciation to our current generous supporters that make our activities possible. We are equally grateful to those who wish to remain anonymous.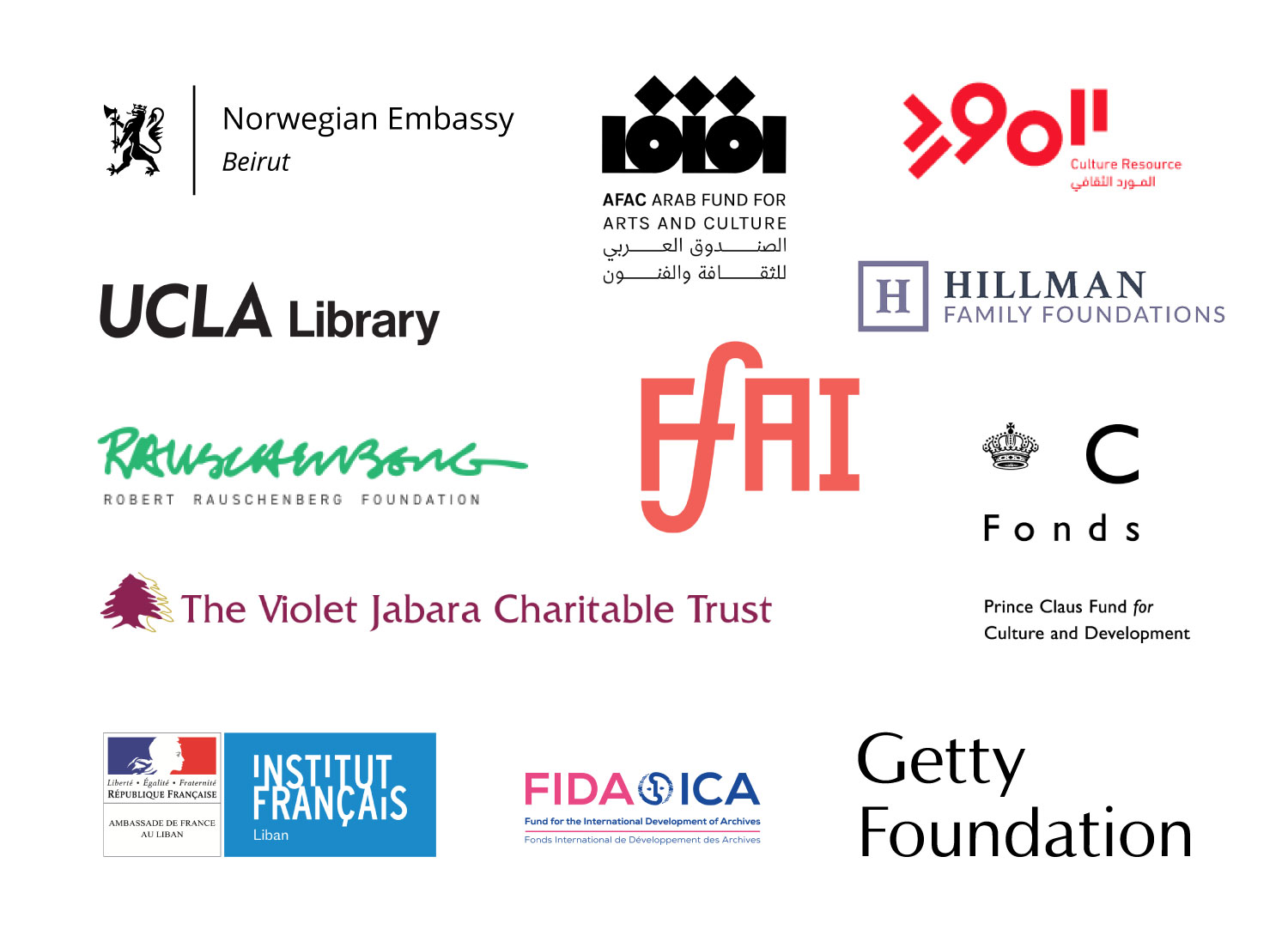 Major Supporters
Royal Norwegian Embassy in Beirut ▪ Arab Fund for Arts and Culture ▪ Al Mawred Al Thaqafi ▪ Foundation for Arts Initiatives ▪ The Violet Jabara Charitable Trust ▪ Getty Foundation
Project Supporters
Modern Endangered Archives Program (MEAP) at the UCLA Library, with funding from Arcadia ▪ Prince Claus Fund for Culture and Development ▪ Institut Français ▪ William Talbott Hillman Foundation ▪ Akram Zaatari ▪ Alexandre Medawar ▪ MAGRABi ▪ Fund for the International Development of Archives – FIDA ICA ▪ Victoria and Albert Museum – V&A ▪ Art Jameel
Post-Explosion Supporters
Financial donations – institutions: Prince Claus Fund for Culture and Development ▪ Cultural Emergency Response ▪ Cultural Protection Fund of the British Council ▪ Gerda Henkel Stiftung ▪ US Ambassadors' Fund for Cultural Preservation ▪ Mariët Westermann and the Pardoe-Westermann Family Fund ▪ Middle East and Islamic Caucus of Franklin & Marshall College ▪ Luminous-Lint ▪ Oteri General Construction ▪ Moore Archives & Preservation LLC ▪ GAPS LLC ▪ Blue Shield ▪ Book Works ▪ American Institute for Conservation of Historic & Artistic Works ▪ Savvy Wood Photography ▪ Benevity ▪ PhotoArts Studio ▪ Robert Rauschenberg Foundation ▪ Stanley Thomas Johnson Stiftung ▪ Europeana Foundation ▪ Rotary Club Essen-Gruga
In-kind donations – institutions: Institut National d'Histoire de l'Art ▪ Middle East Photograph Preservation Initiative ▪ Musée Français de la Photographie ▪ Klug-Conservation ▪ Centre de la Photographie
AIF could not have made this journey without all the individual contributors.
Click here for the full list of individual donors.
Thank you for those who have supported us in previous years: Sharjah Art Foundation, Pikasso, Ford Foundation, Graham Foundation.