Issue #2021.02
It must be imagination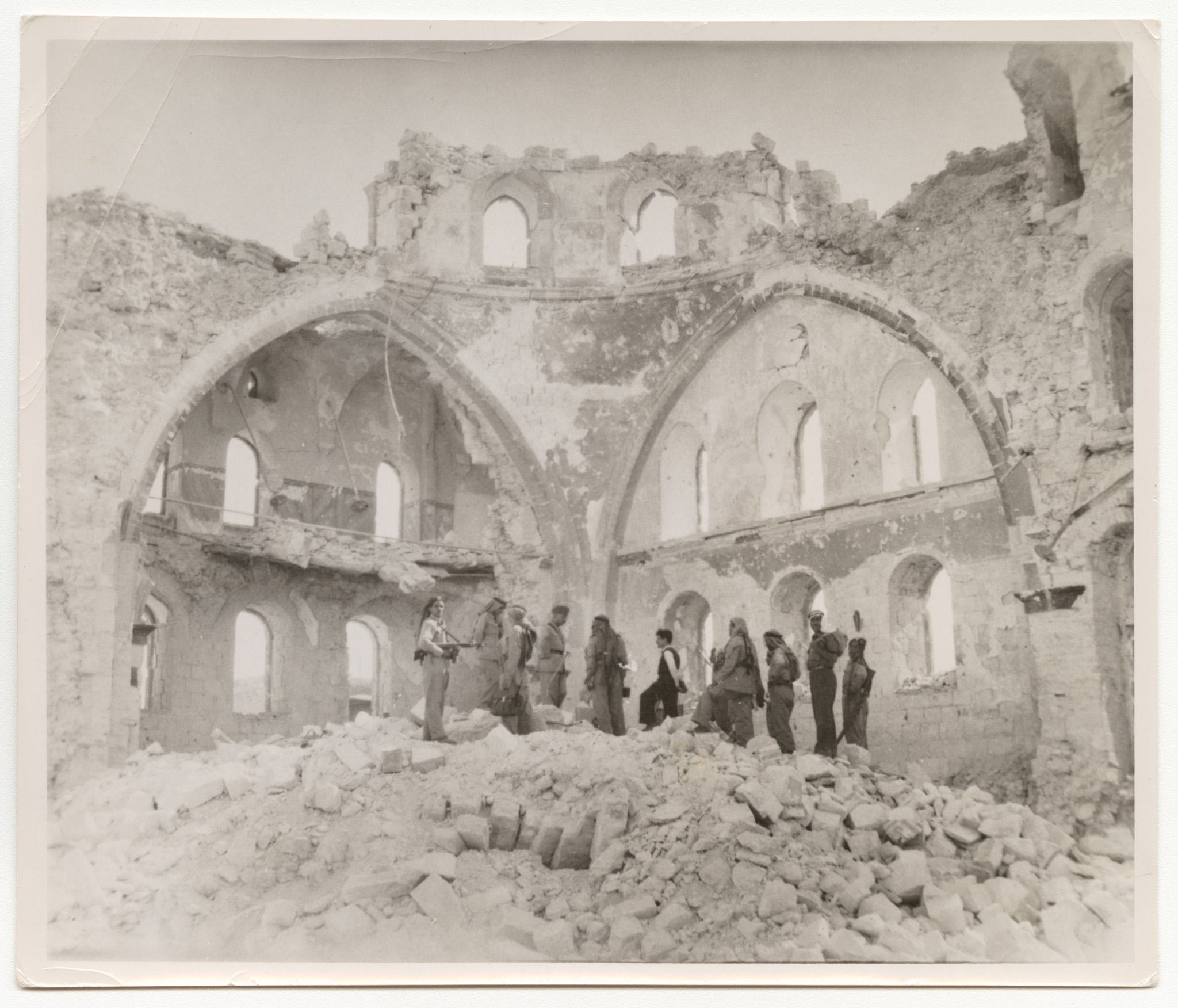 What is that we hold so dear to our hearts that needs to be protected and transmitted? Is it an object, a feeling, a passion? Regardless of its form or content, there is always a story to tell and as many more perspectives depending on what it invokes in each one of us. When we compile and organise information, we engage in creative science and technology. ​ When we ponder what we hold in our custody and how to carry embedded stories, we are humbled by the expansive ways in which we can invite others to add layers and transmit this knowledge. In that sense, the Arab Image Foundation does not function as a conventional archive but as a bridge between archival and contemporary artistic practices.
We continue to re-think our approaches. Photographs are not mere images, but objects, each with a unique set of physical attributes. The information on each photograph is another layer that we do our best to preserve and highlight. This act of preserving and transmitting is akin to extending our ephemeral life and our craft. ​ We strive to be part of a movement that expresses through arts, research and civic education the many colourful but also painful stories to tell. Without the open spaces that hold and share our memories, we lose what makes us human.
We can think of endless efforts that go into holding that space and preventing its closure. The more bookshops, libraries, performance spaces, galleries, archives, museums, and community halls we have access to, the more our stories breathe and grow. We die a little every time such spaces are lost or are at risk. Sharing our experiences on how we protect and uphold what is in our custody during times of crises is invaluable to make us weather potential future storms. Some regions are in the throes of multiple crises more than others – that does not make us more special but more marked by scars, fear and above all, hope. As we deal with calamities, we have an urge to continue and confront the complex social and political realities we live in. So many have done so before us, while others have lost their bearings, or were silenced. In each instance, there is always a story to tell. ​
Wednesday 3 March 2021
---
Header image: #0026do00067. Kind Abdullah I of Jordan with his guards, gelatin silver developing-out paper print. Bedros Doumanian Collection, courtesy of the Arab Image Foundation, Beirut.
---
DISCUSSION
​Culture in Crisis: Archive Collections in Crisis
​Arab Image Foundation and the V&A's Culture in Crisis Programme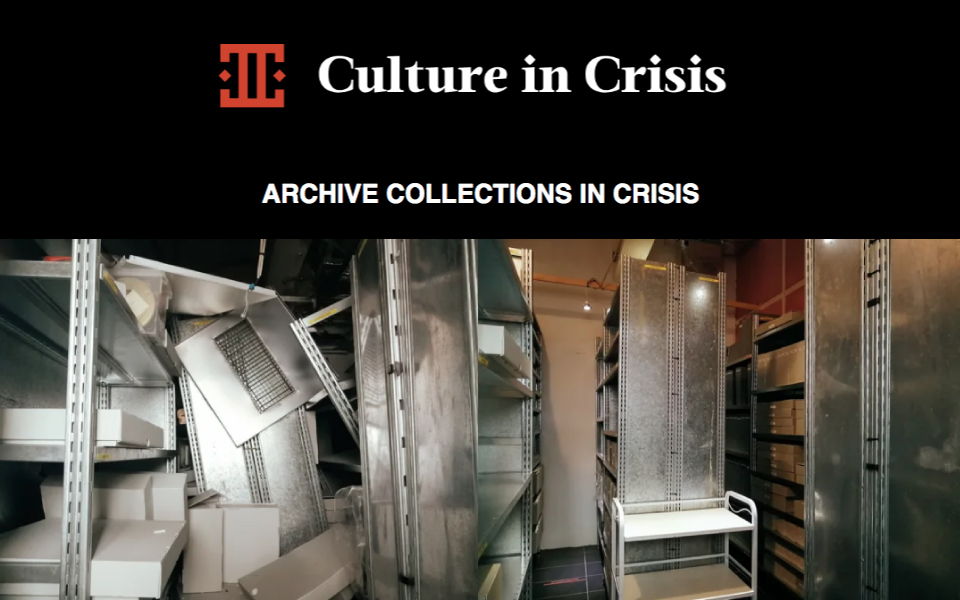 Online // Addressing the varied nature of collections - from photographs and film, to books, manuscripts, built heritage, and the digital - the event highlighted the approaches and experiences of organisations in protecting tangible and intangible heritage. Discussion addressed the creation of emergency plans, the use of technological safeguards, training and resources, as well as the importance of proactive collaborations and investment in sustainable safeguarding.
Six months on from the explosion in the Port of Beirut, the event reflects on how best to protect collections and colleagues amid continuously challenging contexts, while facing compounding crises.
Speakers:
Heba Hage-Felder (Director), the Arab Image Foundation (Beirut, Lebanon).
Hadia Gana (Founder and Director), Beit Ali Gana (Tripoli, Libya).
Omayma A. Shafy (Co-founder & CEO) and Yasmine Hussein (Researcher in charge of Archive), and Ali Al-Adawy (film curator), Wekalet Behna For Arts (Alexandria, Egypt).
Vernon Rapley (Director of Cultural Heritage Protection and Security), Victoria and Albert Museum (London, UK)
This event is produced in partnership between the Arab Image Foundation and the V&A's Culture in Crisis Programme.
The event was held on Tuesday 16 February 2021 at 14:00 - 15:15 GMT, 04:00 PM in Beirut.
​​
​See the recording of the event.
---
INFORMATION MANAGEMENT/COMMUNICATIONS
​Farewell

Rawad Isaiah J. Bou Malhab // Addressing issues in information management and documentation is no easy feat in the MENA region especially when one considers: the regional dimension and context (interconnectedness and accessibility); the diversity and variety of items (photographic objects in the case of the Arab Image Foundation); and the scarcity of local/regional resources. Add to this, the level of documentation required for preservation projects and missions; local knowledge and talent development; technical infrastructure, politics of ownership, and budgets.
The practice of recording information for preservation and dissemination is as old as two information-centric professions: librarians and archivists. While both professions are considered as guardians of documents and information, each had a different beginning. The role of a librarian evolved from safeguarding documents in order to enrich and disseminate accumulated knowledge within a community; an archivist's role, however, was regulatory and aimed at providing evidence whilst protecting, maintaining and strengthening a society's identity.
The history of information finds its origins in the development of records and in particular in the documents that carry them (the support). From cave paintings (40,000 BCE), Tartaria tablets in Romania (5000 BCE), the library and archives of Ebla in modern Syria (2600 BCE), Sippar tablets in Iraq, to the classical and medieval worlds (Phoenician alphabet, public and private libraries of Rome and Greece, papyrus rolls, the codex, the great library of Alexandria), to the age of print, the 20th century and the advent of the digital computer and the internet.
Two years after its beta launch in 2019, the Arab Image Foundation's platform is going through an important upgrade this year. ​ Visitors are currently able to access only some of our collections online, as well as an array of events, exhibitions, publications, activities, and institutional stories. The goal is to provide users with the ability to browse more collections, perform advanced searches on images using multiple criteria, participate in online documentation drives, and contribute to more Lab entries. Since 2018, I have been proudly part of this on-going effort in collaboration with my fellow colleagues at AIF.
February 2021 marks my last month with AIF. As I move on to the next chapter of my professional life, I would like to thank Charbel, Mahmoud, Ali, Rachel, Maha, Christopher, Heba and the Board of Directors for being a remarkable set of people whom I've greatly enjoyed working with. Thanks to each of you. I will never forget my time at the foundation.
​​
​You can reach out to Rawad over Twitter or via email on [email protected].
For communications, research, and library, you can reach out to the foundation on [email protected].
---
IN TRIBUTE TO OUR DONORS
​4 August 2020 Beirut Port Explosion
---

---
LOCKDOWN PICKS
​2020 Media Coverage
Online // Despite the restrictions imposed on movement (depending on where you are reading us from), there are plenty of things to uncover. For this issue of our stories, we have published the foundation's media coverage in local, regional and international media throughout 2020. We thank all those journalists, writers and media outlets who shared a story about us.
---

---
COMMUNITY HIGHLIGHT
​Discover what is happening in our community. We are proud to showcase individuals and organizations that have been supporting us along the way. We are also eager to tell you about those we in turn support through training and consulting services. Members of this fast-growing community will be showcased in every issue of our Stories. ​
​​
​In this issue we bring you:
​UMAM Documentation and Research
Beirut // Founded in 2005, UMAM Documentation and Research - UMAM D&R - began as a citizen resource center focused on Lebanon's past, using research and documentation as its primary tool. Lebanon's strained history with civil war raging from 1975 to 1990 continues to impact modern events and serves as an inhibitor of the nation's peace, prosperity and freedom. Through open historical reckoning, UMAM believes that the country can better understand contemporary issues and prepare itself to deal with future challenges. UMAM works to preserve memories of war in Lebanon, in the hope that lessons learned from the past will prevent violence in the future. You can check UMAM D&R's work and tools, including UMAM biblio – the online inventory of its archive, The Hangar, Memory at Work, and MENA Prison Forum on umam-dr.org.
In early February 2021, Lokman Slim, writer, activist, critic and co-founder of UMAM D&R was assassinated in the south of Lebanon. We condemn all political assassinations and call on duty bearers to bring this crime to justice.
---
The Arab Image Foundation extends its appreciation to the generous supporters that make our current activities possible.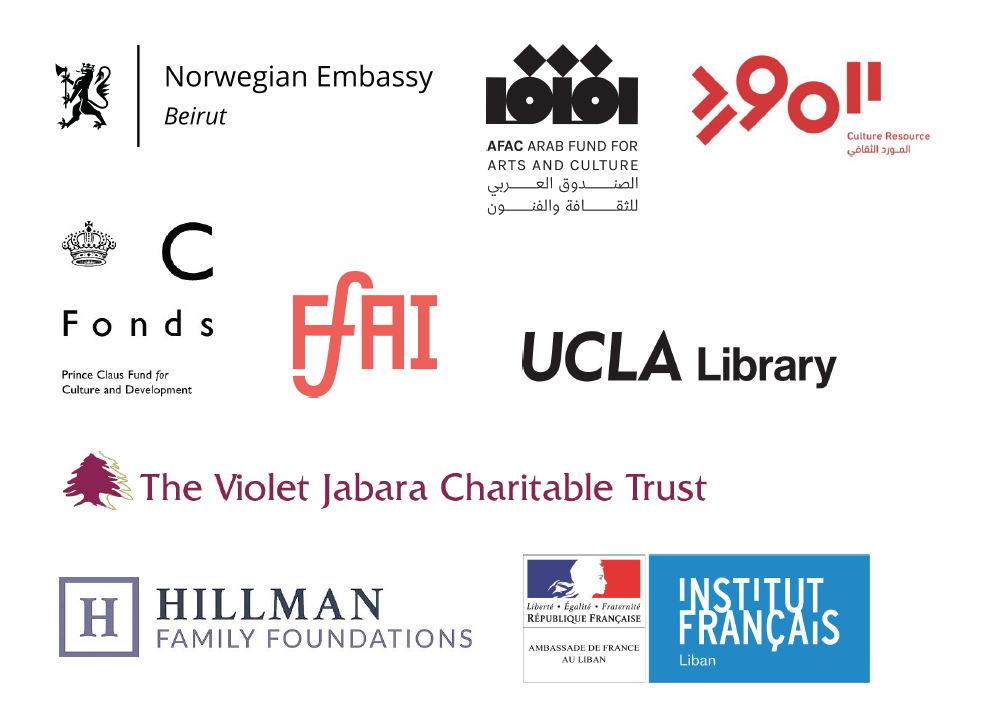 Major Supporters
Royal Norwegian Embassy in Beirut, Arab Fund for Arts and Culture, Al Mawred Al Thaqafi, Foundation for Arts Initiatives, The Violet Jabara Charitable Trust
Project Supporters
UCLA Library, Prince Claus Fund, Institut Français, William Talbott Hillman Foundation, Akram Zaatari, Alexandre Medawar
Post-Explosion Supporters
Financial donations - institutions: Prince Claus Fund, US Ambassadors' Fund for Cultural Preservation, Mariët Westermann and the Pardoe-Westermann Family Fund, Middle East and Islamic Caucus of Franklin & Marshall College, Luminous-Lint, Oteri General Construction, Moore Archives & Preservation LLC, GAPS LLC, Blue Shield, Book Works, American Institute for Conservation of Historic & Artistic Works, Savvy Wood Photography, Benevity, PhotoArts Studio, Robert Rauschenberg Foundation, Stanley Thomas Johnson Stiftung, Rotary Club Essen-Gruga.
In-kind donations - institutions: Institut National d'Histoire de l'Art, Middle East Photograph Preservation Initiative, Musée Français de la Photographie, Klug-Conservation, and Centre de la Photographie.
AIF could not have made this journey without all the individual contributors.
Click here for the full list of individual donors.
Thank you for those who have supported us in previous years: Sharjah Art Foundation, Pikasso, Ford Foundation, Graham Foundation.