Issue #2020.06
As time goes by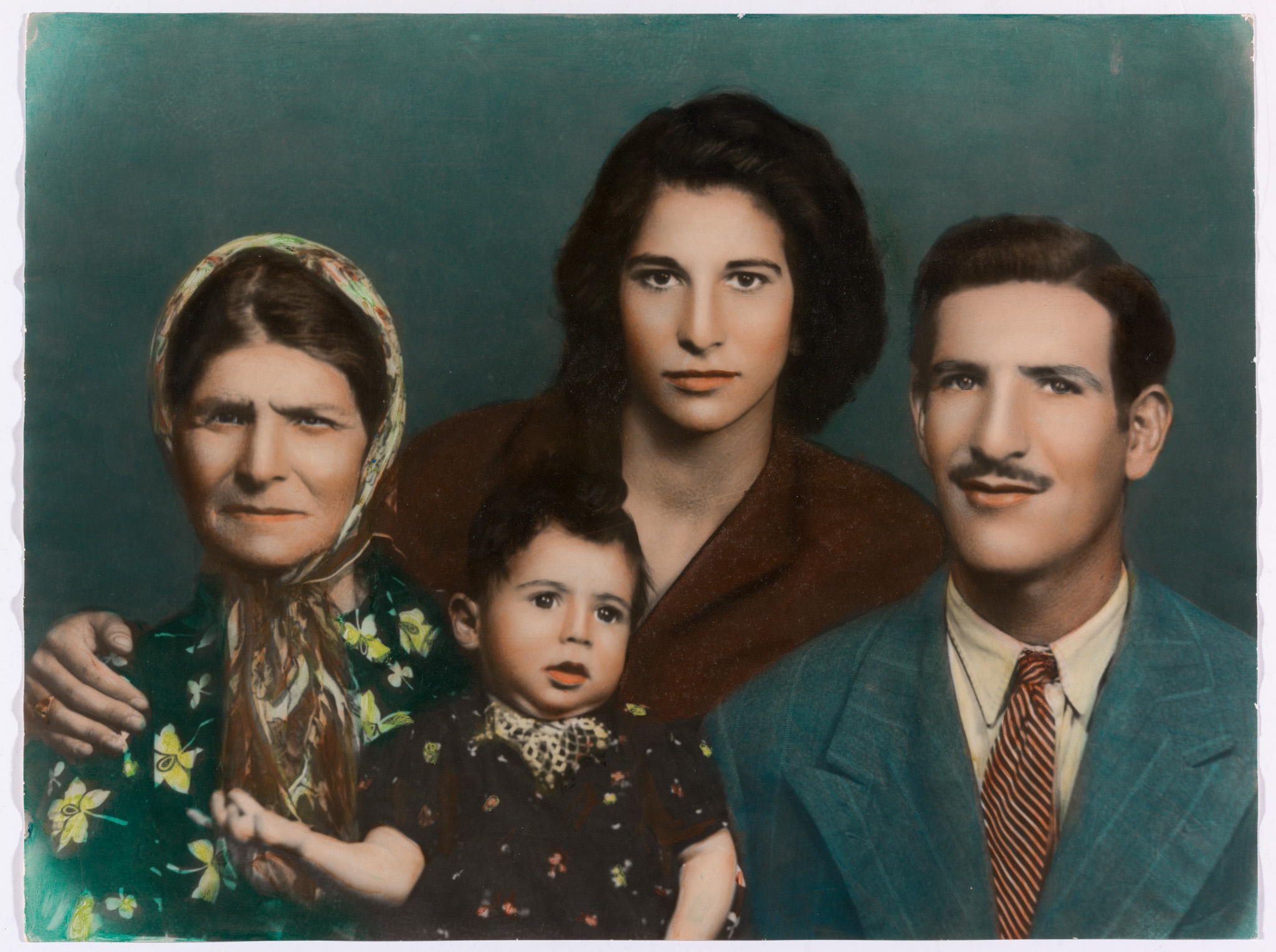 Damage is ruthless, impatient and instant. Recovery is more like the handling, the cleaning, the cataloguing, the digitisation, and the housing of photographic objects. It requires meticulous and arduous work, and most of all, time. Like many cultural premises caught in the direct line of fire on Gemmayzeh street, we are still reeling from the shock of the 4th August Beirut port explosion. And yet, we already have to deal with the next set of concerns and priorities. So what is specific to the Arab Image Foundation?
One of our team members tells how she lived out the post-explosion period and what keeps her going. Another colleague takes us to his dark workstation - the digitisation lab and his affair with albums. They happen to be one of many objects within our collections. They carry so many stories, literally, in the form of images, but also as a medium. Find out what intrigues him.
What do photographs tell us about times gone by? The Eclipse of the (Fe)Male Sun - an exhibition that took place in Stockholm - was overshadowed by the commotion that followed the Beirut port explosion. Better late than never, we invite you to explore this exhibition with us. Zooming in on an Iranian collection, it talks about values and notions that seem to be such a distant past, and yet in many ways, influenced daily life and how people appeared. 
We reached out to the members of AIF to find out what are the latest thematic conversations around photographic practices. We also turned to peer institutions for inspiration on their collective set-up and ways of working. Find out about Kristine Khouri's latest discoveries, and learn more about Interference Archive and its alternative model. We also spoke to our colleagues at the Qatari National Library and how they celebrated the World Day for Audiovisual Heritage.
In terms of project support, we are very happy to welcome to our circle the UCLA Library through their Modern Endangered Archives Program (MEAP). One is in support of an emergency grant to AIF for the re-housing of the unstable pending negatives in our custody, so that we can digitise, document and share them on our platform. The second grant allows us to urgently work on the film drawers of Photo Jack - a unique collection that we will unravel in the coming months.
We have been graciously accompanied by so many supporters since news of the August Beirut port explosion rippled across the world. We are grateful to the latest foundations and institutes: Pardoe-Westermann Family Fund, American Institute for Conservation of Historic & Artistic Works, Savvy Wood Photography, Centre de la Photographie, Benevity, PhotoArts Studio, Robert Rauschenberg Foundation, and Stanley Thomas Johnson Stiftung. What is very precious is their unrestricted funding that allows AIF the flexibility to prioritise.
AIF is able to stand on its feet also because of our current major donors. The Norwegian Embassy in Beirut has been very accommodating and receptive to adaptations in our work, and the Violet Jabara Charitable Trust Foundation continues to be the wind beneath our wings.
Thanks to the efforts of friends and members of the Arab Image Foundation, we continue to mobilize new and recurring individual philanthropists. A big warm thank you goes to all those individuals who encourage us to keep going no matter what. An up-to-date list of names we are indebted to can be found here.
Monday 07 December 2020
---
Header image: #0273ma00011. Hand Colored family portrait, Zarganifard, "Photo Pardis", Mid 20th century. Studio Marjan Collection, courtesy of the Arab Image Foundation, Beirut
---
CONVERSATION
​Reading Marie al-Khazen Photographs
​11 December 2020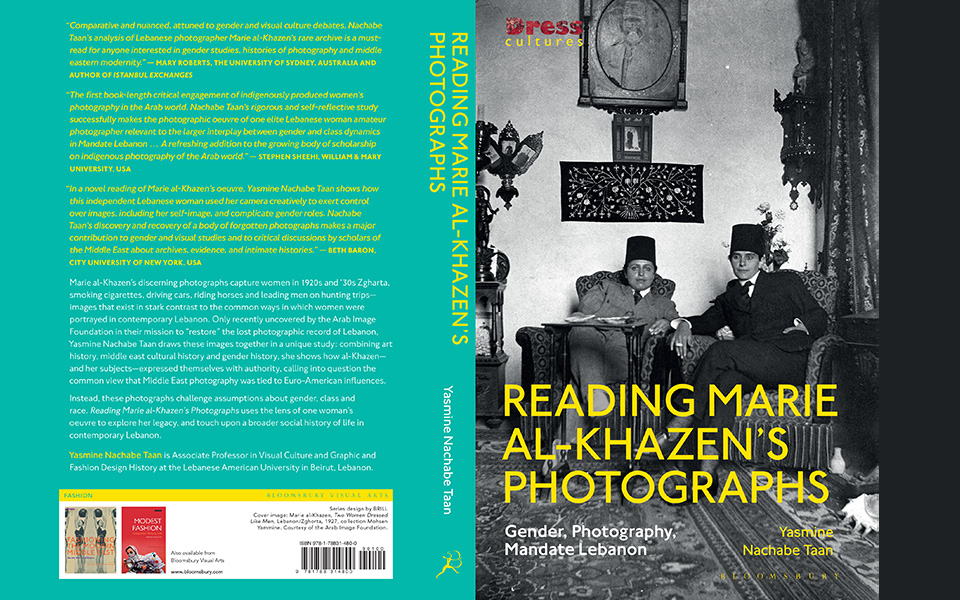 Online // Hosted by Bilkent University, and in collaboration with the Arab Image Foundation and the Lebanese American University, we would like to invite you to an online conversation on Friday 11 December 2020 with author and associate professor Yasmine Nachabe Taan around her recently published book Reading Marie al-Khazen Photographs: Gender, Photography, Mandate Lebanon (Dress Cultures). This conversation will be moderated by Heba Hage-Felder, director of the Arab Image Foundation.
Full event details and Zoom link can be found here.
With an interdisciplinary approach at the intersection of photography and gender studies in the middle east, Nachabe Taan expands her research on design and visual culture in writing the first full-length study of an Arab woman photographer published in English.
This project is important because there is little scholarly work done on photography in the Middle East, and even less on women photographers. It focuses on gender representation in the photographs of Marie al-Khazen, a Lebanese amateur photographer, and Karimeh Abbud, a professional photographer in Palestine during the period between the 1920s and 1930s. Nachabe Taan provides a feminist reading of the images by analyzing the female photographer's depiction of 'modernity' around Lebanon. ​
This research will contribute more specifically to the study of Fin-de-siècle Lebanon in particular elite society and class relations, gender, and feminism.
Yasmine Nachabe Taan is Associate Professor at the Lebanese American University, currently a Visiting Professor at Bilkent University. She is the author of Reading Marie al-Khazen's Photographs (2020), Saloua Raouda Choucair: Modern Arab Design (2019), Abdulkader Arnaout: Designing as Visual Poetry (2017), Hilmi el-Tuni, Evoking Popular Arab Culture (2014). She is on the Editorial Board for Design and Culture.
You can purchase a copy of Reading Marie al-Khazen's Photographs: Gender, Photography, Mandate Lebanon on Bloomsbury.
---
EXHIBITION
​The Eclipse of the (Fe)Male Sun
Stockholm // Once upon a time, there was a sun, both male and female, with thick eyebrows, mustache, locks of hair, eyes, and a small mouth. Its task was to represent the beauty of the Shah in the ruling Qajar dynasty (1789-1925) in Iran. At that time, standards of beauty were not gendered. In the middle of the 19th century, a slow yet a powerful solar eclipse began in Iran. Launched by a western wind, it is today known as colonialism, imperialism, and modernization. 
The Eclipse of the (Fe)Male Sun is an exhibition that departs from portrait photography collections from the mid 20th century in Kuwait, Lebanon and Iran, archived at the Arab Image Foundation (AIF) in Beirut. Premodern Arab, Iranian and Islamic image culture reflected gender-fluid standards and homosocial relationships as common aspects of daily life.
In this exhibition, Nour Helou and Afrang Nordlöf Malekian present a series of photographs from the Asghar Beechareh, Photo Caron, Studio Marjan, and Photo Bahar Collections. They examine transformations of the concept of ​ beauty and gender norms over time. How are the notions of class, race, and gender staged through these photographs?
Explore The Eclipse of the (Fe)Male Sun here.
---
DIGITISATION
​Albums Mission

Mahmoud Merjan // The standard procedure of digitizing paper prints does not apply to photo albums. They are far more delicate objects that require patience and attention when handling and reproducing them. Albums that are tightly bound for instance, are particularly tricky to reproduce because they cannot stay flat-open, while albums with fragile binding can be too loose and easily damaged.
That is not to say that digitizing albums is a daunting affair! On the contrary, it is quite an intriguing process because one has to understand and appreciate the unique nature of each album, and that is precisely what makes the work challenging and enjoyable at the same time.
At AIF we record the object as faithfully as possible. We produce multiple versions of digital surrogates for each album, always bearing in mind the importance of transmitting the experience of flipping through the pages as you would if you were actually holding the original item. Each album is reproduced twice; first the pages one by one, and then the whole album as double-page spreads. 
This meticulous process requires its own set of guidelines of course, which were effectively developed during a testing period ahead of the digitisation phase while the albums were still being catalogued by the archivists in the preservation lab. Always a work in progress, those guidelines are constantly fine-tuned and updated. We often encounter things that were not anticipated, and we must respond to the requirements of each object to ensure its integrity but also obtain best results. This entails adjusting the lighting setup and imaging equipment, but also the use of special tools for handling.
After four years of extensive work that resulted in the digitisation of a significant part of AIF's collection, the Albums Mission can be considered the jewel in the crown, especially when we consider all the challenges that we endured in 2020. 
It is incredibly exciting to see this mission finally take off, and I cannot wait to share the outcome with the public!
The Albums Mission is generously supported by the William Talbott Hillman Foundation.
---
WEBINAR
​World Day for Audiovisual Heritage
​Qatar National Library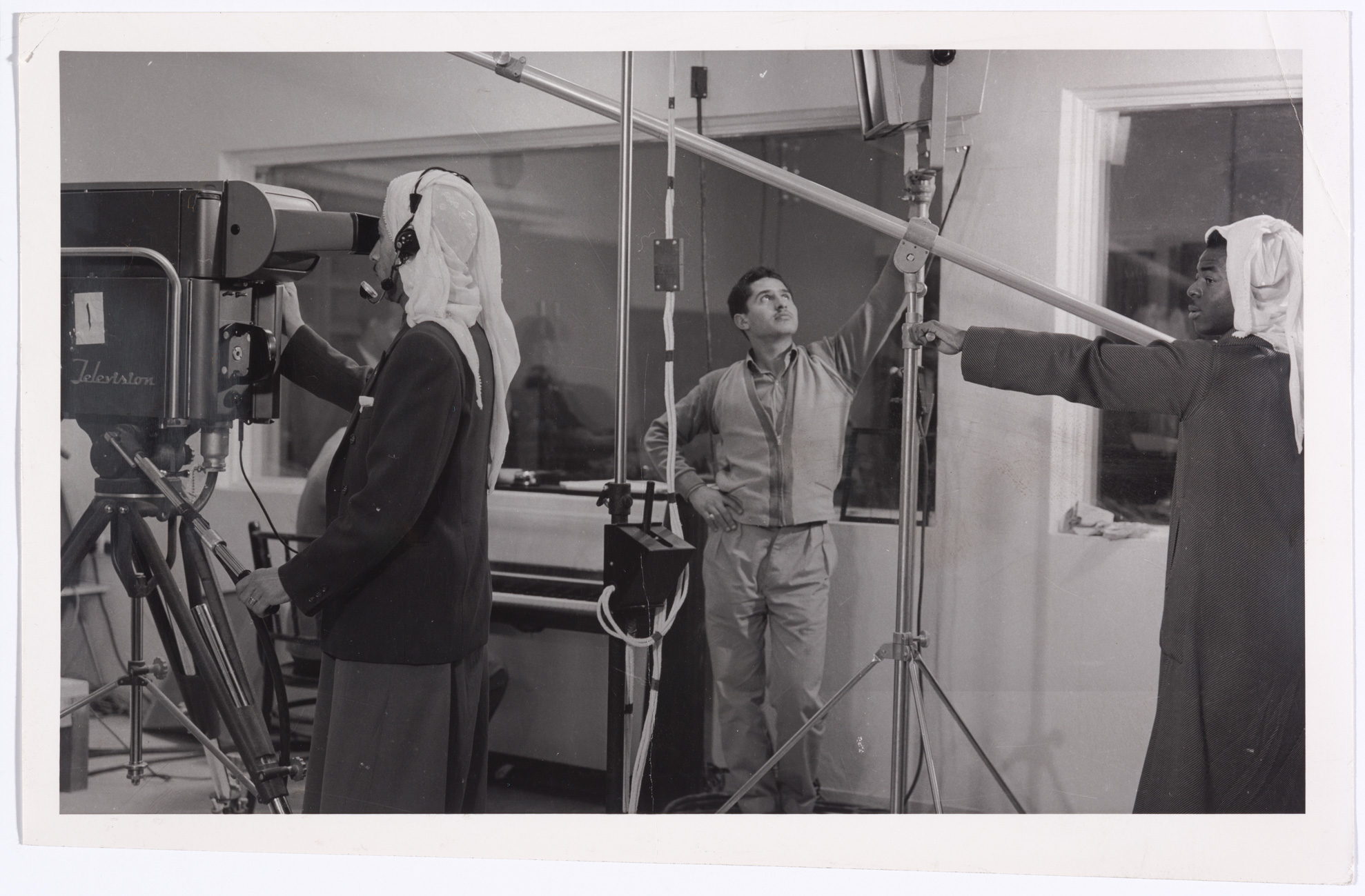 Online // To mark World Day for Audiovisual Heritage on 27 October, Qatar National Library, in its role as the IFLA PAC Regional Center for Arab Countries and the Middle East, organized a webinar titled "Preserving Audiovisual Heritage in the Arab Region: Resources for Archivists, Librarians and Collectors." The webinar featured Manoubia Hermi, Curator and Head of the National Sound Archive at the Centre for Arab and Mediterranean Music, and Hazem Jamjoum, Gulf History Audio Curator at the British Library. It was moderated by Maxim Nasra, Book Conservation Specialist at Qatar National Library.
This webinar was part of a ​ project of the Qatar National Library and in cooperation with University College London-Qatar and the British Library-Qatar Foundation Partnership, to raise awareness about the importance of preserving sound and audiovisual heritage in the Gulf and Arab regions and raising capabilities in the field of preservation and digitisation.
Nasra stated that Qatar National Library, as an IFLA PAC Regional Center, signed an agreement with the International Association of Sound and Audiovisual Archives (IASA) for the translation, production and distribution into Arabic of the following IASA technical publications.
Speakers presented two new resources for audiovisual preservation.The first of these is a glossary (English – Arabic) of key terms used in audiovisual preservation which will be updated regularly. 
Arabic/English Glossary for Audiovisual Preservation
PDF - 3.5 Mb
Download
The second is the launch of a survey of audiovisual collections across the MENA region to understand the needs and challenges of institutions in order to build their capacities and strengthen knowledge and information exchange. Link to the survey
Another pipeline initiative is the translation, production and distribution into Arabic of the following IASA technical publications: 
IASA-TC 03 The Safeguarding of the Audiovisual Heritage: Ethics, Principles and Preservation Strategy
IASA-TC 04 Guidelines on the Production and Preservation of Digital Audio Objects
IASA-TC 05 Handling and Storage of Audio and Video Carriers
IASA-TC 06 Guidelines for the Preservation of Video Recordings
For more information, contact the IFLA PAC Regional Center at Qatar National Library at [email protected]
​The recording of the webinar is available on this link.
---

---
UPDATE
​Stabilization Efforts

Beirut // Three months after the explosion, we are finally able to resume our operations and activities. We worked hard to clean the office, to secure the collections and to assess the damages. After what seemed like endless weeks of removing dust and sweeping glass by the buckets, we made minimal repairs to put us back on track.
What urgently needed fixing was the cool storage room. Luckily, the collections were unharmed. We repaired the drywall that collapsed, and were able to salvage both AC units and get them to function properly again. Before we could return the collections to storage, we ran tests for two weeks to ensure the temperature and relative humidity were stable.
As we were testing the environment, the construction workers began working on stabilizing the preservation lab. The priority was to secure a space for the collections before moving them out of their temporary home, the digitisation lab. We were able to move the collections back to storage, and the pending collections back to the preservation lab by mid-October. Since then, we have revised our inventory to make sure once more that everything is accounted for.
Today the office is far from being in an ideal shape, but we have done everything we can within the circumstances. We are currently in limbo, because the current premises cannot sustain us in the long-run. If we are to provide proper care for our collections, our only option is to relocate. We have been reconsidering our entire storage system, and how we can build on our good practices to provide a more accessible and sustainable storage system. Our team is working hard to come up with new solutions, and we look forward to sharing our progress in the coming months.
---

---
PANEL
​Digital Forays: Archives & Activation // Platforms and Publics
​Hagop Kevorkian Center for Near Eastern Studies at New York University

Kritstine Khouri // In early October, I participated in an event, "Digital Forays: Archives & Activation // Platforms and Publics" part of a series organized at the Hagop Kevorkian Center for Near Eastern Studies at New York University (NYU). The panel also included Yazan Kopty who initiated the Imagining the Holy project, Sana Yazigi from the Creative Memory of the Syrian Revolution and discussant Laila Shereen Sakr (UCSB).
Inspired by the two projects and conversation, I have since been thinking more actively about the role of communities in building, aggregating, caring for, sustaining, and even reclaiming collections of images, documents, artifacts or other materials which represent them. Many archival-related initiatives that inspire me have been built because they need to exist, because the stories and materials were perhaps not held elsewhere and had to be kept, cared for, and shared, giving space for the voices which may be silent, marginalized and unavailable elsewhere.
At the same time, today, there continues to be a reckoning in knowledge and cultural institutions like museums, libraries and archives on how to critically engage with, re-describe, dedicate resources to, or even return/repatriate items from their collection, be they artworks, artifacts, or archives which are the product or, or evoke traumatic past, injustice, or another form of violence--personal, community-based, or systematic racism and colonial subjugation, for example. Following the work of multiple librarians, archivists, curators, cultural workers, and activists who are engaging with sensitive and complex matter with represented communities inspires a future where a community-centred approach to objects, and their care, narration, and exhibition could be mainstream. A future where ethics and care are foregrounded in practices ranging from collecting, describing, narrating, and exhibiting these materials.
Today, people are demanding that institutions listen to them to make the community voices central and push for not only care for objects but care for the people represented by them, or to whom these objects may truly belong. This is what a true community-centred approach demands.
---
COMMUNITY HIGHLIGHT
​Discover what is happening in our community. We are proud to showcase individuals and organizations that have been supporting us along the way. We are also eager to tell you about those we in turn support through training and consulting services. Members of this fast growing community will be showcased in every issue of our Stories. ​
​​
​In this issue we bring you:
​Interference Archives
New York // Prison walls create barriers to communication. Through Interference Archives collaboration with Survived and Punished New York, a grass roots abolitionist group, listen to "A Quarter of a Century", a song by Ivie, a comrade on the inside whose story is uplifted by Survived and Punished. It references her campaign to free herself from a 25 to life sentence and was recorded over the phone from Bedford Hills prison, a maximum security correctional facility in Bedford Hills, NY.
Interference Archive's mission is to explore the relationship between cultural production and social movements. This work manifests in an open stacks archival collection, publications, a study center, and public programs including exhibition, workshops, talks, and screenings, all of which encourage critical and creative engagement with the rich history of social movements.
---
In case you missed this..
---
The Arab Image Foundation extends its appreciation to the generous supporters that make our current activities possible.